Link
Scroll down for today's pictures & links.

How to Make Spaghetti

"Making Pasta Faster!" (using some really improbable objects).
Written and directed by PES.



url

Today's pictures & links:
Click to enlarge images.

This guy ends up everywhere... in a strangest way possible

Creations of Chinese photographer Li Wei - these shots are sure to astound anyone:




... getting ready for the Olympics, perhaps?

This one is similar, but not a Photoshop in any way:




------------

Industrial Night Lights

David Sommars makes some impressive night shots of spooky industrial areas:



(images credit: David Sommars)

------------

Ray Guns from Hand Blown Glass

Jeff Burnette from Joe Blow Glassworks in Vancouver, Canada likes to create hand blown colored glass ray gun concepts:




------------

Intensity



(originals unknown)

------------

I like this urban ad




------------

Mixed fresh links for today:

Richest people & how they made their fortunes - [fascinating]
Another neat futurist illustrator - [art]
Fascinating Bird's Eye Views of Florida - [photos]
Mail the whole building... brick by brick - [weird]
Creative Recycled Art & Architecture - [art & design]
Unique Lobsters - [weird pics]
Driving while... doing everything else - [wow video]
One Lucky Guy - [wow video]
Reality Shows: Not here to make friends! - [fun video]

------------

Surreal Seaside

"New Brow" (The Rise of Underground Art) exhibition in Seaside, California, contains the whimsical works by Eric Joyner: "Destination Desolation" and "Summer" -




Good addition to our "Surreal Art" gallery. Another very cool exhibition in California, fragment of the poster - click to see the whole image:




------------

Wicked PC Mod on eBay

As a follow-up to our "Computer Modding" article, we received news that the very rad Batmobile PC mod is currently being sold on eBay: more info and eBay listing - just in time for the release of "The Dark Knight":



(image credit: Rig of the Month)

------------

Very Disturbing Spiders

Don't say we did not warn you... ha ha.



(original unknown)




------------

Very Efficient Christian Warrior

Weird toy, spotted in Japan. Good addition to our "Strangest Christian Products" collection: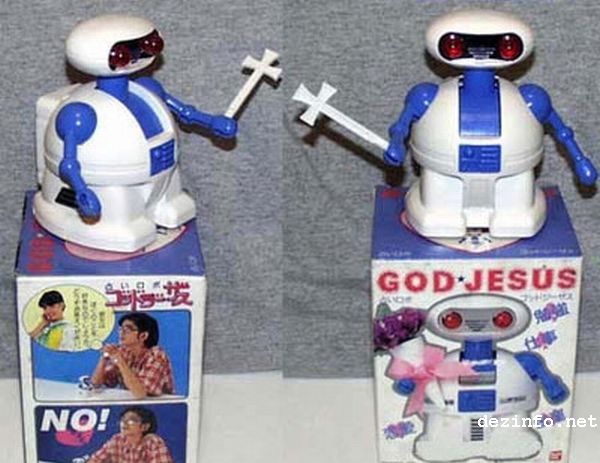 Good to wage war against these spiders....

------------

Ugly Machinery

Next entry in our "Ugly Machinery" collection: some old A/C units photo, sent in by Allan Dowdeswell -




Another (ever so slightly cool, regardless of how ugly it is):




Here is how it works (video), sent by Kaarel Jänes.

Keep sending in the most obnoxious mechanisms.

-------------

Bavarian Ravers




Whatever the explanation for this picture, I'm sure it's complicated.
Update: this is traditional Bavarian dance called "Schuhplattln" - see a variation of it here.

READ THE PREVIOUS ISSUE

Permanent Link...
...+StumbleUpon
...+Facebook
Dark Roasted Blend's Photography Gear Picks:
RECENT ARTICLES:
"Dark Roasted Blend" - All Kinds of Weird and Wonderful Things, Discovered Daily!"
DRB is a top-ranked and respected source for the best in art, travel and fascinating technology, with a highly visual presentation. Our in-depth articles in many categories make DRB a highly visual online magazine, bringing you quality entertainment every time you open your "feed" reader or visit our site -
About DRB
Connect with us and become part of
DRB on Facebook
,
Twitter
,
Pinterest
,
Instagram
,
Google Plus
; make sure to subscribe to our
updates
.
YOUR COMMENTS:
:
READ OTHER RECENT ARTICLES:
CATEGORIES
:
Feel-Good!
|
airplanes
|
animals
|
architecture
|
art
|
auto
|
boats
|
books
|
cool ads
|
funny pics
|
famous
|
futurism
|
food
gadgets
|
health
|
history
|
humour
|
japan
|
internet
|
link latte
|
military
|
music
|
nature
|
photo
|
russia
|
steampunk
sci-fi & fantasy
|
signs
|
space
|
sports
|
technology
|
trains
|
travel
|
vintage
|
weird
|
abandoned