Link
Scroll down for today's pictures & links.

Transforming Tables

Probably the most original idea to make tables larger... almost makes me dizzy:



url

Close second solution is this (but not as brilliantly simple as the previous one) -



url

And yet another folding idea - see here

Today's pictures & links:
Click to enlarge images.

An Epic Jump

Photo taken during the "Quicksilver Showdown over the city" in Vancouver (Canada).
See the info and more pictures here.



(photo by Scarth)

------------

Good Job? Bad Job?



(original unknown)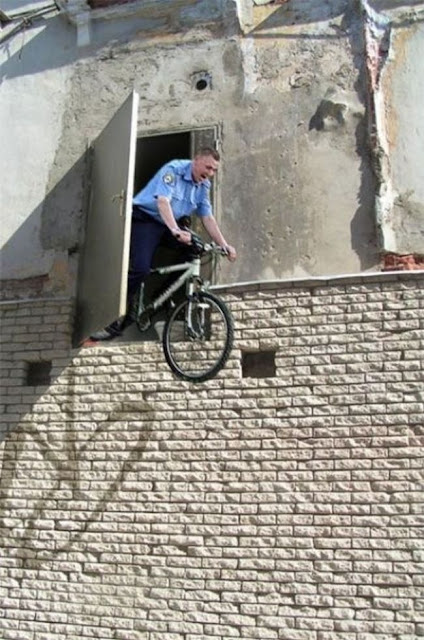 (image credit: Barabaka)

------------

Photo.net Editor's Picks:

Too much of a kiss? -



(image credit: Jim Baker)

See more "Father's Day" editor picks on this page. Also check out the "Graduation Day" best photography picks here.

------------

Cool Shot of the Day
(in cooperation with National Geographic magazine)

Yosemite in the Moonlight



(image credit: National Geographic, Phil Hawkins)

Photo by Phil Hawkins -
This is a 17-minute exposure of Yosemite Valley in late November of 2006. The scene was illuminated by the moon.

What is this furry thing?



(image credit: National Geographic)

This is a water balloon popping. Photo by Tyler Thomas.

------------

Mixed fresh links for today:

Giant holes that devoured everything around them - [oops!]
Stunning images compilation - [wow pics]
Craziest How-To Books you never knew existed - [weird]
Chinese earthquake captured in wedding photos! - [pics]
Super-flare from a red dwarf - [wow space]
Life in the lightbulb - [nature]
The Ultimate List: Celebrities like Drugs - [long list]
Worst & Stragest Names! - [hilarious]
The Fish Slapper - [fun video]

------------

Minimalist & Experimental Photography by Vladimir Zivkovic

Check out his gallery here; he seems to have found his style: black & white minimalist photography (almost like minimalist "haiku" Japanese poetry)



"Hay Bale"



Lines of Winter

"Rising Moon":



(images credit: Vladimir Zivkovic)

------------

Just Checking...



(original unknown)

------------

Er... Mr. Bond... - via




------------

Kids Speak...
- via

And describe WHAT LOVE IS:

"Love is what makes you smile when you're tired."
Terri - age 4

"Love is when my mommy makes coffee for my daddy and she takes a sip before giving it to him, to make sure the taste is OK."
Danny - age 7

"Love is what's in the room with you at Christmas if you stop opening presents and listen."
Bobby - age 7

"If you want to learn to love better, you should start with a friend who you hate."
Nikka - age 6

"I know my older sister loves me because she gives me all her old clothes and has to go out and buy new ones."
Lauren - age 4

"When you love somebody, your eyelashes go up and down and little stars come out of you." :)
Karen - age 7

A four year old child had a next door neighbor was an elderly gentleman who had recently lost his wife.
Upon seeing the man cry, the little boy went into the old gentleman's yard, climbed onto his lap, and just sat there.
When his Mother asked what he had said to the neighbor, the little boy said,
"Nothing, I just helped him cry."

------------

Rate Your Wife??




Seen here, with more info.

------------

Kids Speak Again, this time about MARRIAGE:

How do you decide who to marry?

"No person really decides before they grow up who they're going to marry. God decides it all way before, and you get to find out later who you're stuck with."
-- Kristen, age 10

How can a strangeer tell if two people are married?

"You might have to guess, based on whether they seem to be yelling at the same kids."
-- Derrick, age 8

What do most people do on a date?

"Dates are for having fun, and people should use them to get to know each other. Even boys have something to say if you listen long enough."
-- Lynnette, age 8

What would you do on a first date that was turning sour?

"I'd run home and play dead. The next day I would call all the newspapers and make sure they wrote about me in all the dead columns."
-- Craig, age 9 (ingenious)

Is it better to be single or married?

"It's better for girls to be single but not for boys. Boys need someone to clean up after them."
-- Anita, age 9 (bless you child)

How would the world be different if the people did not get married?

"There sure would be a lot of kids to explain, wouldn't there?"
-- Kelvin, age 8

How would you make a marriage work?

"Tell your wife that she looks pretty, even if she looks like a dump truck."
-- Ricky, age 10

------------

This is what real "cruelty to animals" looks like:




Permanent Link...
...+StumbleUpon
...+Facebook
Dark Roasted Blend's Photography Gear Picks:
RECENT ARTICLES:
"Dark Roasted Blend" - All Kinds of Weird and Wonderful Things, Discovered Daily!"
DRB is a top-ranked and respected source for the best in art, travel and fascinating technology, with a highly visual presentation. Our in-depth articles in many categories make DRB a highly visual online magazine, bringing you quality entertainment every time you open your "feed" reader or visit our site -
About DRB
Connect with us and become part of
DRB on Facebook
,
Twitter
,
Pinterest
,
Instagram
,
Google Plus
; make sure to subscribe to our
updates
.
YOUR COMMENTS:
:
READ OTHER RECENT ARTICLES:
CATEGORIES
:
Feel-Good!
|
airplanes
|
animals
|
architecture
|
art
|
auto
|
boats
|
books
|
cool ads
|
funny pics
|
famous
|
futurism
|
food
gadgets
|
health
|
history
|
humour
|
japan
|
internet
|
link latte
|
military
|
music
|
nature
|
photo
|
russia
|
steampunk
sci-fi & fantasy
|
signs
|
space
|
sports
|
technology
|
trains
|
travel
|
vintage
|
weird
|
abandoned