Link
Scroll down for today's pictures & links.

Great 70s Car Chase

"Blazing Magnum" (1976) with a signature jump in the end (info)



url

Today's pictures & links:
Click to enlarge images.

Cartoon Character's Skeletons

There is something very weird about this. See more here - creations by Michael Paulus.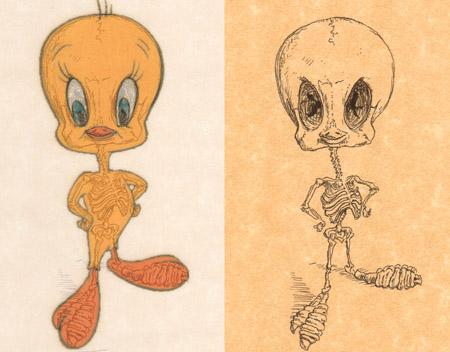 Do not show this to your children.

------------

360 Panorama of Moscow Underground

Click on the image to experience the VR 360 view.



(image credit: Vladimir Shalagin)

And another panorama is here. Click here to see how they explored and set up the place.

------------

Raytheon Exoskeleton

Raytheon Company is bringing the "Iron Man" to life. More info here



(image credit: Raytheon)

A newest research facility in Salt Lake City, Utah, is developing a robotic suit for the soldier of tomorrow. Japanese Cyberdine's Robo Suit "HAL-5" is another wearable robotic system.

Some variations...




------------

Very Cool Art Deco Fan Design

Order one here.



(image credit: Horchow.com)

------------

Dr. Strangelove's Birthday?




Any background info about this is appreciated.
Update:
"The photograph is from 1946, in which U.S. Navy Admirals Blandy and Lowery, as
well as Blandy's wife, slice an "Bikini Atoll Atomic cake" in the Pentagon." info

------------

Mixed fresh links for today:

The Original indiana Jones - [fascinating] - via
Short Interview with DRB - [media]
Shipping Container Architecture - [design]
The Economy of Straight Razors - [useful]
Interesting way to search and visualize Flickr images - [cool site]
Constantly updated collection of concept cars - [auto]
Underwater Wonders of the World - [travel]
Very cool candle experiment - [how-to video]
Awesome Western Theme Song - [music video]

------------

"The Lord Humongous" Wheelchair

We wrote about fiery creations of Lance Greathouse before (second part of this article). This time he almost upped himself with the wicked fire-breathing... wheelchair:




"This chair started as parts from several different machines. It is constructed out of a Marine rescue Helicopter seat and an electric golf cart parts. It is all electric and has a top speed of 22MPH. It has several forms of steering and can climb just about any terrain easily.

It was made for the disabled person looking for something a little different, why drive something that looks like a medical device when you can drive something lethal?"

------------

I hope this is 'shopped -



(original unknown)

Well, there are people who can do fun tricks with their tongues - see video

------------

Space Challenge: A Broken Toilet

You've probably read already NY Times hair-raising account of a broken toilet on international Space Station and the consequences for the crew.




Here are some responses from a Russian site, which seems to be eager to help:



(image credit: Naoki)



(image credit: Alias)

------------

The creepiest pavement art ever?




------------

Funny T-Shirt Designs

All from this little company here.




------------

Edward Hopper "Nighthawks" Variations

Very famous 50s-style painting gets a bunch of unexpected treatments:
(starting with the original)



(images credit: Worth1000)

See lots more on this page

------------

Left out to dry




------------

Mystery Devices

Number One:




UPDATE: This is a Blue Jeans Testing Device (1956) (more info)

"Blue jeans are tested for resistance to tearing. The wedge-shaped part with the numbered scales of this device is released, and then drops and tears the blue-jean fabric."

Number Two:




Number Three:




Update The last picture is a a Bod Pod (more info) which estimates you body/fat ratio by measuring your air displacement.

READ THE PREVIOUS ISSUE

Permanent Link...
...+StumbleUpon
...+Facebook
Dark Roasted Blend's Photography Gear Picks:
RECENT ARTICLES:
"Dark Roasted Blend" - All Kinds of Weird and Wonderful Things, Discovered Daily!"
DRB is a top-ranked and respected source for the best in art, travel and fascinating technology, with a highly visual presentation. Our in-depth articles in many categories make DRB a highly visual online magazine, bringing you quality entertainment every time you open your "feed" reader or visit our site -
About DRB
Connect with us and become part of
DRB on Facebook
,
Twitter
,
Pinterest
,
Instagram
,
Google Plus
; make sure to subscribe to our
updates
.
YOUR COMMENTS:
:
READ OTHER RECENT ARTICLES:
CATEGORIES
:
Feel-Good!
|
airplanes
|
animals
|
architecture
|
art
|
auto
|
boats
|
books
|
cool ads
|
funny pics
|
famous
|
futurism
|
food
gadgets
|
health
|
history
|
humour
|
japan
|
internet
|
link latte
|
military
|
music
|
nature
|
photo
|
russia
|
steampunk
sci-fi & fantasy
|
signs
|
space
|
sports
|
technology
|
trains
|
travel
|
vintage
|
weird
|
abandoned