"QUANTUM SHOT" #409
link


Don't try to figure these signs out. Get a GPS instead.

Human communication can get hopelessly jumbled and seriously weird. Especially when sign makers get drunk, depressed or just disinterested in the messages they need to convey. Then sign hilarity hits a new, unequaled high - and drivers everywhere look at these examples in stupefied wonder: how something like this could end up on a government road? And where do I go from here? (see our headline for answer)

Northern Irelanders do not mince words.
(they just take them from the Old Testament)



(image credit: TheLongestWalk)

Seen on the nuclear missile base:



(image credit: designobserver)

Leaving Brooklyn? -



(image credit: Brewgeek)

The sad irony:
("Do not deface the stone" - photo by Christa Gockel - Angkor, Cambodia)



((image credit: National Geographic)

"Ring Found!" (underneath added - "Bilbo Baggins, Shire"):



(image credit: Dominik Dollinger)

Rest Area, with all the necessities:





Traffic Signage Adventures

Lots of choice:



(see in Concord, North Carolina)

Better be "on the ball" here:



(image credit: Lobal)

Confusion:



(image credit: Sandy Redding)




Somewhat alien to Americans, this kind of road-markings often seen in Europe (this photo taken in Poland) -



(image credit: Josip)

Try to figure out this riddle while driving:



(image credit: plh)

This simply stands in the middle of the road in Portugal. No warning is given.



(image credit: plh)

and in Poland:



(image credit: tygodnikkrag)

This sign has been rendered obsolete - by a tree:



(image credit: EliteFeet)

Here is an example where parking markings might as well not be there:




Urban sculpture? I hope so:





(Creative) Warning Signs

... about dangers you never knew existed!



(image credit: wtfsigns)




Japanese way of saying: "Careful of that door" -



(image credit: Jackson Boyle)

This is (possibly) photoshopped:



(image credit: trifter)

But this is just plain creative:
(while you're reading it, you are obviously not bothering the animal)




Wouldn't you be just so slightly spooked by this? -



(image credit: badcontrol)



(seen in Ranathambore, Rajasthan, India. )

Thieves... and bees: don't know what's worse.



(image credit: John Gladu)

No parking on lava, wouldn't you know:
(obviously the sign got swallowed by the lava flow)



(images credit: John Gladu)

I call that a "pretty convincing warning"
(which however, failed to convince these guys) -




Now, this sign goes beyond merely "convincing" - into entirely different territory:




Captain Obvious strikes again:



(image credit: badcontrol)



(image credit: vidslib)




Follow the arrow: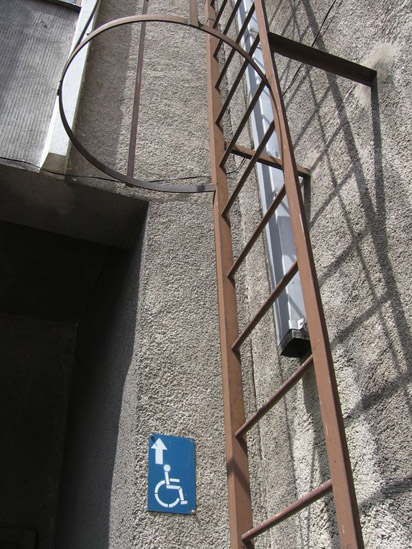 ...but carefully: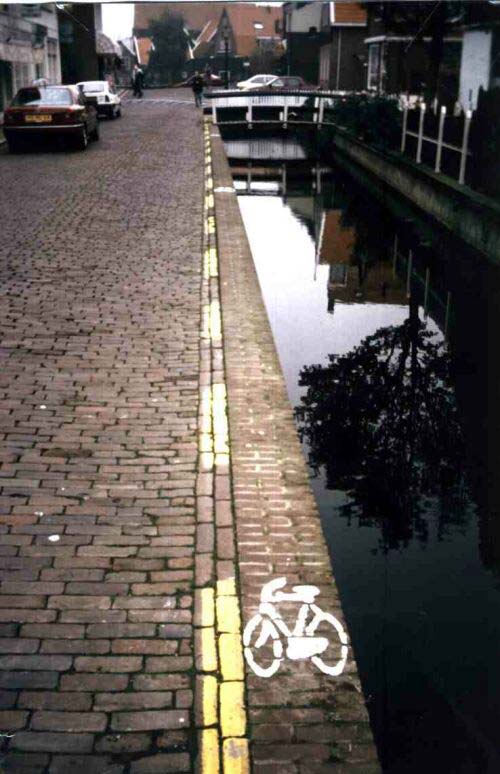 Dancers crossing... I'd like to see this; must be a beautiful sight:



(image credit: Anton Cheglov)

Invisible Cows are even better:



(image credit: Michael Seifert)

Miscellaneous signs and stickers:




Military does not waste words:




"Some days you wake up..." -



(image credit: choiresicha)

Very precise message:



(image credit: Ian Boyd)

a similar one:



(image credit: Ginny)

Care label (with a global message) -



(image credit: Stephan Augustin)


Seen (and enjoyed) somewhere in Russia

This one says: "DO NOT FEED THE ROBOTS"
Sure... but why?



(image credit: Aerofrau)

"Watch for Cats!" -




"Watch for loose (unruly) pedestrians!" -




"This is dangerous!" (no kidding) -




"Unpack only according to the manual. The manual is inside" -



(image credit: idioteka)

Another Evacuation Plan (Emergency Evacuation Procedures) -



(image credit: idioteka)

"Comrades! The way across the bridge is closed. There IS no bridge."





Imaginative Store Signs

Intense... almost like poetry:




How would you justify this name for a restaurant? - more info
(seen in Kyoto, but there is also a hotel/resort by the same name in Thailand)



(image credit: Chris Gladis)

Sometimes it's a sheer coincidence, sometimes a malicious intent.



(image credit: Chuck Walker)

Something clearly went wrong here:



(image credit: idioteka)


Washroom signs that aren't very helpful

This sinister "glaring entity from above" haunts the men's room in Japan:



(image credit: Chris Gladis)

Only sitting allowed, please. No other unnecessary acrobatics:
(more info)




Wondering which door to choose? This page collects all kinds of "men/women" sign variations, not all of them obvious:



(image credit: Dave Linabury)

Probably the best one:




Here is a really exasperating situation. Imagine opening the door to the last available cabin, hoping to... and seeing this:



(image credit: idioteka)


Spontaneous Graffiti

Some of it is funny, some appeared there for no sensible reason. The following sign was spotted outside a cafe (somebody spent too much time on the internet?) -



(image credit: Willy de Bok)



(seen at Vinnie's Pizza In Williamsburg Brooklyn, NY)

Could be the famous Banksy's work:




So true:




Gamers will know what's this about -




And this sign speaks for all the squashed pop cans everywhere:
"STOP STEPPING ON US!"





This is not broken English... just imaginative.

This "vending machine poetry" was spotted, where else - in Japan. Wonderfully convincing piece:



(image credit: Chris Gladis)

And then, the broken English rears its ugly (entertaining) head:



(images credit: asylum.com)



(image credit: Engrish)

"Be careful to Tsunamis". I doubt they'll return the favour, though -



(image credit: Michael I. Colwill)



(seen near Sydney, Australia)

Gotta be "sports and hobbies" -



(images credit: Engrish)



(image credit: Simon Mills)

Amuseful Customers:



(image credit: Dylan Rich)

Acid Beef (discharged, too) -



(image credit: Dylan Rich)

And we finish with the most mysterious occasion of all:
Coincidence?




Thank you to all the contributors. Send us more examples of sign hilarity

CONTINUE TO NEXT PART! ->

READ THE PREVIOUS PART HERE - Read all issues here.

Permanent Link...
...+StumbleUpon
...+Facebook
Category: Weird,Signs
Dark Roasted Blend's Photography Gear Picks:
RECENT ARTICLES:
"Dark Roasted Blend" - All Kinds of Weird and Wonderful Things, Discovered Daily!"
DRB is a top-ranked and respected source for the best in art, travel and fascinating technology, with a highly visual presentation. Our in-depth articles in many categories make DRB a highly visual online magazine, bringing you quality entertainment every time you open your "feed" reader or visit our site -
About DRB
Connect with us and become part of
DRB on Facebook
,
Twitter
,
Pinterest
,
Instagram
,
Google Plus
; make sure to subscribe to our
updates
.
YOUR COMMENTS:
:
READ OTHER RECENT ARTICLES:
CATEGORIES
:
Feel-Good!
|
airplanes
|
animals
|
architecture
|
art
|
auto
|
boats
|
books
|
cool ads
|
funny pics
|
famous
|
futurism
|
food
gadgets
|
health
|
history
|
humour
|
japan
|
internet
|
link latte
|
military
|
music
|
nature
|
photo
|
russia
|
steampunk
sci-fi & fantasy
|
signs
|
space
|
sports
|
technology
|
trains
|
travel
|
vintage
|
weird
|
abandoned