"QUANTUM SHOT" #206




READ PART 1 HERE


Nothing is as fascinating as an unexplained accident

New batch of strange mis-happenings, weird situations, and often maddeningly mysterious wrecks, where we keep asking ourselves: "How on earth that could happen?"

(most pictures were either received through email, or found on news aggregator sites without attribution info. If you know who took the picture, please tell us and we'll include the credits)

Surprise!





Too close for comfort - now:




...and then



Sunk!




Squashed!




Street installation by D'Face on Brick Lane in London.





We got a story behind the image above: 2004 Hurricane Ivan is responsible for dropping the air conditioning unit on top of this car... The car was left in a parking lot like this for a year, as nobody wanted to pay the moving bill!
(thank you Nikki for this info)


Attacked!




Hanging loose!



(image credit: Benjamin Olins)


Looks like it's an art installation, after all:



Trimmed to size:




Really Bad Parking: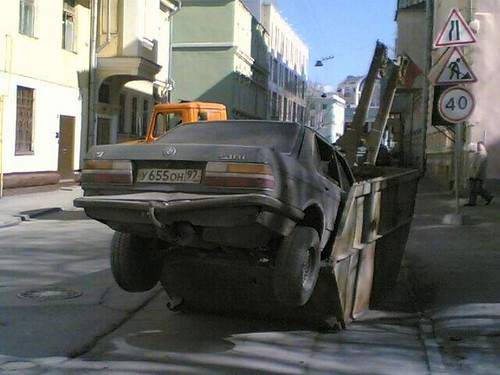 Stuck while off-roading:




Never leaving the road, but still stuck:




Help, anyone? (and stop grinning)




...spring has sprung:




"Oops" happens to bicyclists & pedestrians too, of course:


Accidents waiting to happen:


I guess this would explain the following picture:



don't put yourself at risk:



here is my favorite: what is he thinking??
(although i suspect this is an ad, demonstrating traction?)




UPDATE

It is indeed an ad for AUDI 4x4 drive. Thanks to your suggestions,
here are some links:
See video ad here (even older ad is here)
Make sure to check out their site (with info on how they did it)



(image credit: Worldcarfans.com)

(Sources: blog.sina.com.cn, The Liberal Blogger, Cherski.ru, Knuttz)

CONTINUE TO NEXT PART

ALSO READ PART 1 HERE

Permanent Link...
Category: Auto,Weird
Related Posts:
All Cranes are Doomed!
Oops! - Weirdest Accidents, part 1
Tank Accidents!
Heavy Machinery Acrobatics!

RECENT ARTICLES:
"Dark Roasted Blend" - All Kinds of Weird and Wonderful Things, Discovered Daily!"
DRB is a top-ranked and respected source for the best in art, travel and fascinating technology, with a highly visual presentation. Our in-depth articles in many categories make DRB a highly visual online magazine, bringing you quality entertainment every time you open your "feed" reader or visit our site -
About DRB
Connect with us and become part of
DRB on Facebook
,
Twitter
,
Pinterest
,
Instagram
,
Google Plus
; make sure to subscribe to our
updates
.
YOUR COMMENTS:
:
READ OTHER RECENT ARTICLES:
CATEGORIES
:
Feel-Good!
|
airplanes
|
animals
|
architecture
|
art
|
auto
|
boats
|
books
|
cool ads
|
funny pics
|
famous
|
futurism
|
food
gadgets
|
health
|
history
|
humour
|
japan
|
internet
|
link latte
|
military
|
music
|
nature
|
photo
|
russia
|
steampunk
sci-fi & fantasy
|
signs
|
space
|
sports
|
technology
|
trains
|
travel
|
vintage
|
weird
|
abandoned