"QUANTUM SHOT" #712
Link - article by Avi Abrams



If you happen to be near this animal, you should definitely be aware of what's it doing (and maybe join the fun?)

Bears being bears... they don't need an excuse to do what they do. But today we are going to discover what they do best.

Bears love to chill out:





Well, Hello there, dear! -





Happy Climbing:





Bears are no strangers to Zen, when it comes to inner contentment:





Teddy Bearz:



(image via)


Getting in trouble:





Chasing the bear: this image quickly became an internet classic -



(image via)


You know to be careful, of course: bears know martial arts (below left), and can chase you in deep snow:





This bear has judged you, and found you wanting:



(original unknown)


Bears doing yoga stretching exercises:



(image via)


There is a cookie down there! I can reeeeeach it -



(image via)


"Here is one tired bear", seems to be a perfect caption for it:



(image via)


This bear is tired too... having a quick nap after some fishing:



(image credit: Rick Sheremeta, National Geographic)


This is how a bear can sleep... if he wants to:



(original unknown)


Polar Bears (outside of Coca-Cola commercials)

Showing the cutest behinds:





Motherly love:



(image via)


Polar bears don't have it easy nowadays: this one is stranded on a piece of ice off an island near Svalbard in the Arctic circle:



(left image credit: Arne Naevra)


Exercise is everything: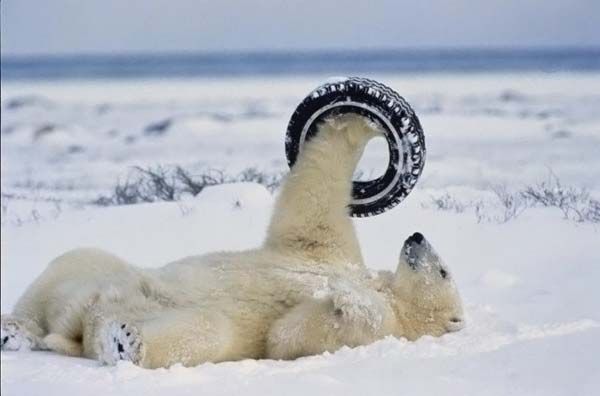 Staring contest - and other arguments:



(left image credit: Tristan Bayer)

"Wildlife filmmaker Tristan Bayer is ready for his closeup while making the wildlife adventure documentary Earthling. Luckily they say that white bears can't jump! The bear huffed and puffed and finally won the staring contest by defeating Tristan with his foul bear breath." See the bigger version here.



(image credit: Paul Nicklen / National Geographic)

The image above is part of Paul Nicklen's "Polar Obsession" series - make sure to check it out:



(image credit: Paul Nicklen / National Geographic)


One very FEROSHUS polar bear, thanks to Cute Overload:



(image via)


Panda Party Animals

Panda bears love to hang out:



(images via 1, 2)


A panda missing its tree? Or, do pandas simply always look a little sad? -





Giant Panda hanging from structure at the Wolong Nature Reserve, China (left):



(images credit: Katherine Feng, National Geographic, Alamy)


Pandas can turn into the cutest furballs:



(images via)


Is there a dessert? Yes! (also check the different ways how pandas Love to Party!)



(image via)


We wrote about the cutest panda bears - The Newborn Pandas- before (we also have an article about the Red Panda, or Firefox - here).



(image via)


It's coming to get you! -


CONTINUE TO "GOOFY GIRAFFES!" ->
SEE THE REST OF OUR ANIMAL CATEGORY! ->
RECENT ARTICLES:
"Dark Roasted Blend" - All Kinds of Weird and Wonderful Things, Discovered Daily!"
DRB is a top-ranked and respected source for the best in art, travel and fascinating technology, with a highly visual presentation. Our in-depth articles in many categories make DRB a highly visual online magazine, bringing you quality entertainment every time you open your "feed" reader or visit our site -
About DRB
Connect with us and become part of
DRB on Facebook
,
Twitter
,
Pinterest
,
Google Plus
; make sure to subscribe to our
updates
.
Our mobile site:
http://mobile.darkroastedblend.com
. You can also read us on iPad, as part of the
Flipboard
popular free app.
YOUR COMMENTS:
:
READ OTHER RECENT ARTICLES:



Mind-Blowing Optical Illusions, Part 6

"The soul has illusions as the bird has wings: it is supported by them"



Exceptional British 1950s Scifi Artwork

Quintessential Space Pulp Art by Ron Turner and others



Extreme Parenting & Wild, Wild Kids! Part 2

The Joys and Perils of Having Interesting Kids



Creation and Destruction of Sand Mandalas

Profound Art Ritual Reflecting the Sanctity of Our Lives



Funny Sports Update

Underwater Ice Hockey, Extreme Stunts, etc.(Pics)



The New Motor, or the Steam-Powered Messiah

The strange, true tale (plus some wicked cyberpunk art)



Machines Alive! The Whimsical Art of Boris Artzybasheff

Is it a dream, or a nightmare?



Automated Musical Instruments

Music Robots: No Performer Necessary



American Supersonic Airliners:
Race for a Dream

Supersonic Marvels, Largely Forgotten Today



Pulp Pleasures: Eando Binder

"Where Eternity Ends" and other rare gems



Epic Fantasy: the Start of the Journey

Part 2 of our "Best Classic Fantasy" series



Strange Shadows: Best Classic Fantasy

Fantasy "Glitches in the Matrix", Epic Lands, and more!
CATEGORIES
:
airplanes
|
animals
|
architecture
|
art
|
auto
|
boats
|
books
|
cool ads
|
funny pics
|
famous
|
futurism
|
food
gadgets
|
health
|
history
|
humour
|
japan
|
internet
|
link latte
|
military
|
music
|
nature
|
photo
|
russia
|
steampunk
sci-fi & fantasy
|
signs
|
space
|
sports
|
technology
|
trains
|
travel
|
vintage
|
weird