"QUANTUM SHOT" #696
Link - by Avi Abrams


Nothing is as fascinating as an unexplained accident...
- Weirdest Accidents, Part 6 -

Indeed, every picture here is an unopened book of driver's angst, remorse and often complete confusion. Here is the fresh installment in our on-going "Accidents Big and Small" series, full of mystifying and bizarre accidents, mostly suffered by vehicles on the ground (which is slightly more reassuring than accidents in the air, see our "Airplane Oops!" page).

We'll start with some futuristic accidents (car accidents in the future):



(see the whole covers here and here)

This is almost art: The Lake Dance -




Soft (hard) landing? -




Bad drivers? Maybe this bunch:





What happened here?

In every case, there is a bit of a mystery. See for yourself:




Did he get distracted by what's happening at his right? -



(image via)

Holes vs. Cars -




Clearly, this moose has seen too much (and knows something we don't):




Seems like there was no driver inside (lucky guy):




Not a scratch on this car! -




Traffic signs vs. cars: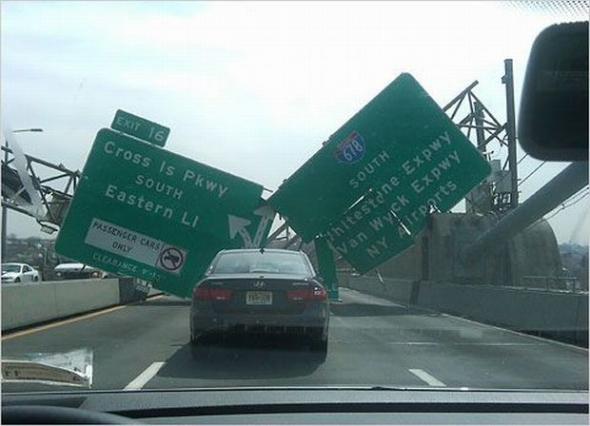 The signs says ironically: "Your speed should be reasonable". Well....

The 2010 Chilean Earthquake spelled doom for many cars:



(image via)

Russian Crane trucks hate PT Cruisers:




Could it be a private vendetta? -




A can-opener:




Not easily fixed:




More pics and info on this one - here. Apparently, the driver noticed that there is no bridge a trifle too late:



(images via)

We only hope that this is an ad campaign:




Intentional photo-bomb? -



(image via)

UPDATE: Well, looks like this is a real thing -




More cliff-hangers:




Chain reactions:




Fire brigades (& police vehicles) are no exception when it comes to accidents: $750,000 truck ruined - more info:




Hug me. Kiss me -




Hamsters (chipmunks)! Yea, blame it all on hamsters! -




Cows are upset (anyone can say "milkshake"?):




This is not milk: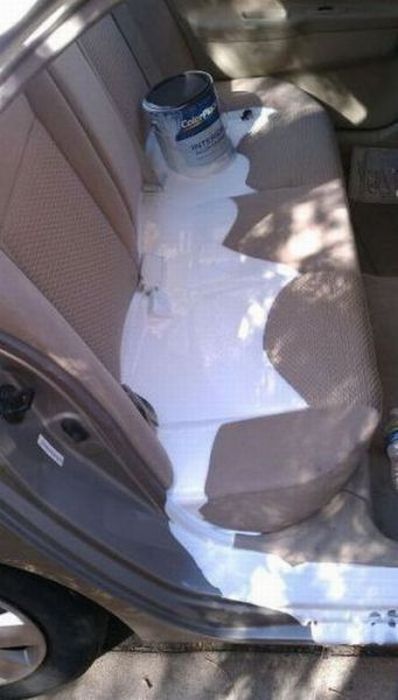 -----

Extreme Flying




Did we say "flying"? Yes, unfortunately, some of cars (and their drivers) take to the air:




Get on your knees, and pray! -



(original unknown)

Something epic ("Death Proof" movie):




Extreme swimming (a flooding in Turkey):



(image via)

Extreme off-roading. See more awesome pictures at our page:




-----

Parking with a Vengeance




Waiting... waiting for it to happen:




Nobody perfect:




"This is my Hummer - I make the rules" (parking it, just as it is written - we were warned!):




Hummers lead hard life, too:




Handicapped? Never heard o'em:




Stuck:




-----

"Ask me how some of these accidents happened. I'll tell ya.":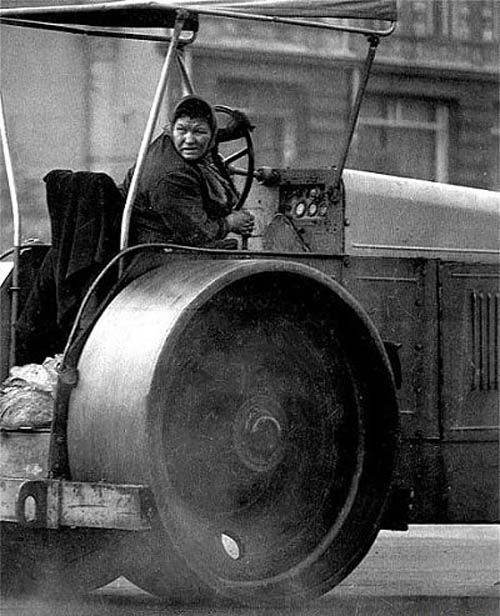 (original unknown)


CHECK OUT THE REST OF CRAZY ACCIDENTS! ->

(image sources: 1, 2, 3)
(most pictures were either received through email, or found on news aggregator sites without attribution info. If you know who took the picture, please tell us and we'll include the credits)


RECENT ARTICLES:
"Dark Roasted Blend" - All Kinds of Weird and Wonderful Things, Discovered Daily!"
DRB is a top-ranked and respected source for the best in art, travel and fascinating technology, with a highly visual presentation. Our in-depth articles in many categories make DRB a highly visual online magazine, bringing you quality entertainment every time you open your "feed" reader or visit our site -
About DRB
Connect with us and become part of
DRB on Facebook
,
Twitter
,
Pinterest
,
Google Plus
; make sure to subscribe to our
updates
.
Our mobile site:
http://mobile.darkroastedblend.com
. You can also read us on iPad, as part of the
Flipboard
popular free app.
YOUR COMMENTS:
:
READ OTHER RECENT ARTICLES:



Mind-Blowing Optical Illusions, Part 6

"The soul has illusions as the bird has wings: it is supported by them"



Exceptional British 1950s Scifi Artwork

Quintessential Space Pulp Art by Ron Turner and others



Extreme Parenting & Wild, Wild Kids! Part 2

The Joys and Perils of Having Interesting Kids



Creation and Destruction of Sand Mandalas

Profound Art Ritual Reflecting the Sanctity of Our Lives



Funny Sports Update

Underwater Ice Hockey, Extreme Stunts, etc.(Pics)



The New Motor, or the Steam-Powered Messiah

The strange, true tale (plus some wicked cyberpunk art)



Machines Alive! The Whimsical Art of Boris Artzybasheff

Is it a dream, or a nightmare?



Automated Musical Instruments

Music Robots: No Performer Necessary



American Supersonic Airliners:
Race for a Dream

Supersonic Marvels, Largely Forgotten Today



Pulp Pleasures: Eando Binder

"Where Eternity Ends" and other rare gems



Epic Fantasy: the Start of the Journey

Part 2 of our "Best Classic Fantasy" series



Strange Shadows: Best Classic Fantasy

Fantasy "Glitches in the Matrix", Epic Lands, and more!
CATEGORIES
:
airplanes
|
animals
|
architecture
|
art
|
auto
|
boats
|
books
|
cool ads
|
funny pics
|
famous
|
futurism
|
food
gadgets
|
health
|
history
|
humour
|
japan
|
internet
|
link latte
|
military
|
music
|
nature
|
photo
|
russia
|
steampunk
sci-fi & fantasy
|
signs
|
space
|
sports
|
technology
|
trains
|
travel
|
vintage
|
weird