"QUANTUM SHOT" #657
Link - by Avi Abrams



We have not had a funny pictures round-up for a few months, and this one is dedicated to parents... again. Why you ask, are we so impressed by the extreme efforts and solutions of some parents? Because some children are different and require parenting that is in the same league as, say, taming wild animals. So, without further ado -

It's Mad, Mad, Mad, Mad (Parents) and Kids!



(top image: advertisement for "Choco" product in the 1970s, via; bottom left photo via, right ad via)


"The Look":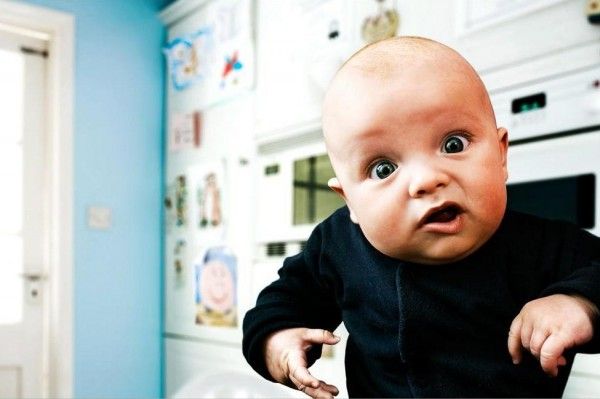 (images via 1, 2, 3, 4, Shelly Burrows)


Keeping them busy

This picture is sorely in the need of caption:



(image credit: JumpinJack)


Oh Joy! - Mud... Frogs...



(top image sent by Shelly Burrows)


Graduating to more extreme activities:





Here is a game that every warm-blooded boy would enjoy: make them pose as superheroes and let them use anything they can find outside to arm and outfit their characters. At a certain angle, they might even seem like flying! This time however, it's the setup created by photographer Jan Von Holleben (they also have fine art posters and postcards):



(images credit: Jan Von Holleben)


"Vintage Games" and retro-style are always welcome:



(originals unknown)


or simply dress them up! -



(images credit: Jan Von Holleben)


and then, by simple image manipulation, turn them into monsters! They will love it -



(see a lot more here)


Awesome toy! You can shave the baby -





Give them a bath.... (seven babies sit to cool down after a baby massage class held for young mothers)



(top image credit: REUTERS/United Photos)


Convoluted talk, with a lot of imaginative loops involved - a Baby Talk?



(image credit: Anna Janosik)


Inventive Parents

Necessity is the mother of invention. "iSuck" and "iParent" doing the mothering part, too -



(image via)


These cages actually existed (proof here):



(images via)


Have two kids? Make two extra doors (order it from SlamDoors):



(more info; image via)


Er... actually, fatherhood is not that glamorous, or slick -



(image via)


Children encounter frustration too:



(original unknown)


Scare them... gently

We are not advocating shock-therapy, not at all!.. Only distraction:



(original unknown)


This is going too far -



(originals unknown)


I hope this is Photoshopped -



(image via)


Anaconda! Playing Mowgli and Kaa? -



(image via)


The safest ride in the world! -



(image via)


This is even scarier... Sniper bait? -



(image via)

The picture above was taken at the end of World War 2 in Amsterdam. Much of the country had been liberated, so a lot of people went out to celebrate on Dam square in Amsterdam. Unfortunately there were still some Germans there (including a sniper) so a celebration turned ugly real quickly when the Germans started firing shots on a gathering of celebrating people. The child was probably too young to realize what is going on.


Some monsters are unexpected, and some are... unintentional:



(images: left via, right: "Where the Wild Things Are" poster)



(images: left via. right via)


The Creepiest Greeting Award:



(image credit: Jen Savage)


or you can put your child into a Monster Stroller and observe his/her bravery:



(more info and images here)


Some "monster dresses" are actually quite adorable:



(image credit: Pietro Bellini)


Big Eyes!



(image via)



(image credit: Life Magazine)


They are irresistible, these huge, sweet, lovable eyes - we are hard-wired to react to this big-eyed sweetness, and so we respond by buying them more candy... again:



(image credit: Koffee)



(original unknown)


Never mind a little "wetness" on the chin. Things are as they should be.



(original unknown)


Big eyes... sometime in the 1970s USSR:



(original unknown)


The secret of beauty in the former USSR? This poster directs: "The Ministry of Food and Perfume Products says: Children are to BRUSH THEIR TEETH!" Period! -





On the other hand -





And yet, and yet - we all know that they are moments of PURE BLISS in parenting. Never boring, intense, and - sweet:



(image credit: Pete Hawley, see more here)


CONTINUE TO NEXT PAGE OF THIS ARTICLE! ->

Also Read:
Hilarious Kids and Babies, Part 1
Hilarious Kids and Babies, Part 2
Love, Romance and The Joys of Parenting



RECENT ARTICLES:
"Dark Roasted Blend" - All Kinds of Weird and Wonderful Things, Discovered Daily!"
DRB is a top-ranked and respected source for the best in art, travel and fascinating technology, with a highly visual presentation. Our in-depth articles in many categories make DRB a highly visual online magazine, bringing you quality entertainment every time you open your "feed" reader or visit our site -
About DRB
Connect with us and become part of
DRB on Facebook
,
Twitter
,
Pinterest
,
Google Plus
; make sure to subscribe to our
updates
.
Our mobile site:
http://mobile.darkroastedblend.com
. You can also read us on iPad, as part of the
Flipboard
popular free app.
YOUR COMMENTS:
:
READ OTHER RECENT ARTICLES:



Enchanting Waterfall Island

Like the Nagrand region in World of Warcraft


DRB Feel-Good
DRB Feel-Good Issue #16

Loads of cool and rare imagery



Auto Oops! Bizarre Car Accidents, Part 7

New batch of maddeningly mysterious wrecks



Mind-Blowing Optical Illusions, Part 6

"The soul has illusions as the bird has wings: it is supported by them"



Exceptional British 1950s Scifi Artwork

Quintessential Space Pulp Art by Ron Turner and others



Extreme Parenting & Wild, Wild Kids! Part 2

The Joys and Perils of Having Interesting Kids



Creation and Destruction of Sand Mandalas

Profound Art Ritual Reflecting the Sanctity of Our Lives



Funny Sports Update

Underwater Ice Hockey, Extreme Stunts, etc.(Pics)



The New Motor, or the Steam-Powered Messiah

The strange, true tale (plus some wicked cyberpunk art)



Machines Alive! The Whimsical Art of Boris Artzybasheff

Is it a dream, or a nightmare?



Automated Musical Instruments

Music Robots: No Performer Necessary



American Supersonic Airliners:
Race for a Dream

Supersonic Marvels, Largely Forgotten Today



Pulp Pleasures: Eando Binder

"Where Eternity Ends" and other rare gems



Epic Fantasy: the Start of the Journey

Part 2 of our "Best Classic Fantasy" series



Strange Shadows: Best Classic Fantasy

Fantasy "Glitches in the Matrix", Epic Lands, and more!
CATEGORIES
:
airplanes
|
animals
|
architecture
|
art
|
auto
|
boats
|
books
|
cool ads
|
funny pics
|
famous
|
futurism
|
food
gadgets
|
health
|
history
|
humour
|
japan
|
internet
|
link latte
|
military
|
music
|
nature
|
photo
|
russia
|
steampunk
sci-fi & fantasy
|
signs
|
space
|
sports
|
technology
|
trains
|
travel
|
vintage
|
weird