Link
Scroll down for today's pictures & links.

Mini-Tank "Shredder"

Segway on steroids? Power Rangers dream come true? It's the Dual Tracked (Military Purpose) Vehicle DTV "Shredder" - part robotic workhorse, part extreme terrain-shredding "board". Made by the Canadian company BPG-Werks, this must be an ultimate blast to ride:



Link

Today's pictures & links:

Awesome "Koncept Kar": Audi One

These sculpted, post-modern, post-art-deco forms were designed by Jason Battersby as a Cultural Achievement Award degree project. More photos and info here:




"The Audi One concept is designed to symbolize and promote human achievement, becoming a timeless sculpture each deserving recipient gets to keep and drive for one year at a time. Recipients would have their names engraved on one of the expressive fins... Inspired by timeless objects, the goal is to design an exterior that will stand the test of time, becoming a futuristic statement."



(images credit: Jason Battersby)

------------

No wonder she has a headache...

It's hard not to be intimidated by such a huge camera (probably emitting a lot of heat, too) - and concentrate on your role. This picture was taken during the shooting of "Romance of the High Seas" in 1947:



(image via)

------------

(Only Natural) Use of Water



(original unknown)

------------

A Very Pretty Secretary

Maybe she just does not want to be distracted.



(image via)

Similar idea, taken into space ("Spaceways", 1952 UK series):



(image via)

------------

Mixed fresh links for today:

Military Field Rations Compared (click on various countries) - [fascinating]
Were You Born on the Wrong Continent? - [overworked]
Unique Uses of Morse Code in Design - [gadgets]
The Crowded Galaxy: Soft Drinks Industry - [cool infographic]
Paint Drops in Water, by Mark Mawson - [wow art]
The Most Extreme Diets - [weird]
Making Torsos... from the weirdest materials - [weird]
Shredding the Sink! - [extreme birds], via
Another Sick, Frantic Rally Ride - [wow video]
Rough, Rough Seas (Flying Furniture), info - [wow videos]
Silly Goalkeepers, more - [fun videos]
Very Beautiful & Relaxing: Tokyo Time-Lapse - [wow video]

------------

High Seas: 100 Foot High "Rogue Waves"

This picture supposedly shows a Polar trader bound for Valdez in winter 2001:



(image via)

Watch the video with more info - here. Also see our series "Ships vs. Big Waves" Part 1, Part 2, Part 3

------------

Folk Art: Vladimir Putin



(image via)

To get a glimpse of the very strange and probably secret code writing of Vladimir Putin, click here

------------

Tubby Wink



(original unknown)

------------

All you need to know about your house' plumbing



(image via)

Certainly better than this one:




------------

Extreme Grumpiness



(originals unknown)

------------

Dramatic Cats

Custer's Last Stand? -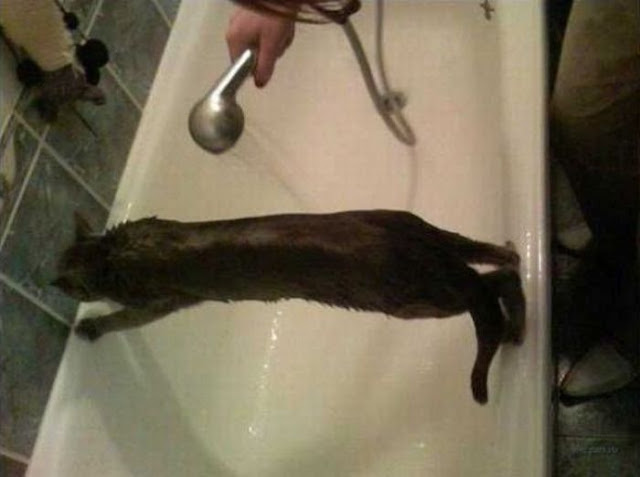 (originals unknown)

------------

Animated Zipper

This is how a zipper works (something you always wanted to know, but were afraid to ask):



(image via)


READ THE PREVIOUS ISSUE ->
RECENT ARTICLES:
"Dark Roasted Blend" - All Kinds of Weird and Wonderful Things, Discovered Daily!"
DRB is a top-ranked and respected source for the best in art, travel and fascinating technology, with a highly visual presentation. Our in-depth articles in many categories make DRB a highly visual online magazine, bringing you quality entertainment every time you open your "feed" reader or visit our site -
About DRB
Connect with us and become part of
DRB on Facebook
,
Twitter
,
Pinterest
,
Google Plus
; make sure to subscribe to our
updates
.
Our mobile site:
http://mobile.darkroastedblend.com
. You can also read us on iPad, as part of the
Flipboard
popular free app.
YOUR COMMENTS:
:
READ OTHER RECENT ARTICLES:



Creation and Destruction of Sand Mandalas

Profound Art Ritual Reflecting the Sanctity of Our Lives



Funny Sports Update

Underwater Ice Hockey, Extreme Stunts, etc.(Pics)



The New Motor, or the Steam-Powered Messiah

The strange, true tale (plus some wicked cyberpunk art)



Machines Alive! The Whimsical Art of Boris Artzybasheff

Is it a dream, or a nightmare?



Automated Musical Instruments

Music Robots: No Performer Necessary



American Supersonic Airliners:
Race for a Dream

Supersonic Marvels, Largely Forgotten Today



Pulp Pleasures: Eando Binder

"Where Eternity Ends" and other rare gems



Epic Fantasy: the Start of the Journey

Part 2 of our "Best Classic Fantasy" series



Strange Shadows: Best Classic Fantasy

Fantasy "Glitches in the Matrix", Epic Lands, and more!


DRB Feel-Good
Happy Holidays from DRB!

2014 Feel-Good Issue, Part 2


DRB Feel-Good
Christmas Feel-Good Special

Happy Holidays and Great New 2014 Year from DRB!



Epic Space Fiction by Alastair Reynolds

"Nostalgia for Infinity", indeed



Cinerama: "The Next Big Thing That Was"

Curved screens, gigantic projectors & "out-of-this-world" picture


DRB Series
Magnificent Fractals (DRB Series)

Probably the Most Spectacular Collection of Fractals on the Web



Fractals For Food

If You Eat This, Will It Make You Better At Math?



Three-Dimensional Mechanical Fractals

Don't stare at them for too long, or your brain will capsize!



Pre-Fractal Art

Stunning Examples of Fractal Art in History



A Codebreaker's Dream: The Bombe!

"The Bombe" vs. "The Enigma" code battle



Extremely Weird Bus Stops & Shelters

Wildly bizarre bus stop "creations"



Incredible Balancing Acts & Tightrope Walking

Up on the Roof: Not for the Faint of Heart



The Creepiest Mannequins

Serious Halloween Scares and Frights



Wildly Funny Frogs

Frogs in their "moments of weakness"



World's Strangest Vehicles, Part 5

The Truly Bizarre Car Zoo!



Deadliest Creatures (that are Easiest to Miss)

Real terror lurks in quiet darkness



"Music For... What?" Weird Album Covers

Music for Vacuuming, and much much more!



World's Strangest Vehicles, Part 4

Sheer Auto Adrenaline!
CATEGORIES
:
airplanes
|
animals
|
architecture
|
art
|
auto
|
boats
|
books
|
cool ads
|
funny pics
|
famous
|
futurism
|
food
gadgets
|
health
|
history
|
humour
|
japan
|
internet
|
link latte
|
military
|
music
|
nature
|
photo
|
russia
|
steampunk
sci-fi & fantasy
|
signs
|
space
|
sports
|
technology
|
trains
|
travel
|
vintage
|
weird