"QUANTUM SHOT" #510
Link, by A. Abrams



"Crop Circles in the Sky", with cute little tails sticking out of them

We covered bizarre cloud formations before, but there seems to be no end of them... The tsunami-looking fog wave was strange enough, and now these "gateways in the sky" - circular absence of clouds, with wispy tendrils reaching out of them...



(original unknown)

Punch Hole Clouds may appear as a circular or oval holes in a layer of supercooled clouds; sometimes they assume a form of a perfect circle and persist for quite a long time, drifting together with the cloud layer. One explanation seems to blame the air traffic (the jet contrail intersections) combined with a thermal inversion (a circular motion of a rising warm air). Here is one, observed over the Gunnison Valley in Colorado:



(image credit: Cuerling)

Another strange hole in the cloud, reported from Mobile, Alabama USA, Dec. 2003 (and covered by BBC News):



(images credit: Joel Knain and Weatherlings)

Photo taken in Melbourne, Australia in 2003:



(images via)

It seems both rising and sinking air currents can create the same effect. Sometimes a very stable, uniform layer of high-altitude clouds can get "punched though" by a pocket of cold air, which sinks toward the ground - creating the circular hole formation.



(image credit: Neil Johnson(The Tampa Tribune) and Gwen Swinburne)

These "cloud holes" can look like the footprints of some celestial being (UFO enthusiasts rejoice!) or can be amazingly round, like this pair observed in Gallatin, Tennessee by Wayne Carter:



(image credit: Wayne Carter)

NASA takes satellite images of this phenomenon

NASA Terra satellite equipped with the Moderate Resolution Imaging Spectroradiometer (MODIS) has captured these images over Acadiana area in southern Louisiana - a splattering of round holes actually stretched over several states: Oklahoma, Arkansas, Louisiana, and Texas. Some were elongated, some appeared to have smaller clouds inside them.

"This strange phenomenon resulted from a combination of cold temperatures, air traffic, and perhaps unusual atmospheric stability. The cloud blanket on January 29 consisted of supercooled clouds. Supercooled clouds contain water droplets that remain liquid even though the temperature is well below freezing, and such clouds are not unusual. As aircraft from the Dallas-Fort Worth airport passed through these clouds, tiny particles in the exhaust came into contact with the supercooled water droplets, which froze instantly. The larger ice crystals fell out of the cloud deck, leaving behind the "holes," while the tiniest ice particles in the center remained aloft." (source)



(images credit: Jeff Schmaltz, NASA)


Cloud Vortices: another "holey" sky phenomena

Theodore von Karman's "Cloud Vortices" are something else, again: they form when the wind encounters a barrier - such as the Aleutian islands, in this case - and the flowing eddies of cloud create a weird pattern. The image you see below was photographed from the International Space Station, and the animation shows the double row of vortices, which rotate opposite from each other.



(image credit: NASA)



(image credit: Cesareo de la Rosa Siqueira, via)


More Incredible and Fascinating Clouds

...that make our sky worthy to look at from time to time (those who only look at the computer monitor, take note). Here is an extremely strong thunderstorm cloud that brewed over northwest Calgary:



(images credit: D'Arcy Norman)

Another supercell cloud in Alberta skies, this time over Edmonton:



(image credit: Greg)

'shrooms:



(image credit: Cloud Appreciation Society)

Another cloud "wave", similar to the one over South Dakota Badlands (see here):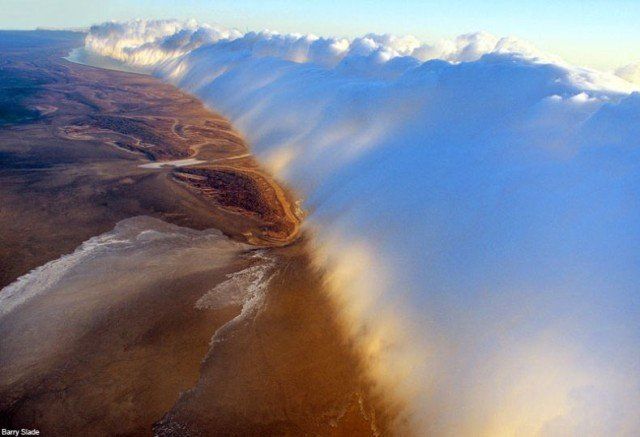 (image credit: Barry Slade)

Roll clouds... get into a small plane and start "surfing" them! -



(image credit: Russell White)



(image credit: Dan Bush)

A Cloud Angel -



(sent in by Dave)

Two light-sabers get crossed in the sky:



(image credit: Olga Olgert)

A fire-breathing rabbit-dragon, and a fantastic cloud edge:



(original unknown)

A "genie", coming out of a bottle:



(image credit: Raoul Pop)

Spectacular lenticulars in the morning light... and a whole "pancake" stack of them, over at Mount Rainier in Washington: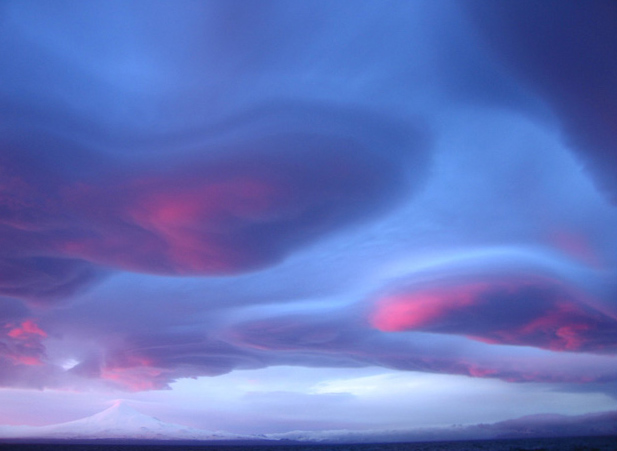 (image credit: Arco Images, Alamy, National Geographic)

Stormy:



(image via)

An interesting rainbow effect:



(original unknown)

Nacreous clouds - good page about them, with lots of info:



(image credit: Atmospheric Optics)

Prepare to get squashed, Earthlings! -



(image credit: Sam LeBarron)


CONTINUE TO "EXTREME WEATHER" DRB SERIES! ->

Also Read:
Mammatus, Lenticular and Other Extreme Clouds
Fog Storm Over Badlands
Extreme & Beautiful Storm Clouds


Permanent Link...
...+StumbleUpon
...+Facebook

RECENT ARTICLES:
"Dark Roasted Blend" - All Kinds of Weird and Wonderful Things, Discovered Daily!"
DRB is a top-ranked and respected source for the best in art, travel and fascinating technology, with a highly visual presentation. Our in-depth articles in many categories make DRB a highly visual online magazine, bringing you quality entertainment every time you open your "feed" reader or visit our site -
About DRB
Connect with us and become part of
DRB on Facebook
,
Twitter
,
Pinterest
,
Google Plus
; make sure to subscribe to our
updates
.
Our mobile site:
http://mobile.darkroastedblend.com
. You can also read us on iPad, as part of the
Flipboard
popular free app.
YOUR COMMENTS:
:
READ OTHER RECENT ARTICLES:



Creation and Destruction of Sand Mandalas

Profound Art Ritual Reflecting the Sanctity of Our Lives



Funny Sports Update

Underwater Ice Hockey, Extreme Stunts, etc.(Pics)



The New Motor, or the Steam-Powered Messiah

The strange, true tale (plus some wicked cyberpunk art)



Machines Alive! The Whimsical Art of Boris Artzybasheff

Is it a dream, or a nightmare?



Automated Musical Instruments

Music Robots: No Performer Necessary



American Supersonic Airliners:
Race for a Dream

Supersonic Marvels, Largely Forgotten Today



Pulp Pleasures: Eando Binder

"Where Eternity Ends" and other rare gems



Epic Fantasy: the Start of the Journey

Part 2 of our "Best Classic Fantasy" series



Strange Shadows: Best Classic Fantasy

Fantasy "Glitches in the Matrix", Epic Lands, and more!


DRB Feel-Good
Happy Holidays from DRB!

2014 Feel-Good Issue, Part 2


DRB Feel-Good
Christmas Feel-Good Special

Happy Holidays and Great New 2014 Year from DRB!



Epic Space Fiction by Alastair Reynolds

"Nostalgia for Infinity", indeed



Cinerama: "The Next Big Thing That Was"

Curved screens, gigantic projectors & "out-of-this-world" picture


DRB Series
Magnificent Fractals (DRB Series)

Probably the Most Spectacular Collection of Fractals on the Web



Fractals For Food

If You Eat This, Will It Make You Better At Math?



Three-Dimensional Mechanical Fractals

Don't stare at them for too long, or your brain will capsize!



Pre-Fractal Art

Stunning Examples of Fractal Art in History



A Codebreaker's Dream: The Bombe!

"The Bombe" vs. "The Enigma" code battle



Extremely Weird Bus Stops & Shelters

Wildly bizarre bus stop "creations"



Incredible Balancing Acts & Tightrope Walking

Up on the Roof: Not for the Faint of Heart



The Creepiest Mannequins

Serious Halloween Scares and Frights



Wildly Funny Frogs

Frogs in their "moments of weakness"



World's Strangest Vehicles, Part 5

The Truly Bizarre Car Zoo!



Deadliest Creatures (that are Easiest to Miss)

Real terror lurks in quiet darkness



"Music For... What?" Weird Album Covers

Music for Vacuuming, and much much more!



World's Strangest Vehicles, Part 4

Sheer Auto Adrenaline!
CATEGORIES
:
airplanes
|
animals
|
architecture
|
art
|
auto
|
boats
|
books
|
cool ads
|
funny pics
|
famous
|
futurism
|
food
gadgets
|
health
|
history
|
humour
|
japan
|
internet
|
link latte
|
military
|
music
|
nature
|
photo
|
russia
|
steampunk
sci-fi & fantasy
|
signs
|
space
|
sports
|
technology
|
trains
|
travel
|
vintage
|
weird