Link
Scroll down for today's pictures & links.

Just to Cross the Road...

What would it take just to get to other side of the road in Norilsk, Russia? Watch this video... and try to guess who'll make it, and who'll get blown away -



url

Norilsk in Siberia routinely gets minus 50 degrees Celsius weather. We had a huge dump of snow and minus 45 wind chill all last week in Calgary, and watching this makes me feel very cozy and warm inside.

Today's pictures & links:

Wall-E has been spotted in Russia

In a slightly more muscular and fit form:



(image via)

------------

The Ultimate Bus Jump

Sydney Showground, c1980: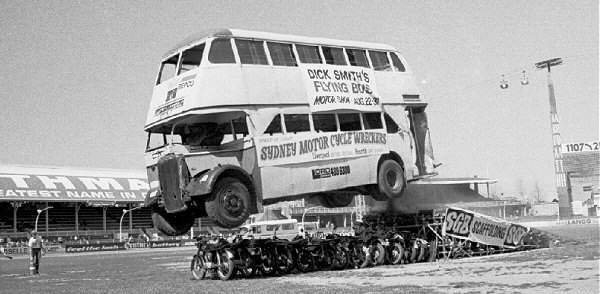 (image credit: Russell White)

------------

Animals to make you gape in wonder

Check out this Star-Nosed Mole - Condylura cristata:




Bipes biporus:




Rhynchocyon chrysopygus:



(original unknown)

------------

The Inspiration behind Minas Tirith?

In real life - Key Monastery near Kaza, Himachal Pradesh, India:



(image credit: Vikram Ramachandran National Geographic)

And in the fantasy world:



(art copyright Ted Nasmith)

Real-life Ent has been discovered, as well -



(original unknown)

------------

Mixed fresh links for today:

How to travel the world for free (seriously) - [interesting]
Xmas Greeting from a Rocket Santa - [cool art]
Crazy Sidecars - [weird vehicles]
Geeky Christmas Ornaments - [cool pics]
Gigantic Hearts From above - [landscaping]
Logging: the way it used to be - [vintage]
Movable & Sustainable Sculptures: amazing - [design]
How to undress girl with an excavator - [sfw video]
Burger King Whopper Virgins - [weird video]
Still in need of a gift? - [promotion]

Please take our Site Reader Project survey

------------

"Tropic Thunder" thunders on with even more tropicality:
on Director's cut DVD




Tropic Thunder was recently released unrated and uncut.
Here is a short review from A. Abrams:

"This is a director's cut - unrated, uncivilized, rough, bristling and ungrateful chunk of ridiculous moviemaking... it is, generally speaking, typical guy madness: capped, canned and delivered (or rather spread in a thick steamy layer) all over your big screen TV. Lick it up, enjoy the rich frothy exploits of five guys trying to deal with a bunch of murderous hilarity hitting the fan all at once. War movies? This DVD redefines the genre, just like Mr. Bean redefined a Nazi soldier not long ago. There is a rich glob of unadultered humor hidden somewhere inside this skull-encrusted feature-rich DVD. See if you can find it."

Buy it on Amazon


------------

Vintage Art Revisited

From English Russia comes this strange page of Photoshopped classics, some of which originally appeared at Worth1000 contests:




Terminator 5: Revolution -



(images credit: Worth1000)

------------

Hated Business Talk

Here are the most hated 'buffling' (inappropiate business jargon) phrases in the UK. The survey (carried out by YouGov.co.uk), found the most irritating phrases to be:




Example of such "corporate" ridiculous talk can be seen here.

------------

Steampunk Jewelry Update

Ricky at Edm Designs released a new line of steampunk jewelry, handmade cufflinks, clockwork rings - there are some unisex bold watch pendants left (most are sold out)... See her shop and choose whatever coolness jumps at you - here (scroll down)

Combine steampunk clockwork movement with celtic designs - what do you get?




Check out the spinning propeller on this one... and a "Beetle Insectus!" ring -



(images credit: Ricky)

------------

Another great face



(image credit: Mario Pleitez)

------------

Playing with gas giant rings and satellites

Interesting space art compositions from Germany - by Armin Tretter:



(images credit: Armin Tretter)

------------

Spotted inside many Russian banks. It says "No Money"




------------

Bush vs. Flying Shoes!

Use the arrows on your keyboard to play -



------------

Cuteness Forever



(originals unknown)

------------

Gifts to get that warm fuzzy feeling

We don't expect much from it, that with economic downturn and all, but still it's nice to offer some DRB-exclusive products (including cool coffee mugs and wall clocks), now with a huge discount:




Click to check out DRB gift store

------------

READ THE PREVIOUS ISSUE ->

Permanent Link...
...+StumbleUpon
...+Facebook

RECENT ARTICLES:
"Dark Roasted Blend" - All Kinds of Weird and Wonderful Things, Discovered Daily!"
DRB is a top-ranked and respected source for the best in art, travel and fascinating technology, with a highly visual presentation. Our in-depth articles in many categories make DRB a highly visual online magazine, bringing you quality entertainment every time you open your "feed" reader or visit our site -
About DRB
Connect with us and become part of
DRB on Facebook
,
Twitter
,
Pinterest
,
Google Plus
; make sure to subscribe to our
updates
.
Our mobile site:
http://mobile.darkroastedblend.com
. You can also read us on iPad, as part of the
Flipboard
popular free app.
YOUR COMMENTS:
:
READ OTHER RECENT ARTICLES:



Creation and Destruction of Sand Mandalas

Profound Art Ritual Reflecting the Sanctity of Our Lives



Funny Sports Update

Underwater Ice Hockey, Extreme Stunts, etc.(Pics)



The New Motor, or the Steam-Powered Messiah

The strange, true tale (plus some wicked cyberpunk art)



Machines Alive! The Whimsical Art of Boris Artzybasheff

Is it a dream, or a nightmare?



Automated Musical Instruments

Music Robots: No Performer Necessary



American Supersonic Airliners:
Race for a Dream

Supersonic Marvels, Largely Forgotten Today



Pulp Pleasures: Eando Binder

"Where Eternity Ends" and other rare gems



Epic Fantasy: the Start of the Journey

Part 2 of our "Best Classic Fantasy" series



Strange Shadows: Best Classic Fantasy

Fantasy "Glitches in the Matrix", Epic Lands, and more!


DRB Feel-Good
Happy Holidays from DRB!

2014 Feel-Good Issue, Part 2


DRB Feel-Good
Christmas Feel-Good Special

Happy Holidays and Great New 2014 Year from DRB!



Epic Space Fiction by Alastair Reynolds

"Nostalgia for Infinity", indeed



Cinerama: "The Next Big Thing That Was"

Curved screens, gigantic projectors & "out-of-this-world" picture


DRB Series
Magnificent Fractals (DRB Series)

Probably the Most Spectacular Collection of Fractals on the Web



Fractals For Food

If You Eat This, Will It Make You Better At Math?



Three-Dimensional Mechanical Fractals

Don't stare at them for too long, or your brain will capsize!



Pre-Fractal Art

Stunning Examples of Fractal Art in History



A Codebreaker's Dream: The Bombe!

"The Bombe" vs. "The Enigma" code battle



Extremely Weird Bus Stops & Shelters

Wildly bizarre bus stop "creations"



Incredible Balancing Acts & Tightrope Walking

Up on the Roof: Not for the Faint of Heart



The Creepiest Mannequins

Serious Halloween Scares and Frights



Wildly Funny Frogs

Frogs in their "moments of weakness"



World's Strangest Vehicles, Part 5

The Truly Bizarre Car Zoo!



Deadliest Creatures (that are Easiest to Miss)

Real terror lurks in quiet darkness



"Music For... What?" Weird Album Covers

Music for Vacuuming, and much much more!



World's Strangest Vehicles, Part 4

Sheer Auto Adrenaline!
CATEGORIES
:
airplanes
|
animals
|
architecture
|
art
|
auto
|
boats
|
books
|
cool ads
|
funny pics
|
famous
|
futurism
|
food
gadgets
|
health
|
history
|
humour
|
japan
|
internet
|
link latte
|
military
|
music
|
nature
|
photo
|
russia
|
steampunk
sci-fi & fantasy
|
signs
|
space
|
sports
|
technology
|
trains
|
travel
|
vintage
|
weird