Link
Scroll down for today's pictures & links.

The Black Hole Office

Phil and Olly (Phil Sansom and Olly Williams) are award-winning UK film makers. This "Black Hole" short is about "a sleep-deprived office worker accidentally discovers a black hole - and then greed gets the better of him..."



url

Today's pictures & links:

Balance. Magnets.

For more examples of almost impossible balancing acts, see our articles Balancing the Forces, Part 1 and Part 2.



(original unknown)

------------

1800s Vampire Killing Kit

Outfit yourself in style to battle market bears and abandoned mall vampires (although this particular set has been sold already, for a nifty sum of $14,850) - more info.



(image credit: antiquesandthearts)

------------

AWESSSOMEE! Lightsabers

Continuing the theme of equipping yourself for the tough times ahead, here is a poster of all (available) models of lightsabers:



(image via)

------------

Anara Tower, Dubai of course




Anara Tower - 125 stories, with a turbine (propeller) - and with the restaurant in the middle of the turbine, of course - is designed for the Dubai architectural wonderland by the British firm Atkins.




There is a "hanging" garden every 27 floors.... and a huge swimming pool. The building is self-sustaining, as most of new projects for Dubai.



(images credit: Anara Tower)

------------

Truly Dimensional Art by Andrea Galvani

See her site for more examples of space-exploration in earnest:



(images credit: Andrea Galvani)

------------

Mixed fresh links for today:

The Most Extreme Conditions Ever Seen on Earth - [nature]
Astounding Micro-world - [wow photos]
The Ultimate "I Told You So!" Video, Guide - [economy]
Data Center fit for a James Bond villain - [geek tech]
Good ideas for websites - [hilarious]
Street Art of Pedestrian Crosswalks - [urban art]
Baby Pygmy Hippo - [cute video]
Extreme Flips on a Snowmobile - [wow video]
Pacifier: great animation short - [fun video]
A community for financial news, ideas, and tips - [promotion]

------------

Still gotta go to the mall sometimes




------------

Modern Knight Outfit?



(image credit: Heidi Slimane)

Related to this image, or not - if you always wanted to see dancing Goths, here is your chance.

------------

Commentary on Obama's Victory

We spotted this picture of a young Obama-like individual:



"Chicago Boys, 1941", image via

Note: only 60 years ago -



Segregated water fountain, 1950 - photo by Elliot Erwitt

------------

Giant Chinese Salamander

These fantastic creatures can grow up to 1.8m in length and "evolved independently from all other amphibians over one hundred million years before Tyrannosaurus Rex"...



(image via)

------------

Chocolate Hills

Chocolate hills in Bohol, Philippines have to be seen to be believed. Truly strange landscape changes color from green to chocolate-brown, as the grass withers - there are 1,268 cone-shaped hills in the area of 50 square kilometers.



(image credit: Majuro)



(image via)

------------

Japanese Toys Resting

yes, this is one of these wtf moments (click to see picture, warning: could be nsfw)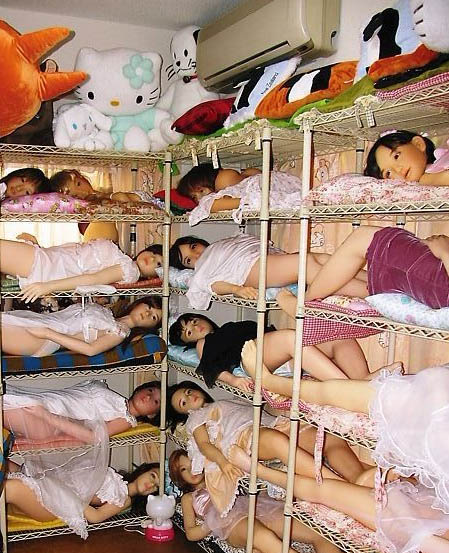 (original unknown)

------------

Great Vintage Photo Finds

Hugo Strikes Back! - other title could be: "Poorly matched"



(image credit: vintagephoto)

Fearless:



(image credit: vintagephoto)

------------

At least this girl does not have to hold snakes:



READ THE PREVIOUS ISSUE ->

Permanent Link...
...+StumbleUpon
...+Facebook

RECENT ARTICLES:
"Dark Roasted Blend" - All Kinds of Weird and Wonderful Things, Discovered Daily!"
DRB is a top-ranked and respected source for the best in art, travel and fascinating technology, with a highly visual presentation. Our in-depth articles in many categories make DRB a highly visual online magazine, bringing you quality entertainment every time you open your "feed" reader or visit our site -
About DRB
Connect with us and become part of
DRB on Facebook
,
Twitter
,
Pinterest
,
Google Plus
; make sure to subscribe to our
updates
.
Our mobile site:
http://mobile.darkroastedblend.com
. You can also read us on iPad, as part of the
Flipboard
popular free app.
YOUR COMMENTS:
:
READ OTHER RECENT ARTICLES:



Creation and Destruction of Sand Mandalas

Profound Art Ritual Reflecting the Sanctity of Our Lives



Funny Sports Update

Underwater Ice Hockey, Extreme Stunts, etc.(Pics)



The New Motor, or the Steam-Powered Messiah

The strange, true tale (plus some wicked cyberpunk art)



Machines Alive! The Whimsical Art of Boris Artzybasheff

Is it a dream, or a nightmare?



Automated Musical Instruments

Music Robots: No Performer Necessary



American Supersonic Airliners:
Race for a Dream

Supersonic Marvels, Largely Forgotten Today



Pulp Pleasures: Eando Binder

"Where Eternity Ends" and other rare gems



Epic Fantasy: the Start of the Journey

Part 2 of our "Best Classic Fantasy" series



Strange Shadows: Best Classic Fantasy

Fantasy "Glitches in the Matrix", Epic Lands, and more!


DRB Feel-Good
Happy Holidays from DRB!

2014 Feel-Good Issue, Part 2


DRB Feel-Good
Christmas Feel-Good Special

Happy Holidays and Great New 2014 Year from DRB!



Epic Space Fiction by Alastair Reynolds

"Nostalgia for Infinity", indeed



Cinerama: "The Next Big Thing That Was"

Curved screens, gigantic projectors & "out-of-this-world" picture


DRB Series
Magnificent Fractals (DRB Series)

Probably the Most Spectacular Collection of Fractals on the Web



Fractals For Food

If You Eat This, Will It Make You Better At Math?



Three-Dimensional Mechanical Fractals

Don't stare at them for too long, or your brain will capsize!



Pre-Fractal Art

Stunning Examples of Fractal Art in History



A Codebreaker's Dream: The Bombe!

"The Bombe" vs. "The Enigma" code battle



Extremely Weird Bus Stops & Shelters

Wildly bizarre bus stop "creations"



Incredible Balancing Acts & Tightrope Walking

Up on the Roof: Not for the Faint of Heart



The Creepiest Mannequins

Serious Halloween Scares and Frights



Wildly Funny Frogs

Frogs in their "moments of weakness"



World's Strangest Vehicles, Part 5

The Truly Bizarre Car Zoo!



Deadliest Creatures (that are Easiest to Miss)

Real terror lurks in quiet darkness



"Music For... What?" Weird Album Covers

Music for Vacuuming, and much much more!



World's Strangest Vehicles, Part 4

Sheer Auto Adrenaline!
CATEGORIES
:
airplanes
|
animals
|
architecture
|
art
|
auto
|
boats
|
books
|
cool ads
|
funny pics
|
famous
|
futurism
|
food
gadgets
|
health
|
history
|
humour
|
japan
|
internet
|
link latte
|
military
|
music
|
nature
|
photo
|
russia
|
steampunk
sci-fi & fantasy
|
signs
|
space
|
sports
|
technology
|
trains
|
travel
|
vintage
|
weird