Link
Scroll down for today's pictures & links.

The Solar Furnace

A piece of steel being melted by the Sun - and episode from James May's "Big Ideas":



url

The power of the Solar Furnace was discussed as far back as 1931, as in this article from Modern Mechanics:



(image credit: ModernMechanix)

Today's pictures & links:

Abarth Cisitalia 207, 1955

"A Boano Spider" version, more images here.



(image credit: hotwheels)

------------

Big Hole

The Big Hole is an open-pit mine in Kimberley, South Africa. It's the second largest hole excavated by hand. The largest is an abandoned Jagersfontein mine.



(image credit: Rudolph Botha)

Almost 500 meters wide, excavated to a depth of 240 meters...

------------

War Cart

An image from (quite controversial) document: "How to Hack the Boston Subway"



via

Consider it an urban art, not a real thing. Leave Boston subway alone.

------------

Strong Wind?



(original unknown)

------------

The Best and Worst Historic Places

The annual survey "Historic Places Rated" by National Geographic Traveler magazine is combined with the info from the NatGeo Center for Sustainable Destinations (evaluating destinations based on how well these places take care of their natural and cultural resources). Among the top such places that you should check out:

Wachau/Melk Abbey, Austria and Ghent, Belgium:



(photos by Sisse Brimberg and Cottoln Coulson/Keenpress and Joe Patronite/NGS)

The worst historic place? Central City, Colorado - The 19th-century mining boomtown had lost its character and culture "amid the noise of slot machines."



(photo by Rex A. Stucky/NGS)

See the whole Historic Destinations list here.

------------

Mixed fresh links for today:

Truly unimaginable times for auto industry - [crisis]
One of the best graffiti collections in months - [urban art]
Architectural Optical Illusions and Distortions - [weird]
Periodic Table of Elements (Artistic Version) - [cool art]
Tiny Biology-based Computers - [wow tech]
Interactive Touch Sensitive Mirror - [gadgets]
How many of them were in this van? - [fun video]
These bears want to get your attention - [fun video]
When Robot Programmers Get Bored - [wow video]
A community for financial news, ideas, and tips - [promotion]

------------

Yet another scary clown

This is in the same vein as all these Cold War-inspired creepy images of people in the gas masks - see our series Part 1, 2 and 3.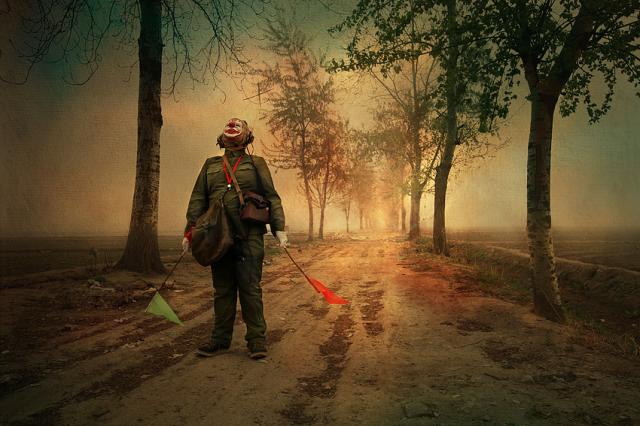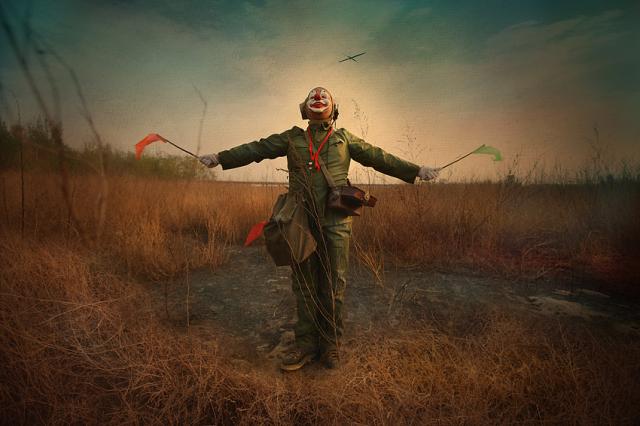 Art by Maleonn, see more here

------------

Wondering about computer technology that brought us to the Moon?

Here is an example - the first e-book reader!



Image via

------------

Cute Accessories

Rings - by Kim Venezia and Michael Arad of Shibuichi Studios:




Variations on USB theme: - via




------------

Great Vintage Gadgets

Portable radio with LP player:



(image credit: Al Q)

Very stylish TV: Dianne Daniggelis (Miss Illinois of 1955) displays the new concept of portable televisions - Zenith:



(photo by Bettmann/CORBIS, via)

------------

Star Wars Fire Hydrant



(photo sent in by Alex Dreher, Teneriffe)

------------

Neat Convertible Buses

Made by the "Icarus Company", Hungary:




------------

Smile! or... I have a tool for you




------------

So, you were saying?



(original unknown)

------------

St. Petersburg Ski Tours:




When the romantic promise "I'll do anything for you" achieves a whole new meaning.

READ THE PREVIOUS ISSUE! ->

Permanent Link...
...+StumbleUpon
...+Facebook

RECENT ARTICLES:
"Dark Roasted Blend" - All Kinds of Weird and Wonderful Things, Discovered Daily!"
DRB is a top-ranked and respected source for the best in art, travel and fascinating technology, with a highly visual presentation. Our in-depth articles in many categories make DRB a highly visual online magazine, bringing you quality entertainment every time you open your "feed" reader or visit our site -
About DRB
Connect with us and become part of
DRB on Facebook
,
Twitter
,
Pinterest
,
Google Plus
; make sure to subscribe to our
updates
.
Our mobile site:
http://mobile.darkroastedblend.com
. You can also read us on iPad, as part of the
Flipboard
popular free app.
YOUR COMMENTS:
:
READ OTHER RECENT ARTICLES:



Enchanting Waterfall Island

Like the Nagrand region in World of Warcraft


DRB Feel-Good
DRB Feel-Good Issue #16

Loads of cool and rare imagery



Auto Oops! Bizarre Car Accidents, Part 7

New batch of maddeningly mysterious wrecks



Mind-Blowing Optical Illusions, Part 6

"The soul has illusions as the bird has wings: it is supported by them"



Exceptional British 1950s Scifi Artwork

Quintessential Space Pulp Art by Ron Turner and others



Extreme Parenting & Wild, Wild Kids! Part 2

The Joys and Perils of Having Interesting Kids



Creation and Destruction of Sand Mandalas

Profound Art Ritual Reflecting the Sanctity of Our Lives



Funny Sports Update

Underwater Ice Hockey, Extreme Stunts, etc.(Pics)



The New Motor, or the Steam-Powered Messiah

The strange, true tale (plus some wicked cyberpunk art)



Machines Alive! The Whimsical Art of Boris Artzybasheff

Is it a dream, or a nightmare?



Automated Musical Instruments

Music Robots: No Performer Necessary



American Supersonic Airliners:
Race for a Dream

Supersonic Marvels, Largely Forgotten Today



Pulp Pleasures: Eando Binder

"Where Eternity Ends" and other rare gems



Epic Fantasy: the Start of the Journey

Part 2 of our "Best Classic Fantasy" series



Strange Shadows: Best Classic Fantasy

Fantasy "Glitches in the Matrix", Epic Lands, and more!
CATEGORIES
:
airplanes
|
animals
|
architecture
|
art
|
auto
|
boats
|
books
|
cool ads
|
funny pics
|
famous
|
futurism
|
food
gadgets
|
health
|
history
|
humour
|
japan
|
internet
|
link latte
|
military
|
music
|
nature
|
photo
|
russia
|
steampunk
sci-fi & fantasy
|
signs
|
space
|
sports
|
technology
|
trains
|
travel
|
vintage
|
weird