Link
Scroll down for today's pictures & links.

I Can Fly! (and so much more)

This video is a compilation of the weirdest and most hilarious vintage inventions - some designed to make you (sort of) fly, others are rudimentary robots, etc... All are hugely fascinating.



url

By the way, see a lot more of crazy balancing efforts in this DRB article.




Today's pictures & links:

Brilliant Spider Web Urban Art

"Web of Light" installation by Ai Weiwei - a part of incredibly cool modern art assortment of wonders at Liverpool Biennial - see other sets here.



(images credit: Liverpool Biennial)

------------

Powerful Swimming Tigers - via

White Bengal Tiger named Odin is six years old and 10 feet long from tail to nose. Odin lives at a Zoo in Vallejo, California, near San Francisco - and he likes to swim.




Lee Munro is his trainer; he says tigers are the most powerful swimmers out of all land-dwelling animals. The ferocious face he makes while diving is actually meant to close his nostrils to stop the water from going into his nose. For South-East Asia tigers it's just a good way to cool down.




------------

Victorian Bathing Machines

Very common sight at 19th century beach resorts. Inside these bathing machines the bathers were naked... "Naked bathing was initially promoted as the healthiest way of experiencing the sea". But of course, Victorian sensibilities required a private space to change in and out of dress - conveniently brought right into the sea




This picture was taken in Scarborough, Yorkshire, 1897. (image via National Maritime Museum)

More elaborate version (from 1908): The bathing machine of King Alfonso XIII -



(images credit: George Eastman House Collection, via)

Queen Victoria also had one, of course.

------------

Mixed fresh links for today:

Deadly Natural Land Disasters - [apocalyptic]
Klein Bottle House - [architecture]
A harrowing story of running out of gas in the middle of nowhere - [w/ pics]
More great ways to harness wind energy - [green tech]
Yet another creative robber - [weird]
Interesting relationship between ants and caterpillars - [nature video]
Rubik's Mirror Cube - [geek video]
Sarcasm - [neat video, some language]
Radiohead: great music visualization - [wow video]
UseNeXT - Next Generation Downloading - [sponsored]

------------

Mesmerizing...



(original unknown)

------------

The Gleaming Lights of the Souls

Mind-boggling art by Yayoi Kusama... (it reminds us of the Slartibartfast' "Universe Under Construction" in the "Hitchhikers Guide to the Galaxy", only without computer effects)



(image credit: Liverpool Biennial)

Another awesome art from the same source is Another Place by Anthony Gormley...

"It consists of 100 cast-iron sculptures spread over a distance of almost 3km at Crosby Beach near Liverpool. The statues were taken from casts of the artist's own body, and the dramatic tidal activity at the beach means that often some of them are completely submerged."



(image credit: Steve White)


(image credit: Daily Life / Getty Images)


(image credit: ukadventuresofthetravellingbag)

------------

SUVs again... Mazdas are tastier.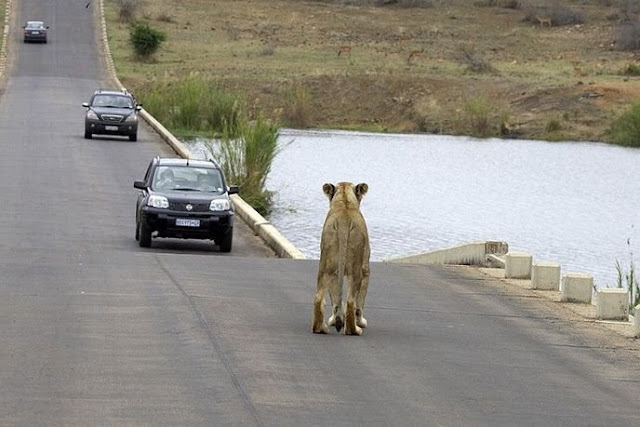 (original unknown)

------------

Industrial Art Furniture!

Bob from Stig Art makes seriously weird furniture (some ideas for super villains, or just for the evil boss)



(image credit: stig-art.co.uk)

------------

Abandoned Limestone Quarries

Located in Maastricht, Netherlands - and explored by Marco Cauberg and his team. They call it "caving", mapping the mazes.




Inside these limestone quarries... there is art. Fresco's and paintings made with coal, dating from 1700s-1900s, sometimes even from 1400s. During war-time, many quarries were transformed into weapon factories.




------------

Superheroes have nothing on this guy

As a follow-up to our recent Superheroes article, here is a movie poster for the Sultan Rahi's action vehicle:




Apparently, Pakistani actor Sultan Rahi has made 804 movies... In addition to decimating lions and psychedelic fights (part 1 and part 2), this guy can also smoke and sing all at once, here is proof.

Speaking of the movie posters, these ones from Minsk, Belarus, take the cake for ugliness - or perhaps for the abstract esthetic:



(image via)

In case you are wondering, they promote such movies as "Scooby-Doo", "Bridget Jones's Diary", "Shallow Hal" and "Freaky Friday".

------------

Epic 360 Panoramic Photography Collection

WebUrbanist has published a round-up of some of the best panoramas, including this one from festive Times Square (made by Jook Leung)



(image credit: panoramas.dk)

------------

Genderbread

Gender... bread... Somebody had to do it.




Seen at The London Design Festival, via.

------------

Probably the worst urban outfit

But then again, maybe we're just out of touch with Japanese school girl culture.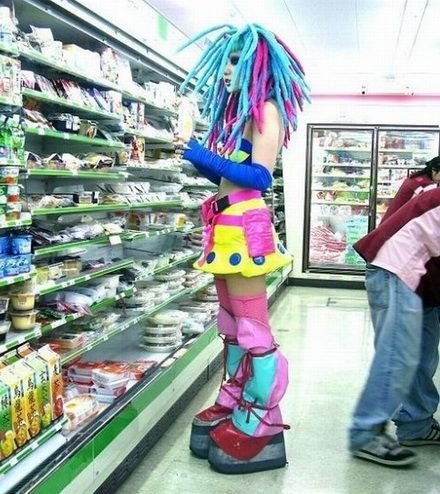 ------------

Train your cat to watch LOL-cats.




Cruelty!

READ THE PREVIOUS ISSUE

Permanent Link...
...+StumbleUpon
...+Facebook

RECENT ARTICLES:
"Dark Roasted Blend" - All Kinds of Weird and Wonderful Things, Discovered Daily!"
DRB is a top-ranked and respected source for the best in art, travel and fascinating technology, with a highly visual presentation. Our in-depth articles in many categories make DRB a highly visual online magazine, bringing you quality entertainment every time you open your "feed" reader or visit our site -
About DRB
Connect with us and become part of
DRB on Facebook
,
Twitter
,
Pinterest
,
Google Plus
; make sure to subscribe to our
updates
.
Our mobile site:
http://mobile.darkroastedblend.com
. You can also read us on iPad, as part of the
Flipboard
popular free app.
YOUR COMMENTS:
:
READ OTHER RECENT ARTICLES:



Creation and Destruction of Sand Mandalas

Profound Art Ritual Reflecting the Sanctity of Our Lives



Funny Sports Update

Underwater Ice Hockey, Extreme Stunts, etc.(Pics)



The New Motor, or the Steam-Powered Messiah

The strange, true tale (plus some wicked cyberpunk art)



Machines Alive! The Whimsical Art of Boris Artzybasheff

Is it a dream, or a nightmare?



Automated Musical Instruments

Music Robots: No Performer Necessary



American Supersonic Airliners:
Race for a Dream

Supersonic Marvels, Largely Forgotten Today



Pulp Pleasures: Eando Binder

"Where Eternity Ends" and other rare gems



Epic Fantasy: the Start of the Journey

Part 2 of our "Best Classic Fantasy" series



Strange Shadows: Best Classic Fantasy

Fantasy "Glitches in the Matrix", Epic Lands, and more!


DRB Feel-Good
Happy Holidays from DRB!

2014 Feel-Good Issue, Part 2


DRB Feel-Good
Christmas Feel-Good Special

Happy Holidays and Great New 2014 Year from DRB!



Epic Space Fiction by Alastair Reynolds

"Nostalgia for Infinity", indeed



Cinerama: "The Next Big Thing That Was"

Curved screens, gigantic projectors & "out-of-this-world" picture


DRB Series
Magnificent Fractals (DRB Series)

Probably the Most Spectacular Collection of Fractals on the Web



Fractals For Food

If You Eat This, Will It Make You Better At Math?



Three-Dimensional Mechanical Fractals

Don't stare at them for too long, or your brain will capsize!



Pre-Fractal Art

Stunning Examples of Fractal Art in History



A Codebreaker's Dream: The Bombe!

"The Bombe" vs. "The Enigma" code battle



Extremely Weird Bus Stops & Shelters

Wildly bizarre bus stop "creations"



Incredible Balancing Acts & Tightrope Walking

Up on the Roof: Not for the Faint of Heart



The Creepiest Mannequins

Serious Halloween Scares and Frights



Wildly Funny Frogs

Frogs in their "moments of weakness"



World's Strangest Vehicles, Part 5

The Truly Bizarre Car Zoo!



Deadliest Creatures (that are Easiest to Miss)

Real terror lurks in quiet darkness



"Music For... What?" Weird Album Covers

Music for Vacuuming, and much much more!



World's Strangest Vehicles, Part 4

Sheer Auto Adrenaline!
CATEGORIES
:
airplanes
|
animals
|
architecture
|
art
|
auto
|
boats
|
books
|
cool ads
|
funny pics
|
famous
|
futurism
|
food
gadgets
|
health
|
history
|
humour
|
japan
|
internet
|
link latte
|
military
|
music
|
nature
|
photo
|
russia
|
steampunk
sci-fi & fantasy
|
signs
|
space
|
sports
|
technology
|
trains
|
travel
|
vintage
|
weird