Link
Scroll down for today's pictures & links.

Super Star: A "Mobile China Town" Skyscraper

Tired of the "same-old" look to China Towns everywhere? Well, this radical cyberpunk concept by MAD Architects brings to extreme the shape of a crystal star 1000 meters high, with simply mind-boggling effect:



url

They don't say how exactly this skyscraper can be mobile, but you can almost imagine it floating from location to location, gracing lucky cities with its extreme China Town version:




This truly mad (in a good sense) bunch of architects - their studio is based in Bejing - are also responsible for the great-looking skyscrapers, currently under construction in Toronto, Canada and in Guangzhou, China -




Today's pictures & links:

Antique Heavy Weather

Twisters (or sand storm devils?) haunt the riders on this 18th century engraving by Gustave Dore:




Now cut to the modern times...




Photo by Tony Law, National Geographic: An immense funnel-shaped cloud develops over the suburbs of Toronto, Canada...

------------

Money Trees, by Mark Wagner



(image credit: Mark Wagner)

See more absolutely marvelous creations from money bills on artist's page.

------------

SanDisk "Point & Shoot" Film Festival Contest

Video Contest to Award $10,000 and a Free Trip to Las Vegas to the Best Overall Entrant

All you have to do is to create a compelling video taken on consumer point and shoot digital camera, in one of 5 categories: Kid Movies, Pet Movies, Dance, Action or Comedy Movies. One continuous shot, less than 2 minutes in length. Deadline: November 10, 2008.




Check out the contest page for more info.

------------

Underwood Typewriter PC Mod

What's not to love? Its retro look is complemented by the loud obnoxious sound of clanking keys. Just add monitor and a mouse... See the whole process of its construction here.




------------

No Self-Respecting Cat Would Do That!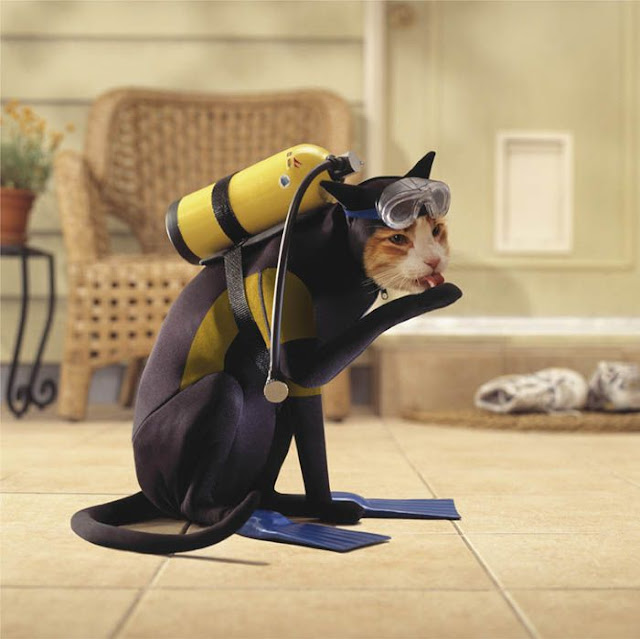 (original unknown)

------------

Prehistoric Rock Art Never Looked So Good

Ketley Crags rock shelter with prehistoric rock art carvings near Chatton, Northumberland, UK. This stunning pic is from National Geographic's recent set of wallpapers, participants of International Photography Contest - photograph by Brian Kerr:



(image credit: Brian Kerr, National Geographic)

------------

Mixed fresh links for today:

Amazing Polar Vehicles - [wow tech]
Japan can make a cute thing out of anything... - [urban art]
Abandoned Vehicles Gallery - [cool pics]
Huge Collection of Vintage Images from Magazines - [vintage]
Velociraptor Survival Quiz - [funny]
More great PC case mods - [geek tech]
Epic Domino Effect - [wow video]
Popping Popcorn with Cellphones - [fake video]
Why some teams can not win - [fun video ad]
Addicted to eBay? - [sponsored]

------------

"Lite Mate": bizarre cuddling companion

Found here, this looks just slightly wrong to our eyes.... but then again maybe we have some alien-phobia we're not aware of.




Design by Francesca Lanzavecchia. Speaking of the bizarre reclining options, here is a blue French Fry sofa:




This design from BCUC can be found among other unique sofas and recliners on this page.

------------

Just landed on your backyard:

A flock of alien bambies!



(image credit: Stephanie Dowell)

------------

To the Heroes of the Martian War! - via




------------

Metal Accessories




All that does not look very comfortable, but still better than the... absense of shoes, here:




... wear the fish! wear the fish!




------------

Got something on your mind?

Read internet, not books! Your mind will not be so burdened... now, wait a moment here.



(original unknown)

------------

You art is... er, leaking

Wondrous fresh ideas by Markus Hofer... See his site.




------------

Spiral Trance



(image via)

------------

And finally a couple of images going around the internets right now, which I just can not resist posting:




Accurate pie chart: - via




READ THE PREVIOUS ISSUE

Permanent Link...
...+StumbleUpon
...+Facebook

RECENT ARTICLES:
"Dark Roasted Blend" - All Kinds of Weird and Wonderful Things, Discovered Daily!"
DRB is a top-ranked and respected source for the best in art, travel and fascinating technology, with a highly visual presentation. Our in-depth articles in many categories make DRB a highly visual online magazine, bringing you quality entertainment every time you open your "feed" reader or visit our site -
About DRB
Connect with us and become part of
DRB on Facebook
,
Twitter
,
Pinterest
,
Google Plus
; make sure to subscribe to our
updates
.
Our mobile site:
http://mobile.darkroastedblend.com
. You can also read us on iPad, as part of the
Flipboard
popular free app.
YOUR COMMENTS:
:
READ OTHER RECENT ARTICLES:



Enchanting Waterfall Island

Like the Nagrand region in World of Warcraft


DRB Feel-Good
DRB Feel-Good Issue #16

Loads of cool and rare imagery



Auto Oops! Bizarre Car Accidents, Part 7

New batch of maddeningly mysterious wrecks



Mind-Blowing Optical Illusions, Part 6

"The soul has illusions as the bird has wings: it is supported by them"



Exceptional British 1950s Scifi Artwork

Quintessential Space Pulp Art by Ron Turner and others



Extreme Parenting & Wild, Wild Kids! Part 2

The Joys and Perils of Having Interesting Kids



Creation and Destruction of Sand Mandalas

Profound Art Ritual Reflecting the Sanctity of Our Lives



Funny Sports Update

Underwater Ice Hockey, Extreme Stunts, etc.(Pics)



The New Motor, or the Steam-Powered Messiah

The strange, true tale (plus some wicked cyberpunk art)



Machines Alive! The Whimsical Art of Boris Artzybasheff

Is it a dream, or a nightmare?



Automated Musical Instruments

Music Robots: No Performer Necessary



American Supersonic Airliners:
Race for a Dream

Supersonic Marvels, Largely Forgotten Today



Pulp Pleasures: Eando Binder

"Where Eternity Ends" and other rare gems



Epic Fantasy: the Start of the Journey

Part 2 of our "Best Classic Fantasy" series



Strange Shadows: Best Classic Fantasy

Fantasy "Glitches in the Matrix", Epic Lands, and more!
CATEGORIES
:
airplanes
|
animals
|
architecture
|
art
|
auto
|
boats
|
books
|
cool ads
|
funny pics
|
famous
|
futurism
|
food
gadgets
|
health
|
history
|
humour
|
japan
|
internet
|
link latte
|
military
|
music
|
nature
|
photo
|
russia
|
steampunk
sci-fi & fantasy
|
signs
|
space
|
sports
|
technology
|
trains
|
travel
|
vintage
|
weird