"QUANTUM SHOT" #465
link

See the whole "Never Give Up! Lords of the Logistics" series here!.

When life gives you lemons... make a lemon battery and radio in for a better deal!

Some nutty, outrageous creativity comes out of ordinary people when circumstances get tight around them. Shortages of cash, tools, supplies and sheer logical reasoning do not seem to stop people from inventing wacky SOLUTIONS to their problems. Whatever needs to be done, will be done - and all critics be damned!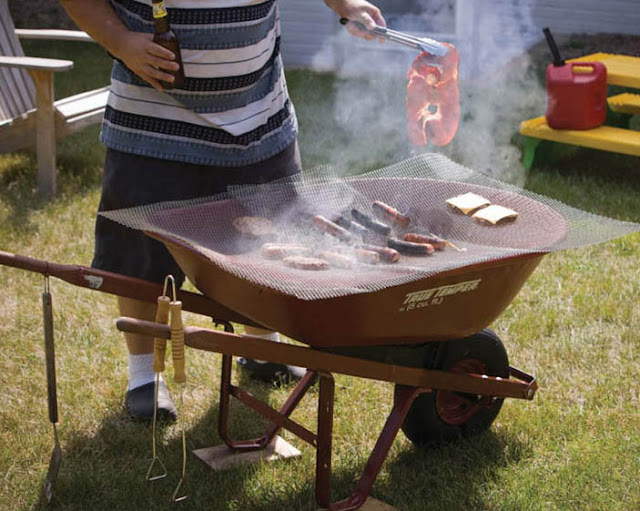 New way to keep cool (and keep the fish happy) -




Thomas Kalak collects the proof of just such an approach (and mysterious results it sometimes produces) in his "Bangkok Objects" gallery:




Some office supplies are worth preserving.... and painting:




Among the curious Thai objects are these frames - what on Earth are they for? -



(images credit: Thomas Kalak)

Also check out his illustrated book "Thailand - Same same, but different!".

This car is ready to be stolen... any takers? -




Get some inspiration for the workout:




No crossing the road for these chickens:




Parents come up with (bad) solutions:




Hairdressers and barbers of India run a pretty tight shop:




Very potent juice maker (on a shoestring budget):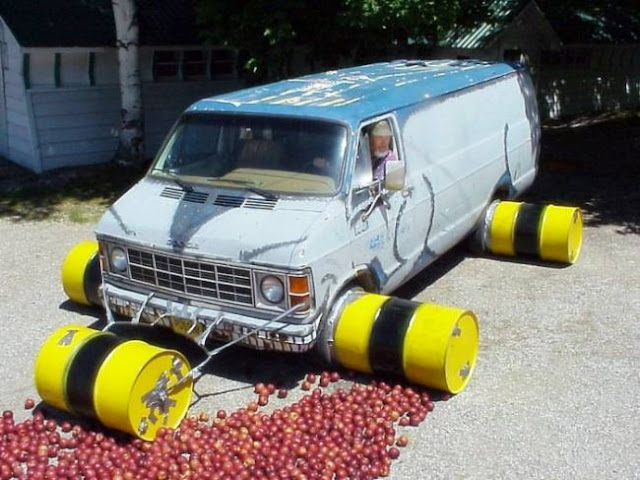 (via "The Red Green Show")

Everybody's entitled to some sauna, so here goes:




Cannibalize cars for trailers (it would seem like a pretty obvious idea?) -




More playing with trailers:




Construction budget-crunch ingenuity:




Beer is Very Important:




DJ Portable Vinyl Record Player -




Bathroom enhancements: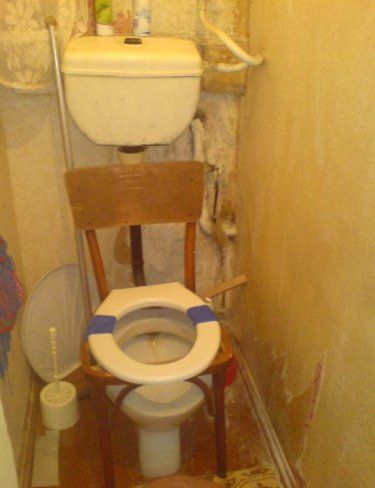 I'd feel uncomfortable here:




Unrelated... but similar! - more info:




Some folks are desperate for any entertainment:




Team up with your friendly neighbour, for your fun, not necessarily his -




Oh joy! The blessed moment of discovery of LOLcats! -




Desperate for web:




You gotta do what you gotta do:




Pumping gas (variations on a theme) -




Aftermath... and yes, it's a blonde:




Go on, stick the "FAIL" label on this image, email it to your grandma... lean back and watch it take over the internet:




Another "FAIL" -




ATM thieves are becoming desperate: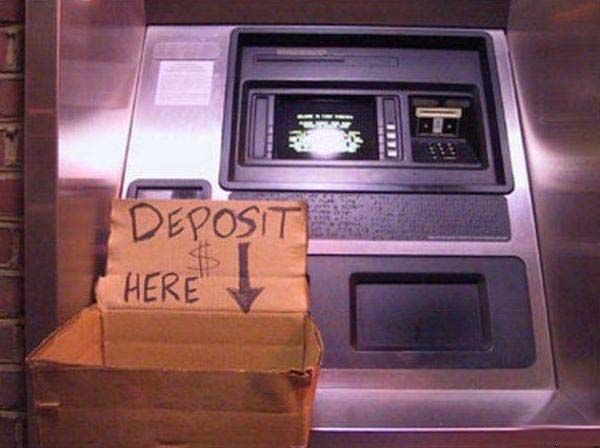 Carrying Things

...becomes a new national sport:



(image credit: Sainte-Catherine Ouest)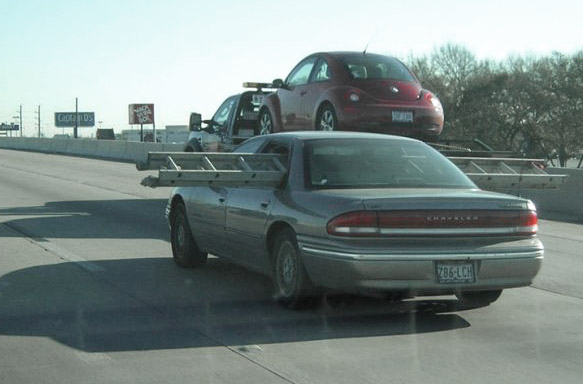 Light up the fuse -




One scary crossing (but at least if this bus flips over, it'll have a cushy landing....) -




Just use the duct tape! -





Overloaded, but not defeated by any means!

There is always more room... -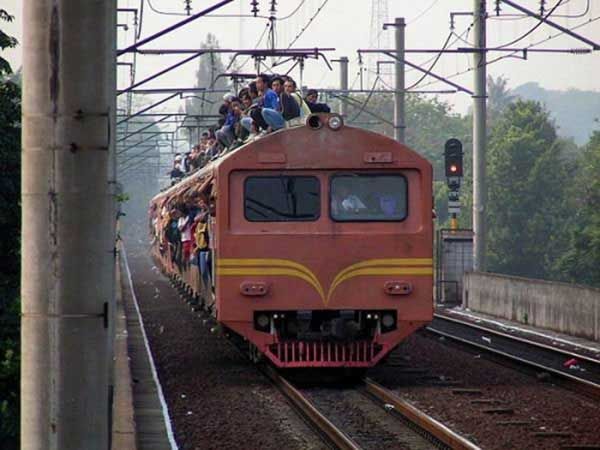 Testing the limits of car structure and the patience of local cops (although most of action happens in Romania, so the cops probably couldn't care less out there)




After a life of such overloading, cars die - but not completely. They keep haunting the Romanian backroads with their miserable looks, sounds and smells:




or just make a monument out of it -




Desperate auto tuning ideas:




No need for an engine:




Single donkey power:




One-wheel, or two-wheel?: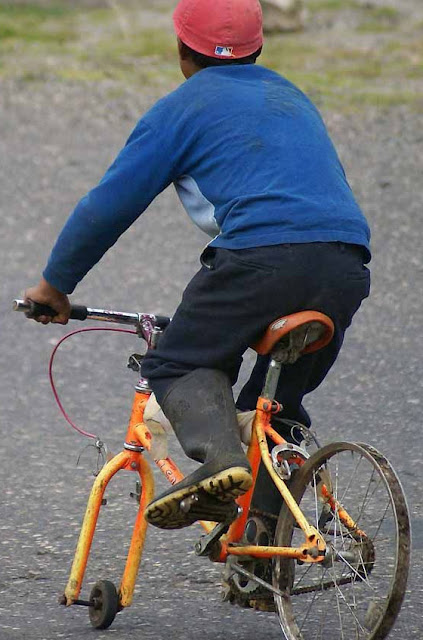 Not Safe! but you knew that...

These guys better have good life insurance:




Let's hope that this guy is better attached: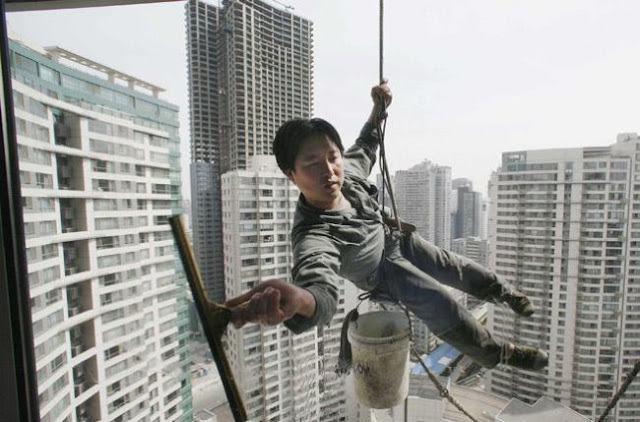 (sent by Dario Agostinho)

This job is pretty hardcore (see the incredible video about these "high voltage cable inspection" workers here) -



(image via)

We've seen some pretty wild solutions to a score of problems, but sometimes simply no solution exists:



(image credit: The Rut)

READ THE PREVIOUS PART HERE

See the whole "Never Give Up! Lords of the Logistics" Series - Click Here

Permanent Link...
...+StumbleUpon
...+Facebook

Category: Funny Pics,Weird
Related Posts:
Cool Art from Everyday Objects
New Ways to Play with an Old Hardware
RECENT ARTICLES:
"Dark Roasted Blend" - All Kinds of Weird and Wonderful Things, Discovered Daily!"
DRB is a top-ranked and respected source for the best in art, travel and fascinating technology, with a highly visual presentation. Our in-depth articles in many categories make DRB a highly visual online magazine, bringing you quality entertainment every time you open your "feed" reader or visit our site -
About DRB
Connect with us and become part of
DRB on Facebook
,
Twitter
,
Pinterest
,
Google Plus
; make sure to subscribe to our
updates
.
Our mobile site:
http://mobile.darkroastedblend.com
. You can also read us on iPad, as part of the
Flipboard
popular free app.
YOUR COMMENTS:
:
READ OTHER RECENT ARTICLES:



Creation and Destruction of Sand Mandalas

Profound Art Ritual Reflecting the Sanctity of Our Lives



Funny Sports Update

Underwater Ice Hockey, Extreme Stunts, etc.(Pics)



The New Motor, or the Steam-Powered Messiah

The strange, true tale (plus some wicked cyberpunk art)



Machines Alive! The Whimsical Art of Boris Artzybasheff

Is it a dream, or a nightmare?



Automated Musical Instruments

Music Robots: No Performer Necessary



American Supersonic Airliners:
Race for a Dream

Supersonic Marvels, Largely Forgotten Today



Pulp Pleasures: Eando Binder

"Where Eternity Ends" and other rare gems



Epic Fantasy: the Start of the Journey

Part 2 of our "Best Classic Fantasy" series



Strange Shadows: Best Classic Fantasy

Fantasy "Glitches in the Matrix", Epic Lands, and more!


DRB Feel-Good
Happy Holidays from DRB!

2014 Feel-Good Issue, Part 2


DRB Feel-Good
Christmas Feel-Good Special

Happy Holidays and Great New 2014 Year from DRB!



Epic Space Fiction by Alastair Reynolds

"Nostalgia for Infinity", indeed



Cinerama: "The Next Big Thing That Was"

Curved screens, gigantic projectors & "out-of-this-world" picture


DRB Series
Magnificent Fractals (DRB Series)

Probably the Most Spectacular Collection of Fractals on the Web



Fractals For Food

If You Eat This, Will It Make You Better At Math?



Three-Dimensional Mechanical Fractals

Don't stare at them for too long, or your brain will capsize!



Pre-Fractal Art

Stunning Examples of Fractal Art in History



A Codebreaker's Dream: The Bombe!

"The Bombe" vs. "The Enigma" code battle



Extremely Weird Bus Stops & Shelters

Wildly bizarre bus stop "creations"



Incredible Balancing Acts & Tightrope Walking

Up on the Roof: Not for the Faint of Heart



The Creepiest Mannequins

Serious Halloween Scares and Frights



Wildly Funny Frogs

Frogs in their "moments of weakness"



World's Strangest Vehicles, Part 5

The Truly Bizarre Car Zoo!



Deadliest Creatures (that are Easiest to Miss)

Real terror lurks in quiet darkness



"Music For... What?" Weird Album Covers

Music for Vacuuming, and much much more!



World's Strangest Vehicles, Part 4

Sheer Auto Adrenaline!
CATEGORIES
:
airplanes
|
animals
|
architecture
|
art
|
auto
|
boats
|
books
|
cool ads
|
funny pics
|
famous
|
futurism
|
food
gadgets
|
health
|
history
|
humour
|
japan
|
internet
|
link latte
|
military
|
music
|
nature
|
photo
|
russia
|
steampunk
sci-fi & fantasy
|
signs
|
space
|
sports
|
technology
|
trains
|
travel
|
vintage
|
weird