Link
Scroll down for today's pictures & links.

Mantis Shrimp Attacks

Some seriously wicked and aggressive shrimp: Mantis Shrimp. Watch how it attacks a crab in this video, and then head over to this page to watch the doom of deadly poisonous blue-ringed octopus...



url

Today's pictures & links:
Click to enlarge images.

This is your shopping mall. No, really.

Full-size ship converted to the shopping mall in Wampoa district, Hong Kong.
(more info)




------------

Urban Art with a Vengeance

You gotta absolutely love the creativity and style of this artist on DeviantArt. Apparently these creations are real and inflatable:




Very simple, and very effective.

------------

Extreme Surfing / Riding. Not Photoshop.

This is a setup for a promotional series of images, and you can read how photographer Dustin Humphrey made this all happen - click here. Scroll to see more photos, some nsfw.



(photos by Dustin Humphrey)

------------

Aerial Views of Russia

See more aerial photography (showing vast Russian landscapes and some abandoned churches) on this page.



(image credit: via Charli at leprosorium.ru)

------------

Mixed fresh links for today:

The Rise and Fall of an American Beer - [interesting]
Very, very unusual trees - [weird]
The Creepiest Tower - [urban art]
10 Amazing Batman Mods - [geek] - via
Urban Explorations: tips, tricks and guides - [abandoned]
Yet Another Neat Steampunk Mouse - [geek art]
How to make any key from an ice cream stick - [howto video]
Little Girl vs. The Claw - [fun video, loud music]
Crossing lions with tigers... good idea? - [wow video] - via

------------

Mad Intersections

Traffic nightmares - now a work of art: Scott Teplin has a new print "Criss Cross Crash" over at POV Editions:




Great addition to our "Incredible Intersections & Traffic Jams" series!

------------

Soviet Realism



(original unknown)

------------

Custom Spider Lighting

Can be found here.



(image credit: rockandroyal.com)

------------

Ingenuity

Very potent juice maker (on a shoestring budget) -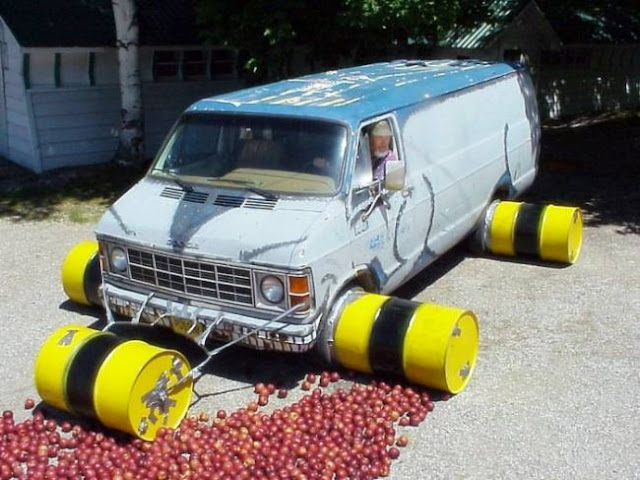 ------------

Weird Visuals

- possibly for use in advertisement. Originals unknown, any help?




------------

Paperbacks Recycling

I wonder how soft it is... but come to think of it, I feel too much respect for books to rest easy in this chair.




------------

I can't believe this girl actually took a lamb, painted it pink and walks it out for an exercise... but this is what this picture shows:




Good way to show off your pet fishes:




READ THE PREVIOUS ISSUE

Permanent Link...
...+StumbleUpon
...+Facebook

Dark Roasted Blend's Photography Gear Picks:
READ RECENT POSTS:
"Dark Roasted Blend" - All Kinds of Weird and Wonderful Things, Discovered Daily!"

DRB is a top-ranked and respected source for the best in art, travel and fascinating technology, with a highly visual presentation. Our in-depth articles in many categories make DRB a highly visual online magazine, bringing you quality entertainment every time you open your "feed" reader or visit our site.

Connect with us and become part of DRB on Facebook, Twitter, Pinterest, Google Plus; make sure to subscribe to our updates.

Our mobile site: http://mobile.darkroastedblend.com. You can also read us on iPad, as part of the Flipboard popular free app.


COMMENTS:
:
READ MORE RECENT POSTS:



Extremely Weird Bus Stops & Shelters

Wildly bizarre bus stop "creations"



Incredible Balancing Acts & Tightrope Walking

Up on the Roof: Not for the Faint of Heart



The Creepiest Mannequins

Serious Halloween Scares and Frights



Wildly Funny Frogs

Frogs in their "moments of weakness"



World's Strangest Vehicles, Part 5

The Truly Bizarre Car Zoo!



Deadliest Creatures (that are Easiest to Miss)

Real terror lurks in quiet darkness



"Music For... What?" Weird Album Covers

Music for Vacuuming, and much much more!



World's Strangest Vehicles, Part 4

Sheer Auto Adrenaline!



World's Most Curious Ephemera, Part 2

The Art of Luggage Labels, etc.



World's Most Curious Ephemera

Pieces of Paper that Intrigue & Inspire



World's Strangest Motorcycles

The Ultimate Unusual Bike Collection



World's Strangest Vehicles, Part 3

Cars that are... different



World's Strangest Vehicles, Part 2

Automotive wrongness, or the new kind of right?



"Vertical Grass" Art & Architecture

Transient Green Masterpieces



Huge Semi-Submersible Ships

Real-life "Sea Monsters & Giants of the Waves"



Steampunk Scooter & Other Machines by Arthur van Poppel

Jules Verne's Styled Music Submarines



Japanese Contemporary 2D Artists

Spectacular, complex, sophisticated



Japanese Creative Barcodes

"Barcode Revolution" is sweeping the world


Pic-of-the-Day
Great Space & Pulp Art by Norman Saunders

Damsels in distress, all over the time and space



Joystick Car Dashboards

Joyful, Joyful Joystick Driving!
CATEGORIES
:
airplanes
|
animals
|
architecture
|
art
|
auto
|
boats
|
books
|
cool ads
|
funny pics
|
famous
|
futurism
|
food
gadgets
|
health
|
history
|
humour
|
japan
|
internet
|
link latte
|
military
|
music
|
nature
|
photo
|
russia
|
steampunk
sci-fi & fantasy
|
signs
|
space
|
sports
|
technology
|
trains
|
travel
|
vintage
|
weird