"QUANTUM SHOT" #433
link

Also read Part 3, Part 2 and Part 1

Nothing is as fascinating as an unexplained accident

New batch of strange mis-happenings, weird situations, and often maddeningly mysterious wrecks, where we keep asking ourselves: "How on earth could that happen?"

Are you in a huge hurry? Drive your car straight into the subway (just make sure it can fit in some tight places):



(images sent in by: B.E. de Jong)

Car (involuntary) acrobatics:




What a mess! -



(photo sent in by Jelle Sjollema)




Surprise! Say a little prayer, thanking your windshield: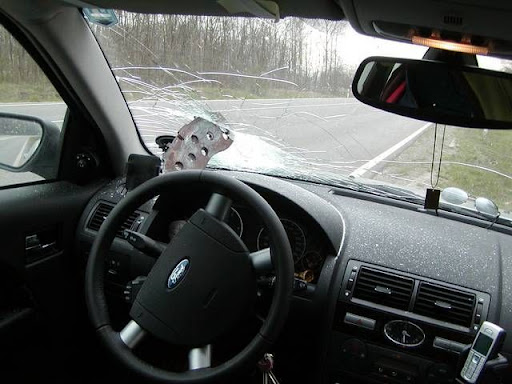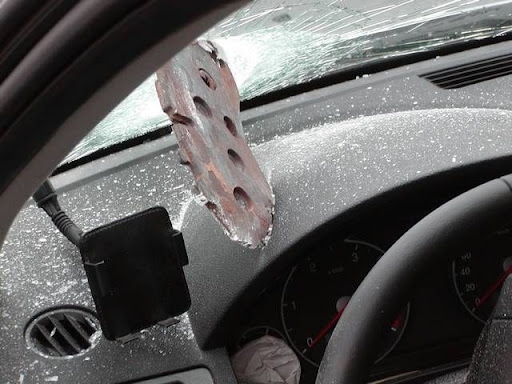 The "flying" manhole lids could also present a problem:




A giant fork falling out of the sky? Well, an urban art, actually:
("Royal de Luxe" visiting Iceland, more info)




This guy may cause some serious accidents. I hope he realizes that -


A Moment Before...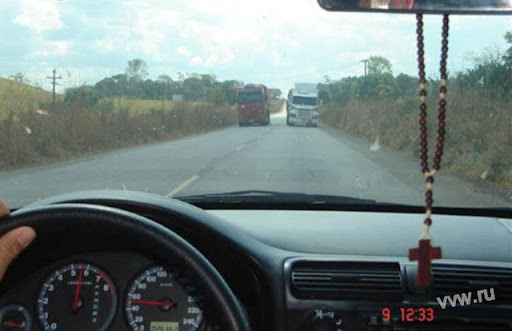 Admittedly, the picture above is almost certainly the truck being towed. Still, it's pretty creepy.

After the accident. Drive it, if it can still be driven -




Who said kids do not ride in the back of pickup trucks any more? They do -



(image credit: tefnut)


How truck drivers get fired

How do you get a truck in this position?




Maarten Dijkstra sends us this picture: "A delivery truck in the city of Leiden, Holland, had a brake failure and rolled into the canal" -



(image credit: Maarten Dijkstra)




What happened here? Maybe the trailer had one wheel too many? -




This is not very safe:



(image credit: EnglishRussia)


Sunk... or Buried!

Who says cars only travel on solid surfaces? They are equally adept navigating on sand, water, ice or snow - or at least they are trying to... Really hard, judging from these pictures:



(image credit: EnglishRussia)




Oh, the sense of impending sinking! This car is doomed -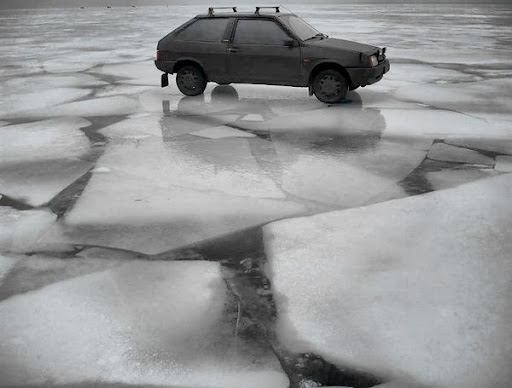 The following picture was sent to us by Edo Engel. He says: "During the night, a major water pipe below the pavement cracked. Since the soil in our area is sandy, the sand was flushed away through the pipe quite easily, creating an ever expanding cavity" -




More sinkholes:




Police are not immune... -




Blondes are definitely not immune... -




The following shots were probably staged, but who knows? maybe it's an amazing reality:




Why is this car so dirty? -





Idiot Parking

These guys couldn't even park a bicycle, it seems:




Parking turned into a nightmare:




You might have seen this picture before - but it's worth another look: this seems simply impossible -




Similarly masterful parking can be observed here:




Vintage parking oops! situation:
"This Could Happen to You!"





Heavy machinery can end up in a heavy, heavy trouble

This is why this excavator prefers immobile brooding to going anywhere:



(image credit: OrionTrail, DeviantArt)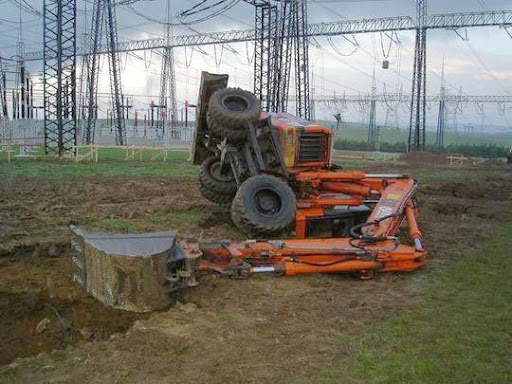 This happened in Norilsk, Siberia:



(image credit: dwg.ru)


Bizarre Moving Things

(image credit: vwvortex)




Want to escape the plight of motorway whatsoever? Attach a jet engine to your sub-compact and go frolic in the desert:




But be aware about the catastrophic results that others achieved with the similar set-up (even ending up in a Darwin Stupidity Award listings): Read the full story here!

And of course, the infamous car / horse hybrids from the East Europe countries (mostly from Bulgaria)! They come in all shapes and sizes:



(photos by Minko Mikhailov)

Perhaps this is a good alternative in view of our rising gas prices? Well, you do have to feed the horse and keep it warm in the winter. Just make sure that "car" has good air-conditioning against the smell of manure.

(Some of the images came from anonymous aggregator sites, so the original credit is not known. Please let us know this info so that we could properly link the images)

READ THE PREVIOUS PART HERE

Also read Part 3, Part 2 and Part 1

Permanent Link...
...+StumbleUpon
...+Facebook


Category: Auto,Weird
Related Posts:
All Cranes are Doomed!, Tank Accidents!, Heavy Machinery Acrobatics!

RECENT ARTICLES:
"Dark Roasted Blend" - All Kinds of Weird and Wonderful Things, Discovered Daily!"
DRB is a top-ranked and respected source for the best in art, travel and fascinating technology, with a highly visual presentation. Our in-depth articles in many categories make DRB a highly visual online magazine, bringing you quality entertainment every time you open your "feed" reader or visit our site -
About DRB
Connect with us and become part of
DRB on Facebook
,
Twitter
,
Pinterest
,
Google Plus
; make sure to subscribe to our
updates
.
Our mobile site:
http://mobile.darkroastedblend.com
. You can also read us on iPad, as part of the
Flipboard
popular free app.
YOUR COMMENTS:
:
READ OTHER RECENT ARTICLES:



Creation and Destruction of Sand Mandalas

Profound Art Ritual Reflecting the Sanctity of Our Lives



Funny Sports Update

Underwater Ice Hockey, Extreme Stunts, etc.(Pics)



The New Motor, or the Steam-Powered Messiah

The strange, true tale (plus some wicked cyberpunk art)



Machines Alive! The Whimsical Art of Boris Artzybasheff

Is it a dream, or a nightmare?



Automated Musical Instruments

Music Robots: No Performer Necessary



American Supersonic Airliners:
Race for a Dream

Supersonic Marvels, Largely Forgotten Today



Pulp Pleasures: Eando Binder

"Where Eternity Ends" and other rare gems



Epic Fantasy: the Start of the Journey

Part 2 of our "Best Classic Fantasy" series



Strange Shadows: Best Classic Fantasy

Fantasy "Glitches in the Matrix", Epic Lands, and more!


DRB Feel-Good
Happy Holidays from DRB!

2014 Feel-Good Issue, Part 2


DRB Feel-Good
Christmas Feel-Good Special

Happy Holidays and Great New 2014 Year from DRB!



Epic Space Fiction by Alastair Reynolds

"Nostalgia for Infinity", indeed



Cinerama: "The Next Big Thing That Was"

Curved screens, gigantic projectors & "out-of-this-world" picture


DRB Series
Magnificent Fractals (DRB Series)

Probably the Most Spectacular Collection of Fractals on the Web



Fractals For Food

If You Eat This, Will It Make You Better At Math?



Three-Dimensional Mechanical Fractals

Don't stare at them for too long, or your brain will capsize!



Pre-Fractal Art

Stunning Examples of Fractal Art in History



A Codebreaker's Dream: The Bombe!

"The Bombe" vs. "The Enigma" code battle



Extremely Weird Bus Stops & Shelters

Wildly bizarre bus stop "creations"



Incredible Balancing Acts & Tightrope Walking

Up on the Roof: Not for the Faint of Heart



The Creepiest Mannequins

Serious Halloween Scares and Frights



Wildly Funny Frogs

Frogs in their "moments of weakness"



World's Strangest Vehicles, Part 5

The Truly Bizarre Car Zoo!



Deadliest Creatures (that are Easiest to Miss)

Real terror lurks in quiet darkness



"Music For... What?" Weird Album Covers

Music for Vacuuming, and much much more!



World's Strangest Vehicles, Part 4

Sheer Auto Adrenaline!
CATEGORIES
:
airplanes
|
animals
|
architecture
|
art
|
auto
|
boats
|
books
|
cool ads
|
funny pics
|
famous
|
futurism
|
food
gadgets
|
health
|
history
|
humour
|
japan
|
internet
|
link latte
|
military
|
music
|
nature
|
photo
|
russia
|
steampunk
sci-fi & fantasy
|
signs
|
space
|
sports
|
technology
|
trains
|
travel
|
vintage
|
weird