"QUANTUM SHOT" #440
link

Water, water everywhere

Some pictures are from the recent flooding in the Midwest, others are from the monsoon floods in India, Pakistan and Bangladesh - all are harrowing images, telling a wet, miserable story of people, animals, cars, property vs. the sheer forces of nature. See other installments in our "Extreme Weather" series here.



(artist conceptual image: Jaap Vliegenthart)

This is how Modern Mechanix magazine (Dec, 1935) showed cataclysmic flooding event:



(image credit: modernmechanix)

Nothing on such a global scale yet (though if you believe the news, the North Pole will be without ice this summer, so soon we may have more water than we ever asked for) As for the present situation, lets start with the recent pictures from Mississippi region (worst floods in 15 years) -

Muscatine Flood (check out more pics at Iowa Flood) -




Signage rendered useless, or just redundant:



(Photo by Barry Williams/Getty Images)



(AP Photo/Steve Pope and Win McNamee/Getty Images)

Main Street in La Grange, Missouri -



(Photo by Scott Olson/Getty Images)



(image credit: Susan Saulny)




Animals seeking refuge: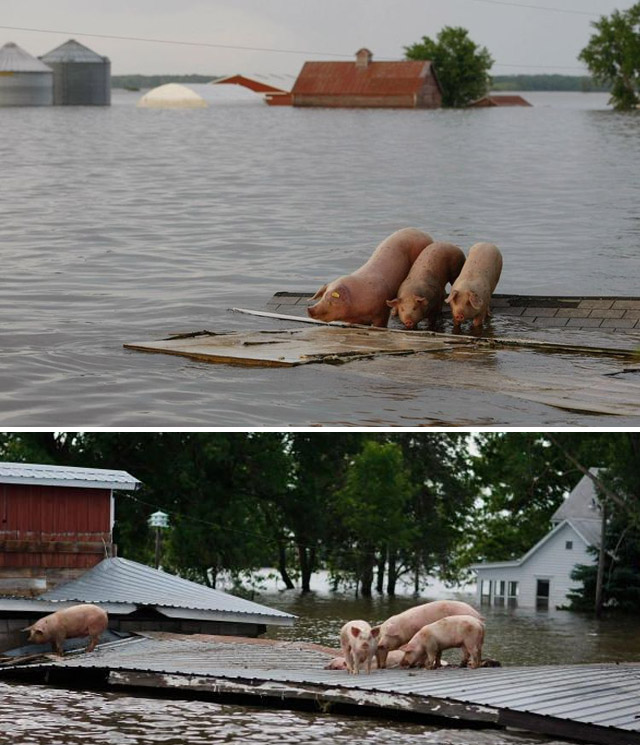 (Photos by Joe Raedle/Getty Images)



(Photos by Joe Raedle/Getty Images)

You can see the power of high water here (Cedar Rapids, Iowa) -



(AP Photo/Jeff Roberson)

Powerful storms in Pacific Northwest led to serious flooding this winter; this is Chehalis, Washington in December 2007 -



(Photo: Bruce Ely / AP)

Interstate 5 got flooded one meter deep for the whole 5 kilometers:



(Photos: Bruce Ely, Ross William Hamilton / The Oregonian; Drew Perine / The News Tribune)

Havoc in Aberdeen, Washington:




Just like in the past, trains have to try to get through, flood waters or not:



(image credit: Harvesting the River)

Braving the deep:

in a car -




in a kayak -




in a... table -




or you might need one of these portable do-it-yourself submarines: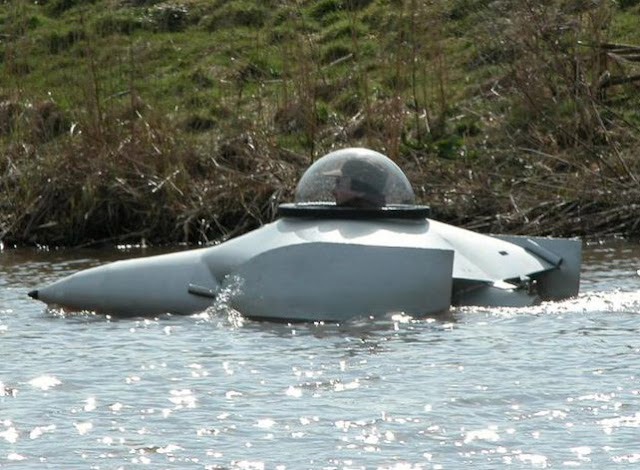 Now fishes can shop in Walmart, too:



(Photos: Brian Davies / The Register-Guard; Steven M. Herppich, Tony Overman / The Olympian)


Flooding in Asia

This "eating soup" picture has already become a classic:



(image credit: Okuno)

Some photos are from China: weeks of heavy rain led to a serious flooding there this summer - (more info)



(image credit: QuarkSoup)

What a miserable job... but I would also question the integrity of a rider who asks for such a service -




Notice the look from a woman on the right:




Remember "The Day after Tomorrow"? Of course, you do.
(warning: possible photoshop)



(image credit: morecoolpictures)

Unexpected LOL-humor in a miserable situation:




CONTINUE TO NEXT PART! ->

See other installments in our "Extreme Weather" series here
- Extreme Hail!
- Dust Storms! and more.

Permanent Link...
...+StumbleUpon
...+Facebook

Category: Extreme Weather,Nature
Dark Roasted Blend's Photography Gear Picks:
RECENT ARTICLES:
"Dark Roasted Blend" - All Kinds of Weird and Wonderful Things, Discovered Daily!"
DRB is a top-ranked and respected source for the best in art, travel and fascinating technology, with a highly visual presentation. Our in-depth articles in many categories make DRB a highly visual online magazine, bringing you quality entertainment every time you open your "feed" reader or visit our site -
About DRB
Connect with us and become part of
DRB on Facebook
,
Twitter
,
Pinterest
,
Google Plus
; make sure to subscribe to our
updates
.
Our mobile site:
http://mobile.darkroastedblend.com
. You can also read us on iPad, as part of the
Flipboard
popular free app.
YOUR COMMENTS:
:
READ OTHER RECENT ARTICLES:



Mind-Blowing Optical Illusions, Part 6

"The soul has illusions as the bird has wings: it is supported by them"



Exceptional British 1950s Scifi Artwork

Quintessential Space Pulp Art by Ron Turner and others



Extreme Parenting & Wild, Wild Kids! Part 2

The Joys and Perils of Having Interesting Kids



Creation and Destruction of Sand Mandalas

Profound Art Ritual Reflecting the Sanctity of Our Lives



Funny Sports Update

Underwater Ice Hockey, Extreme Stunts, etc.(Pics)



The New Motor, or the Steam-Powered Messiah

The strange, true tale (plus some wicked cyberpunk art)



Machines Alive! The Whimsical Art of Boris Artzybasheff

Is it a dream, or a nightmare?



Automated Musical Instruments

Music Robots: No Performer Necessary



American Supersonic Airliners:
Race for a Dream

Supersonic Marvels, Largely Forgotten Today



Pulp Pleasures: Eando Binder

"Where Eternity Ends" and other rare gems



Epic Fantasy: the Start of the Journey

Part 2 of our "Best Classic Fantasy" series



Strange Shadows: Best Classic Fantasy

Fantasy "Glitches in the Matrix", Epic Lands, and more!
CATEGORIES
:
airplanes
|
animals
|
architecture
|
art
|
auto
|
boats
|
books
|
cool ads
|
funny pics
|
famous
|
futurism
|
food
gadgets
|
health
|
history
|
humour
|
japan
|
internet
|
link latte
|
military
|
music
|
nature
|
photo
|
russia
|
steampunk
sci-fi & fantasy
|
signs
|
space
|
sports
|
technology
|
trains
|
travel
|
vintage
|
weird