"QUANTUM SHOT" #431




The Sultans of Sand

You saw that perfect sandcastle in your dream - it was reaching to heavens, rising from the surf's mist. It was magnificent and yet so eminently perishable. Welcome the Sultans (and wizards) of sand art to make all that a reality - and more, with incredible detail, creativity and imagination.



(Melbourne, Australia - love these skyscrapers in the background - perhaps also "sand castles" of some sort...)

There are many fantastic sand art showcases / competitions around the world: held in China, Spain, Brazil, Canada (the ultimate "Tournament of Champions" in Harrison Hot Springs, British Colombia), Florida, Oregon, Texas, Virginia... featuring such undisputed masters like Amazin Walter, Rich Varano (The Sultan of Sand), William Lloyd, Carl Jarra and Suzzane Altamare compete alongside artists from all over the world.

Perhaps the most sophisticated fairy tale sculpture in recent memory

Too bad they are made out of sand, and so will be impossible to preserve, other than in pictures. The traditional fantasy themes - sand castles, dragons, maidens and other fairy tale details - are brought to life so lovingly and with such abundance of detail that it simply transcends the genre:



(images credit: Amazin Walter)

This is how it's done... slowly and with feeling (imagine sculpting every single scale on that dragon) -



William Lloyd works on the baby dragon

"The Princess Power" by Rich Varano:



(images credit: Amazin Walter)

Get eaten up by the dragon: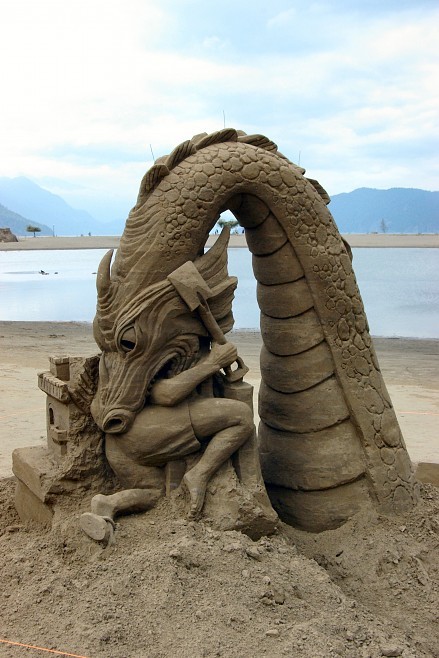 (image credit: Amazin Walter)

Psychedelic Swirls:



(sculpture by Carl Jara and Suzzane Altamare, image credit: Amazin Walter)

Time Mirror: on the left is "looking into the past", on the right - "looking into the future"-





Everyday life, rendered in sand

Bedroom Scene (a little abrasive relationship... ok, I will stop my puns here)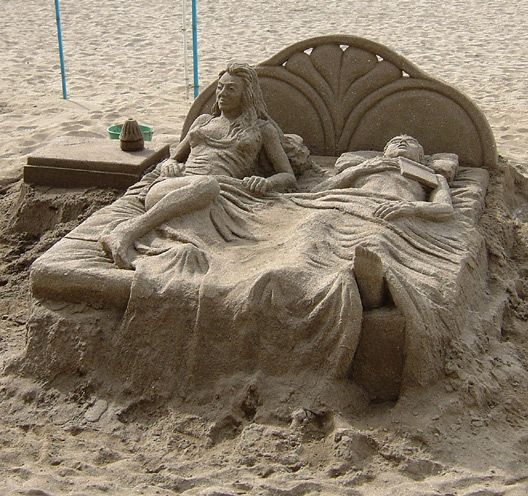 (image credit: sandwizard)

Sand people need to go to sand outhouses... "Occupied!" -



(image credit: Amazin Walter)

I hope this sand figure is not nude: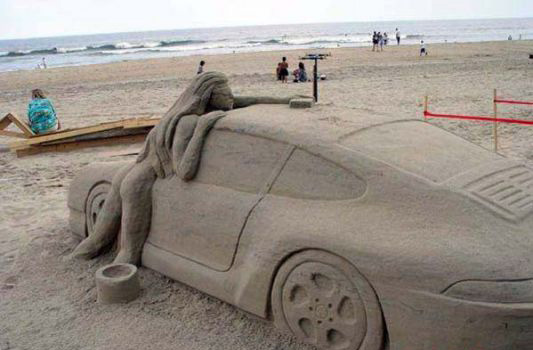 Nostalgia for winter... Blasphemy! -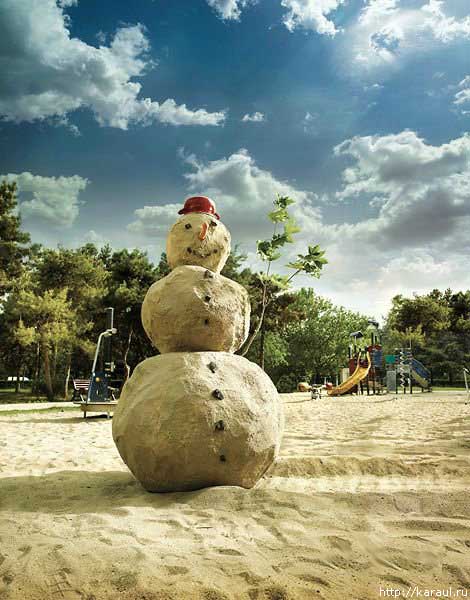 If he tries to show accurate time, he'll be here sculpting all night: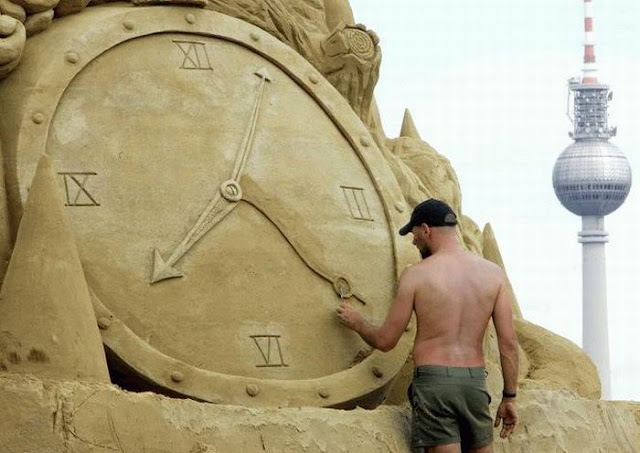 Getting closer to surrealism

"The Church, The Steeple and all the People" by John Gowdy and Michael Velling:



(images credit: Amazin Walter)

This is perhaps a commentary on the urban sprawl:



(image credit: Amazin Walter)

The weirdness never ends... -




The images above & below are from the sand art shows in Japan, and in Durham, NC, USA.





Sand sculptures in Lommel, Belgium: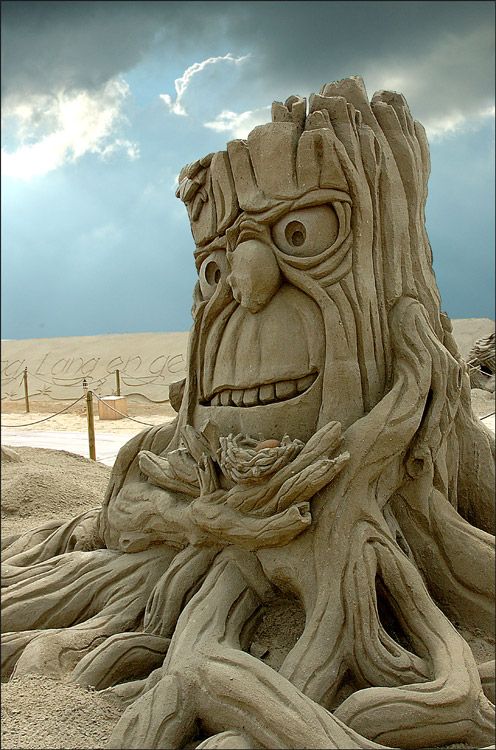 (image credit: Tine Verheyden)

Something gruesome happened here:



(image credit: Amazin Walter)

"The End of the Knight" tells an equally sad story:



(image credit: Amazin Walter)

Horror is a common theme (work of Dan Doubleday and Meredith Corson) -



(image credit: Dan Doubleday and Meredith Corson)



(image credit: Tine Verheyden)



(image credit: wired)




"The Arms Race" -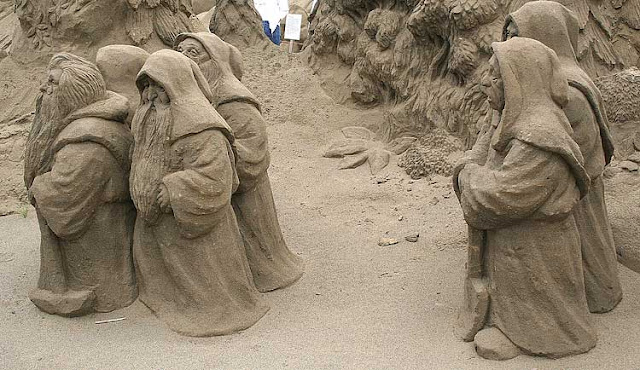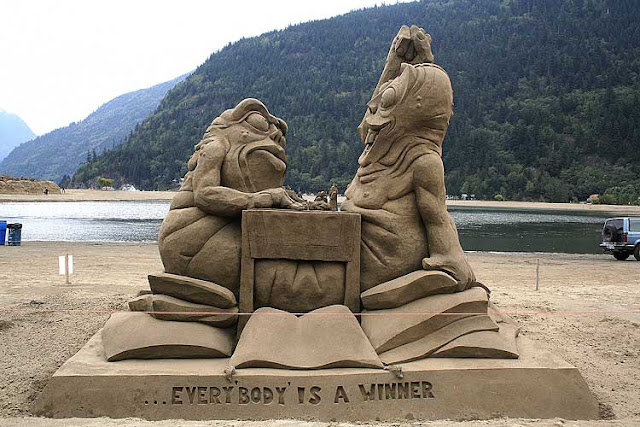 (images credit: rense.com)

"Goaaaal!" by Gianni Schimarini - via:




Strength in numbers: (more info) -




But this one is much better:



(sculpture by Edith Van de Watering "Nederland")

Even if you don't possess sculpting skills you can still impress the beach crowd:



(sent in by Angeline Stewart)

Who's worshiping what? -




Well, of course, the problem with even the mightiest of sand sculptures... there are going to be blown in the wind... smothered by waves... no trace will be left of them...

"For dust you are, to dust you shall return!" -



(image credit: Devrim Gür)

Also Read: Ice Sculptures, Continuous Line Art

Permanent Link...
...+StumbleUpon
...+Facebook

Category: Art,Weird
RECENT ARTICLES:
"Dark Roasted Blend" - All Kinds of Weird and Wonderful Things, Discovered Daily!"
DRB is a top-ranked and respected source for the best in art, travel and fascinating technology, with a highly visual presentation. Our in-depth articles in many categories make DRB a highly visual online magazine, bringing you quality entertainment every time you open your "feed" reader or visit our site -
About DRB
Connect with us and become part of
DRB on Facebook
,
Twitter
,
Pinterest
,
Google Plus
; make sure to subscribe to our
updates
.
Our mobile site:
http://mobile.darkroastedblend.com
. You can also read us on iPad, as part of the
Flipboard
popular free app.
YOUR COMMENTS:
:
READ OTHER RECENT ARTICLES:



Enchanting Waterfall Island

Like the Nagrand region in World of Warcraft


DRB Feel-Good
DRB Feel-Good Issue #16

Loads of cool and rare imagery



Auto Oops! Bizarre Car Accidents, Part 7

New batch of maddeningly mysterious wrecks



Mind-Blowing Optical Illusions, Part 6

"The soul has illusions as the bird has wings: it is supported by them"



Exceptional British 1950s Scifi Artwork

Quintessential Space Pulp Art by Ron Turner and others



Extreme Parenting & Wild, Wild Kids! Part 2

The Joys and Perils of Having Interesting Kids



Creation and Destruction of Sand Mandalas

Profound Art Ritual Reflecting the Sanctity of Our Lives



Funny Sports Update

Underwater Ice Hockey, Extreme Stunts, etc.(Pics)



The New Motor, or the Steam-Powered Messiah

The strange, true tale (plus some wicked cyberpunk art)



Machines Alive! The Whimsical Art of Boris Artzybasheff

Is it a dream, or a nightmare?



Automated Musical Instruments

Music Robots: No Performer Necessary



American Supersonic Airliners:
Race for a Dream

Supersonic Marvels, Largely Forgotten Today



Pulp Pleasures: Eando Binder

"Where Eternity Ends" and other rare gems



Epic Fantasy: the Start of the Journey

Part 2 of our "Best Classic Fantasy" series



Strange Shadows: Best Classic Fantasy

Fantasy "Glitches in the Matrix", Epic Lands, and more!
CATEGORIES
:
airplanes
|
animals
|
architecture
|
art
|
auto
|
boats
|
books
|
cool ads
|
funny pics
|
famous
|
futurism
|
food
gadgets
|
health
|
history
|
humour
|
japan
|
internet
|
link latte
|
military
|
music
|
nature
|
photo
|
russia
|
steampunk
sci-fi & fantasy
|
signs
|
space
|
sports
|
technology
|
trains
|
travel
|
vintage
|
weird