Link
Scroll down for today's pictures & links.

Rare Russian Space Movie

"The Grand Space Voyage" (1974) - Two boys and a girl (Mila Berlinskaya) are sent into space to have some heroic adventures there, with added romantic interest.

Music by Alexei Rybnikov. Mila Berlinskaya (who sings this song) went on to become world-famous classical pianist. She lives in France.



url



(image credit: fantafilm.net)

Today's pictures & links:
Click to enlarge images.

Alien Presence

Dale Chihuly's incredible glass installations at the de Young Museum (see more at his site)



(art by Dave Chihuly) - via

------------

Somebody likes to play Tetris?

Absolutely awesome aerial photography gallery by Vincent Laforet - click here



(image credit: Vincent Laforet)

Another air travel related cool image (ad for Turkish airlines):



(photo by Mikael Albrecht)

------------

Japanese Cube Satellites

The University of Tokyo "CubeSat" Project, more info -




------------

Must be some kind of a new cult




------------

Streamlined Scooters

Are these scooters? Motorcycles? They look like they came from sci-fi movie, and some are set to go into production.

Honda Griffon shown at Tokyo Motorshow in 2003 (more info) -




Yamaha Maxam 3000 prototype, 2005 - see more info at Yamaha's page (scroll down) -




Suzuki G-Strider concept, last updated in 2005 (more info) -




And finally - Monotracer R1 Concept bike - via:




------------

Mixed fresh links for today:

Iceberg Living Architecture - [design]
Epic Move Across Europe - [fascinating]
How DNA Works: animation - [interesting]
Private islands: the peak of luxury - [lifestyle]
Spinning Wing Airliner - [vintage tech]
The unsung postal worker heroes of the "Titanic" - [history]
The World of Chemistry (not what you'd expect) - [fun video]
Tiger vs. Crocodile - [nature video]
Funny Commercial: Staying Alive - [fun video]

------------

Love this urban art

Google Earth might get confused, though.



(image credit: paulthewineguy)

------------

Stuck Panda




You can see more pictures of pandas and "Baby Panda Adoption project" in this photo set.

------------

The worst chess set you'll see all day

When it appeared on reddit, somebody remarked "This is the ONLY chess set I've seen all day." Anyway, this is more than controversial:



(image credit: Maze)

------------

Wings for Paratroopers

Designed and tried out in 1935 (!) by the Russian engineer A. Sanfirov:




Here is a bit more info: This was "The Dedalus" concept from 1935 meant for RKKA (Russian Army Paratrooper Division) tested in Moscow with unknown results.




------------

Very Radical Shopping Cart

Could be a hazard for the fellow shoppers. This is a work of Ryan Johnson, see more here.



(image credit: Ryan Johnson)

------------

Haute Couture in Guns (and Chainsaws)




------------

Another way to improve your wife:



(original unknown)

------------

Mystery Device

Now, this should keep you guessing for some time: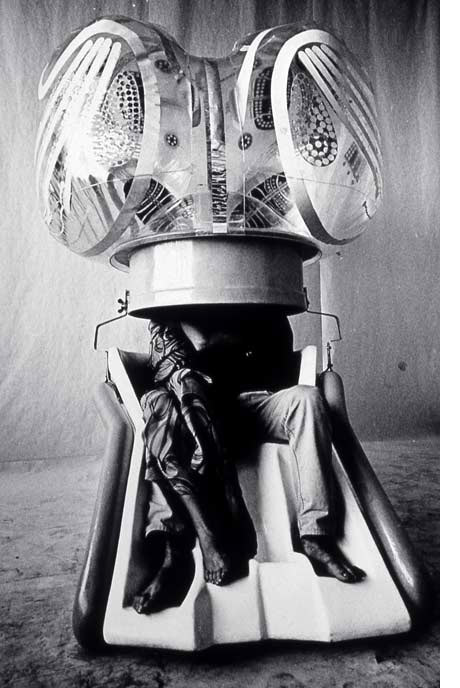 I'd say, this is a brainwashing machine (for two) from the trippy sixties.

Permanent Link...
...+StumbleUpon
...+Facebook

Dark Roasted Blend's Photography Gear Picks:
RECENT ARTICLES:
"Dark Roasted Blend" - All Kinds of Weird and Wonderful Things, Discovered Daily!"
DRB is a top-ranked and respected source for the best in art, travel and fascinating technology, with a highly visual presentation. Our in-depth articles in many categories make DRB a highly visual online magazine, bringing you quality entertainment every time you open your "feed" reader or visit our site -
About DRB
Connect with us and become part of
DRB on Facebook
,
Twitter
,
Pinterest
,
Google Plus
; make sure to subscribe to our
updates
.
Our mobile site:
http://mobile.darkroastedblend.com
. You can also read us on iPad, as part of the
Flipboard
popular free app.
YOUR COMMENTS:
:
READ OTHER RECENT ARTICLES:



Enchanting Waterfall Island

Like the Nagrand region in World of Warcraft


DRB Feel-Good
DRB Feel-Good Issue #16

Loads of cool and rare imagery



Auto Oops! Bizarre Car Accidents, Part 7

New batch of maddeningly mysterious wrecks



Mind-Blowing Optical Illusions, Part 6

"The soul has illusions as the bird has wings: it is supported by them"



Exceptional British 1950s Scifi Artwork

Quintessential Space Pulp Art by Ron Turner and others



Extreme Parenting & Wild, Wild Kids! Part 2

The Joys and Perils of Having Interesting Kids



Creation and Destruction of Sand Mandalas

Profound Art Ritual Reflecting the Sanctity of Our Lives



Funny Sports Update

Underwater Ice Hockey, Extreme Stunts, etc.(Pics)



The New Motor, or the Steam-Powered Messiah

The strange, true tale (plus some wicked cyberpunk art)



Machines Alive! The Whimsical Art of Boris Artzybasheff

Is it a dream, or a nightmare?



Automated Musical Instruments

Music Robots: No Performer Necessary



American Supersonic Airliners:
Race for a Dream

Supersonic Marvels, Largely Forgotten Today



Pulp Pleasures: Eando Binder

"Where Eternity Ends" and other rare gems



Epic Fantasy: the Start of the Journey

Part 2 of our "Best Classic Fantasy" series



Strange Shadows: Best Classic Fantasy

Fantasy "Glitches in the Matrix", Epic Lands, and more!
CATEGORIES
:
airplanes
|
animals
|
architecture
|
art
|
auto
|
boats
|
books
|
cool ads
|
funny pics
|
famous
|
futurism
|
food
gadgets
|
health
|
history
|
humour
|
japan
|
internet
|
link latte
|
military
|
music
|
nature
|
photo
|
russia
|
steampunk
sci-fi & fantasy
|
signs
|
space
|
sports
|
technology
|
trains
|
travel
|
vintage
|
weird