Link
Scroll down for today's pictures & links.

Great 70s Car Chase

"Blazing Magnum" (1976) with a signature jump in the end (info)



url

Today's pictures & links:
Click to enlarge images.

Cartoon Character's Skeletons

There is something very weird about this. See more here - creations by Michael Paulus.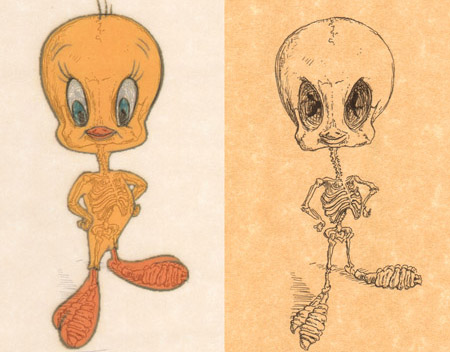 Do not show this to your children.

------------

360 Panorama of Moscow Underground

Click on the image to experience the VR 360 view.



(image credit: Vladimir Shalagin)

And another panorama is here. Click here to see how they explored and set up the place.

------------

Raytheon Exoskeleton

Raytheon Company is bringing the "Iron Man" to life. More info here



(image credit: Raytheon)

A newest research facility in Salt Lake City, Utah, is developing a robotic suit for the soldier of tomorrow. Japanese Cyberdine's Robo Suit "HAL-5" is another wearable robotic system.

Some variations...




------------

Very Cool Art Deco Fan Design

Order one here.



(image credit: Horchow.com)

------------

Dr. Strangelove's Birthday?




Any background info about this is appreciated.
Update:
"The photograph is from 1946, in which U.S. Navy Admirals Blandy and Lowery, as
well as Blandy's wife, slice an "Bikini Atoll Atomic cake" in the Pentagon." info

------------

Mixed fresh links for today:

The Original indiana Jones - [fascinating] - via
Short Interview with DRB - [media]
Shipping Container Architecture - [design]
The Economy of Straight Razors - [useful]
Interesting way to search and visualize Flickr images - [cool site]
Constantly updated collection of concept cars - [auto]
Underwater Wonders of the World - [travel]
Very cool candle experiment - [how-to video]
Awesome Western Theme Song - [music video]

------------

"The Lord Humongous" Wheelchair

We wrote about fiery creations of Lance Greathouse before (second part of this article). This time he almost upped himself with the wicked fire-breathing... wheelchair:




"This chair started as parts from several different machines. It is constructed out of a Marine rescue Helicopter seat and an electric golf cart parts. It is all electric and has a top speed of 22MPH. It has several forms of steering and can climb just about any terrain easily.

It was made for the disabled person looking for something a little different, why drive something that looks like a medical device when you can drive something lethal?"

------------

I hope this is 'shopped -



(original unknown)

Well, there are people who can do fun tricks with their tongues - see video

------------

Space Challenge: A Broken Toilet

You've probably read already NY Times hair-raising account of a broken toilet on international Space Station and the consequences for the crew.




Here are some responses from a Russian site, which seems to be eager to help:



(image credit: Naoki)



(image credit: Alias)

------------

The creepiest pavement art ever?




------------

Funny T-Shirt Designs

All from this little company here.




------------

Edward Hopper "Nighthawks" Variations

Very famous 50s-style painting gets a bunch of unexpected treatments:
(starting with the original)



(images credit: Worth1000)

See lots more on this page

------------

Left out to dry




------------

Mystery Devices

Number One:




UPDATE: This is a Blue Jeans Testing Device (1956) (more info)

"Blue jeans are tested for resistance to tearing. The wedge-shaped part with the numbered scales of this device is released, and then drops and tears the blue-jean fabric."

Number Two:




Number Three:




Update The last picture is a a Bod Pod (more info) which estimates you body/fat ratio by measuring your air displacement.

READ THE PREVIOUS ISSUE

Permanent Link...
...+StumbleUpon
...+Facebook

Dark Roasted Blend's Photography Gear Picks:
RECENT ARTICLES:
"Dark Roasted Blend" - All Kinds of Weird and Wonderful Things, Discovered Daily!"
DRB is a top-ranked and respected source for the best in art, travel and fascinating technology, with a highly visual presentation. Our in-depth articles in many categories make DRB a highly visual online magazine, bringing you quality entertainment every time you open your "feed" reader or visit our site -
About DRB
Connect with us and become part of
DRB on Facebook
,
Twitter
,
Pinterest
,
Google Plus
; make sure to subscribe to our
updates
.
Our mobile site:
http://mobile.darkroastedblend.com
. You can also read us on iPad, as part of the
Flipboard
popular free app.
YOUR COMMENTS:
:
READ OTHER RECENT ARTICLES:



Creation and Destruction of Sand Mandalas

Profound Art Ritual Reflecting the Sanctity of Our Lives



Funny Sports Update

Underwater Ice Hockey, Extreme Stunts, etc.(Pics)



The New Motor, or the Steam-Powered Messiah

The strange, true tale (plus some wicked cyberpunk art)



Machines Alive! The Whimsical Art of Boris Artzybasheff

Is it a dream, or a nightmare?



Automated Musical Instruments

Music Robots: No Performer Necessary



American Supersonic Airliners:
Race for a Dream

Supersonic Marvels, Largely Forgotten Today



Pulp Pleasures: Eando Binder

"Where Eternity Ends" and other rare gems



Epic Fantasy: the Start of the Journey

Part 2 of our "Best Classic Fantasy" series



Strange Shadows: Best Classic Fantasy

Fantasy "Glitches in the Matrix", Epic Lands, and more!


DRB Feel-Good
Happy Holidays from DRB!

2014 Feel-Good Issue, Part 2


DRB Feel-Good
Christmas Feel-Good Special

Happy Holidays and Great New 2014 Year from DRB!



Epic Space Fiction by Alastair Reynolds

"Nostalgia for Infinity", indeed



Cinerama: "The Next Big Thing That Was"

Curved screens, gigantic projectors & "out-of-this-world" picture


DRB Series
Magnificent Fractals (DRB Series)

Probably the Most Spectacular Collection of Fractals on the Web



Fractals For Food

If You Eat This, Will It Make You Better At Math?



Three-Dimensional Mechanical Fractals

Don't stare at them for too long, or your brain will capsize!



Pre-Fractal Art

Stunning Examples of Fractal Art in History



A Codebreaker's Dream: The Bombe!

"The Bombe" vs. "The Enigma" code battle



Extremely Weird Bus Stops & Shelters

Wildly bizarre bus stop "creations"



Incredible Balancing Acts & Tightrope Walking

Up on the Roof: Not for the Faint of Heart



The Creepiest Mannequins

Serious Halloween Scares and Frights



Wildly Funny Frogs

Frogs in their "moments of weakness"



World's Strangest Vehicles, Part 5

The Truly Bizarre Car Zoo!



Deadliest Creatures (that are Easiest to Miss)

Real terror lurks in quiet darkness



"Music For... What?" Weird Album Covers

Music for Vacuuming, and much much more!



World's Strangest Vehicles, Part 4

Sheer Auto Adrenaline!
CATEGORIES
:
airplanes
|
animals
|
architecture
|
art
|
auto
|
boats
|
books
|
cool ads
|
funny pics
|
famous
|
futurism
|
food
gadgets
|
health
|
history
|
humour
|
japan
|
internet
|
link latte
|
military
|
music
|
nature
|
photo
|
russia
|
steampunk
sci-fi & fantasy
|
signs
|
space
|
sports
|
technology
|
trains
|
travel
|
vintage
|
weird