"QUANTUM SHOT" #401
link

See the whole "Never Give Up! Lords of the Logistics" Series.

Creativity gone bad - whatever gets the job done!

Some people need a boost to get creative, others have to to come up with darnedest ideas - just to meet the challenges of everyday life. When faced with shortage of tools and tight circumstances, these people do not panic, but start inventing - sometimes using everyday object in extraordinary way: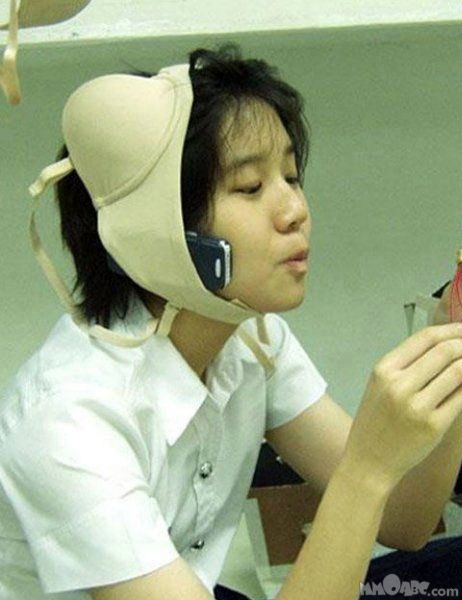 Solve your exercise dilemma: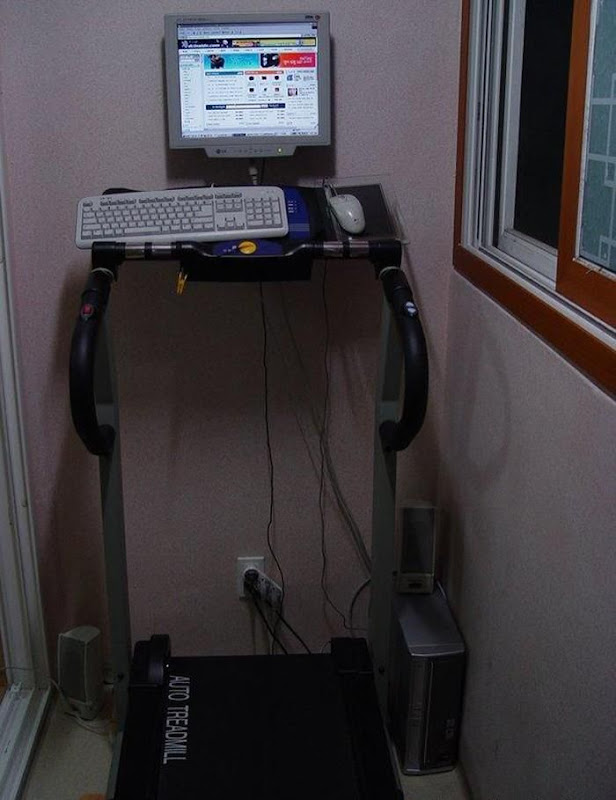 Short on chess figures? try this: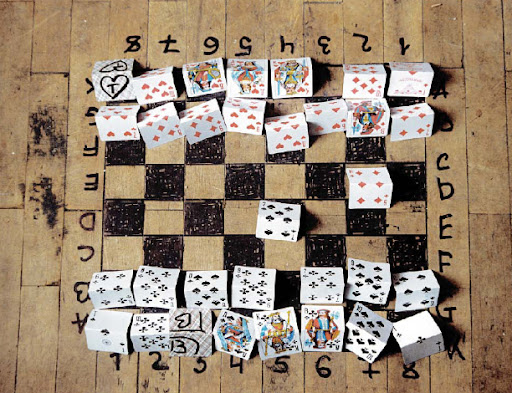 (image credit: Alexander Dzhantimirov)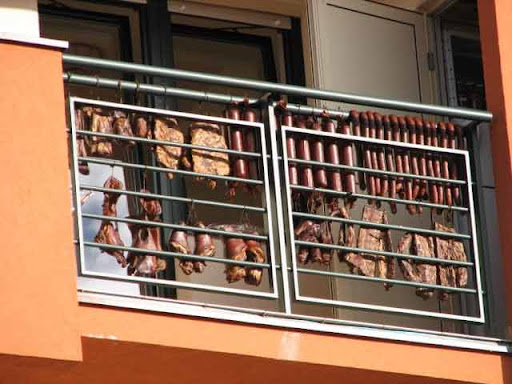 Using suitcases as a support structure is a bad idea (even if you fill it with bricks) -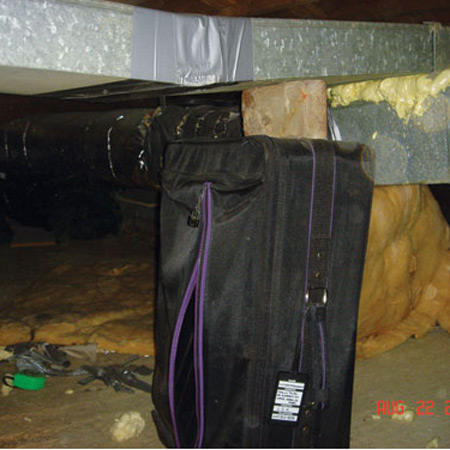 (image credit: This Old House)

This airport (Sacramento, California) has a different suitcase problem -




Weird car enhancements: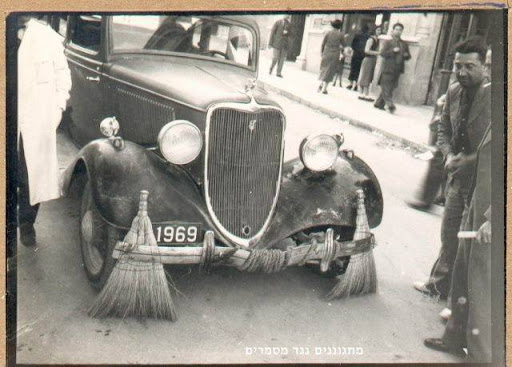 The text under the picture says: "Nail protection". This is probably how that car owner used to protect his tires from punctures by nails deliberately scattered on the road. Here is some hi-tech: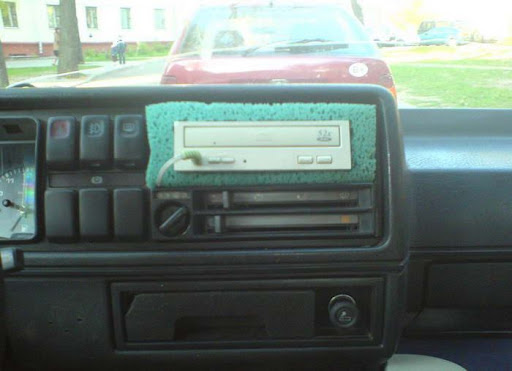 Very, very crude GPS device: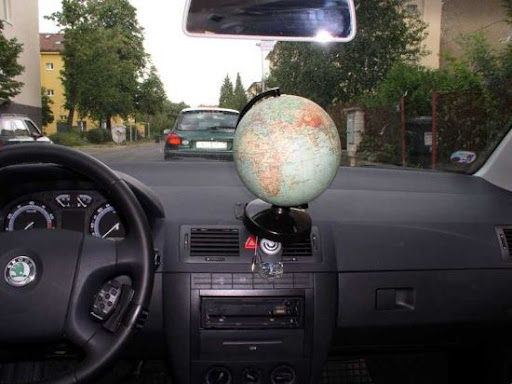 In the absence of boutiques, try a different fashion: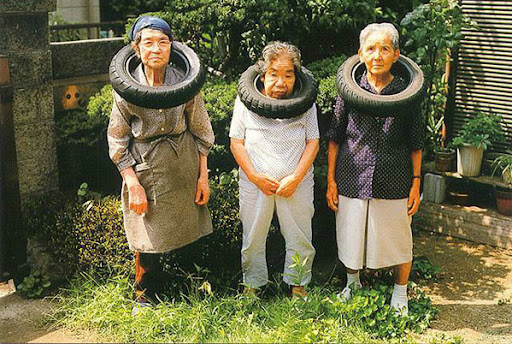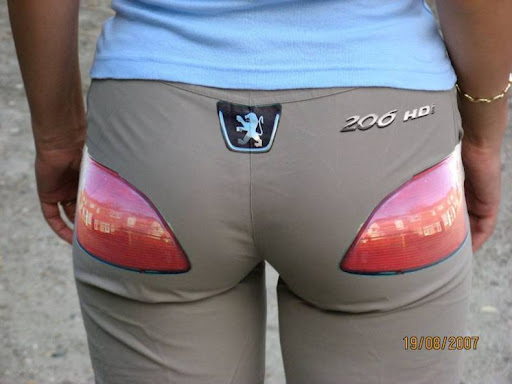 "Sorry, did not have enough time to buy stamps - here is 5 cents for your trouble" -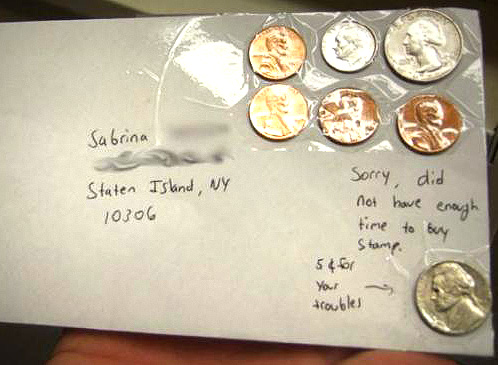 Maybe this is the cheapest way to travel: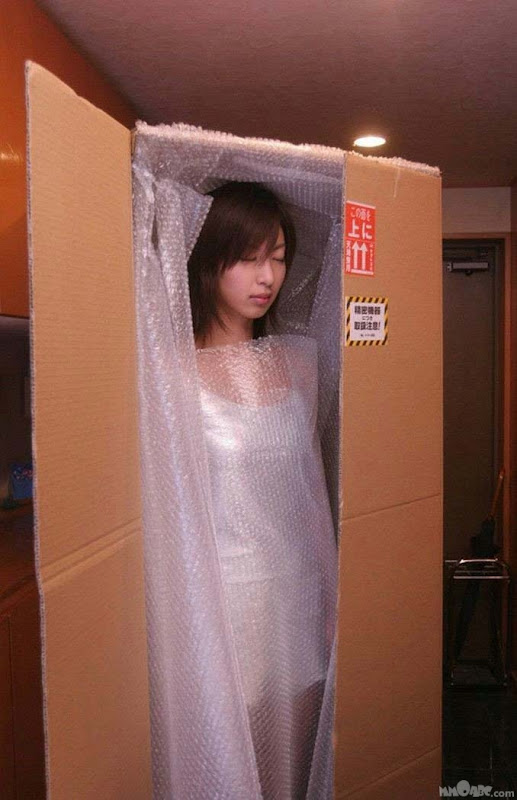 This however, is not a way to travel, period: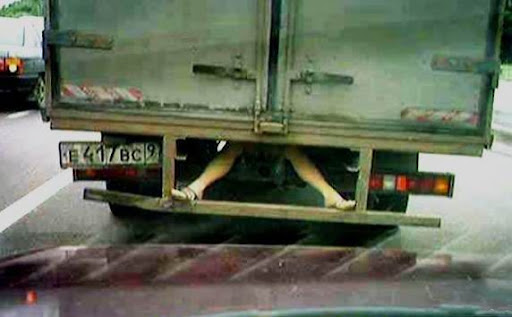 Unique Vehicles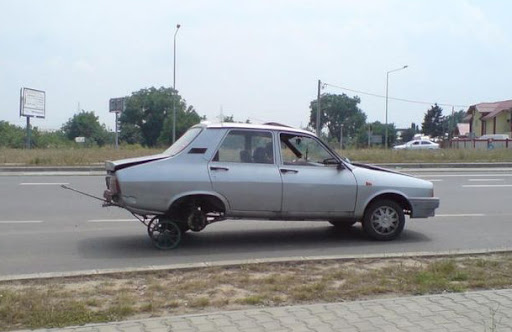 This seems to fulfill the role of a school bus: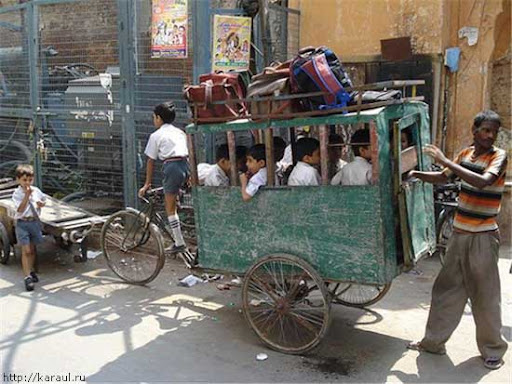 Not much of a car, but a cool audio system: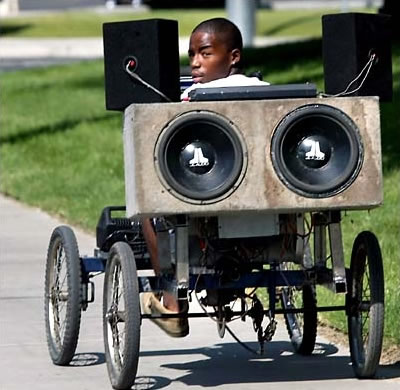 I am not sure what this was before - a bomb, a missile? - but now, it's a motorcycle:
update: it's made from a drop tank (external disposable fuel tank)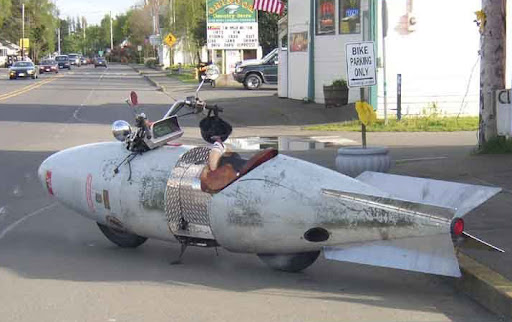 Are you bored? Start keeping the score: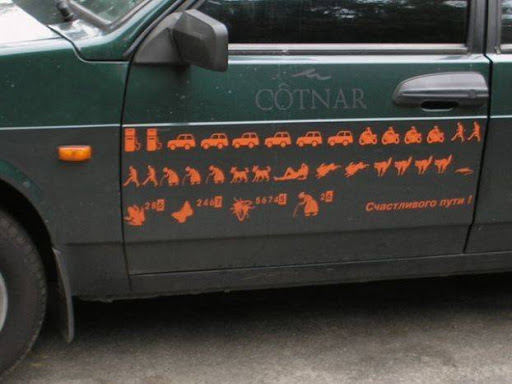 Use a piece of big pipe to hold the mini-car races: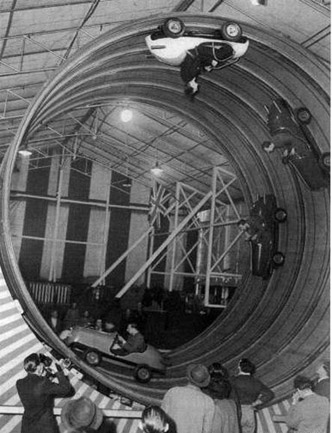 or just "walk softly and carry a big... horse" (for exercise?) -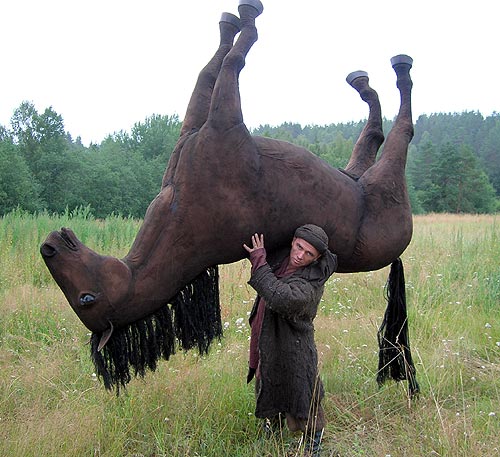 Strapped for space?

Sometimes your personal space is reduced to almost nothing: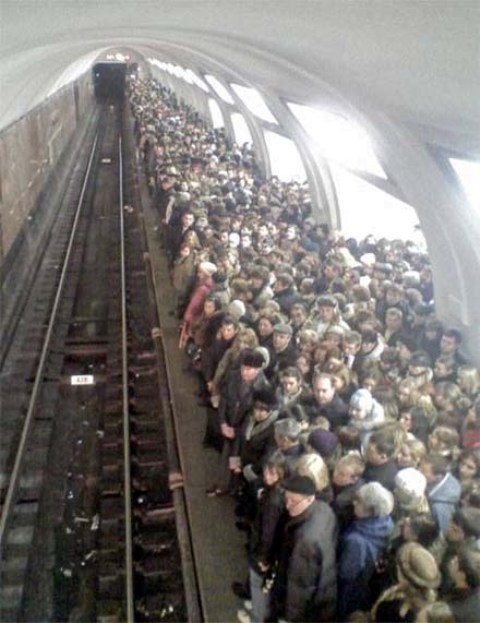 You can still catch some sleep: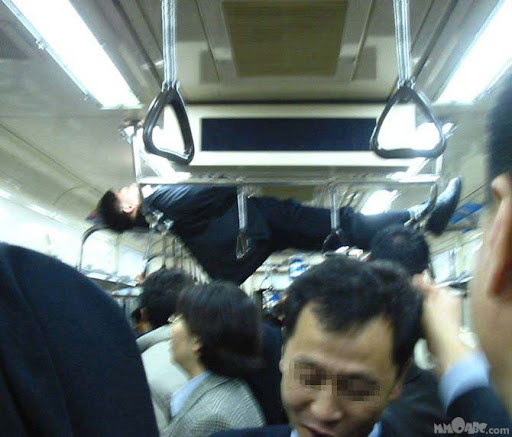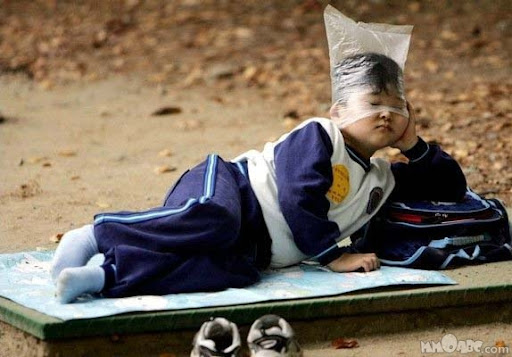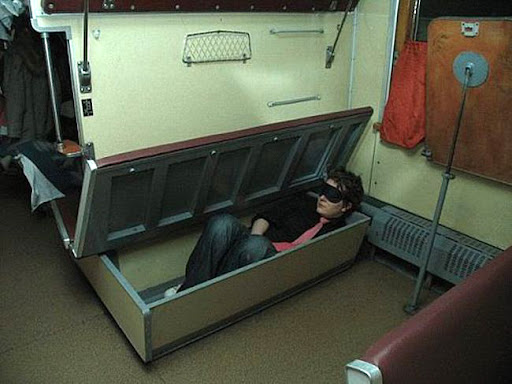 No garage? No problem! -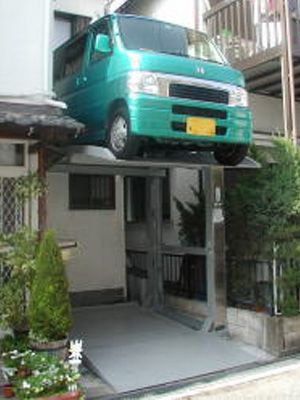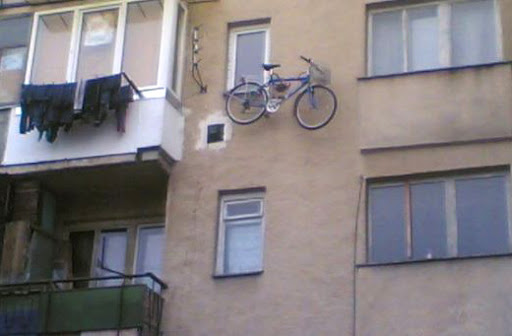 Secure your car with an anchor - amazingly, this may even be effective: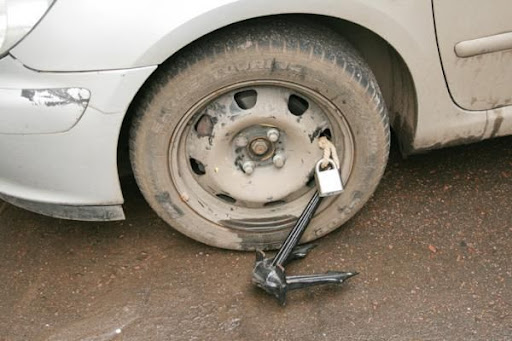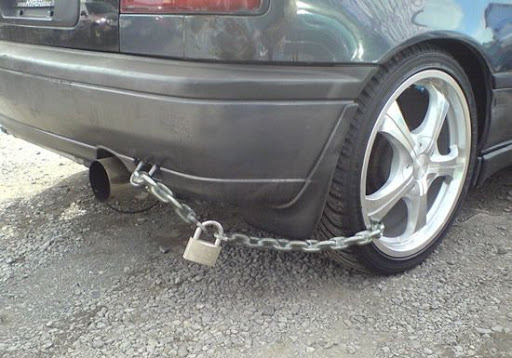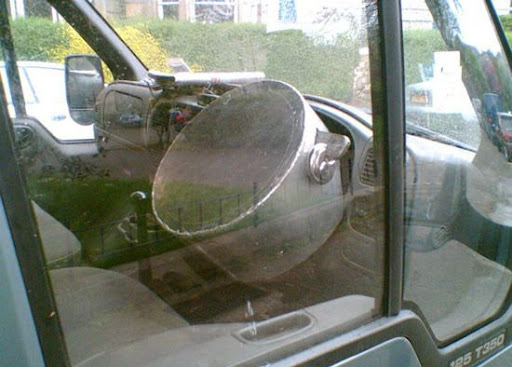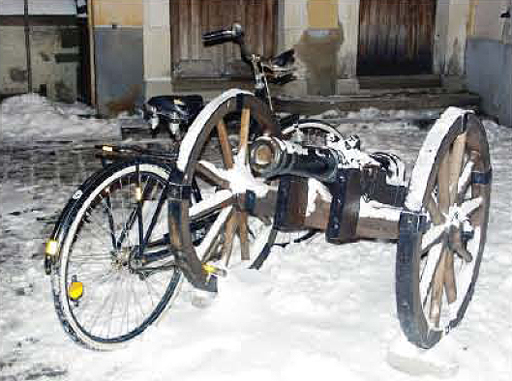 Carrying things

Well, sometimes you gotta do what you gotta do... Carrying a fridge in El Paso: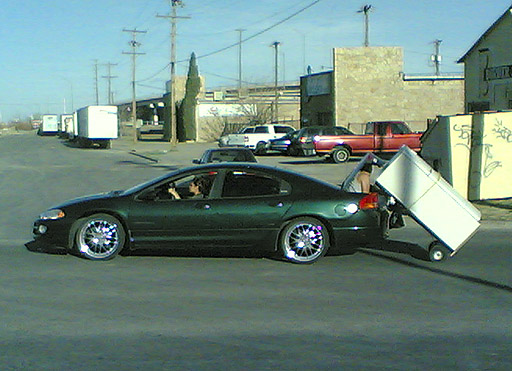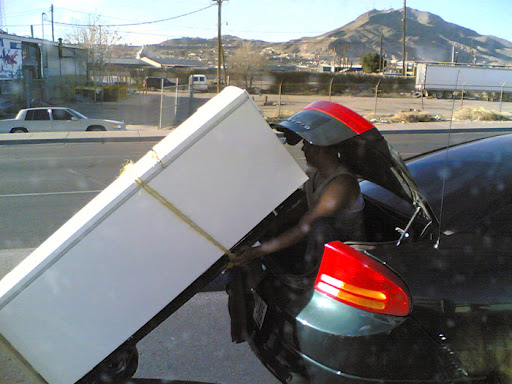 (image credit: Border Pundit)

Need to deliver BBQ? Put it on (and around) your head:
(more info)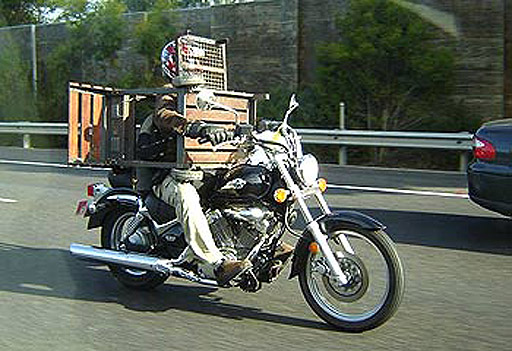 (image credit: Herald Sun)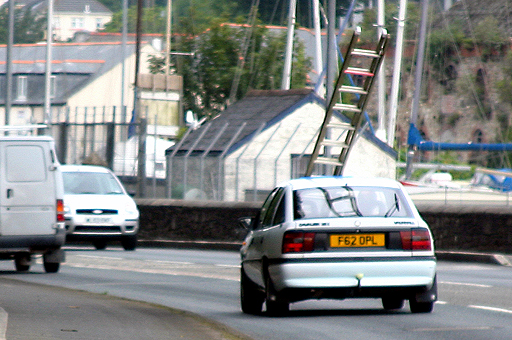 (sent by Ozzy in Cornwall, England)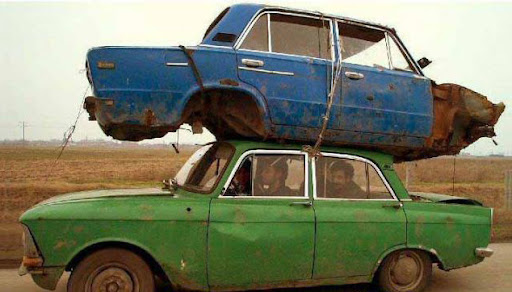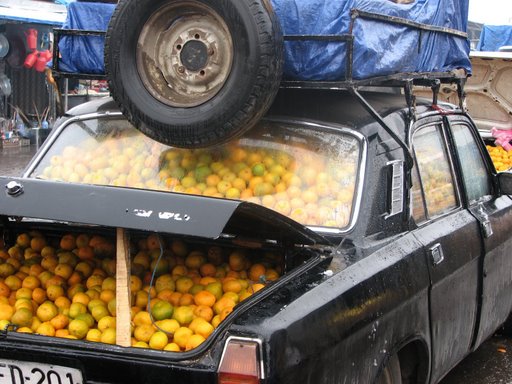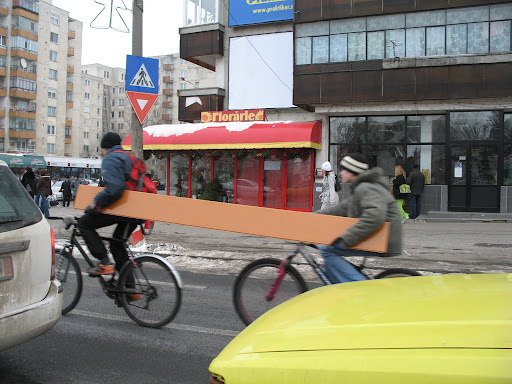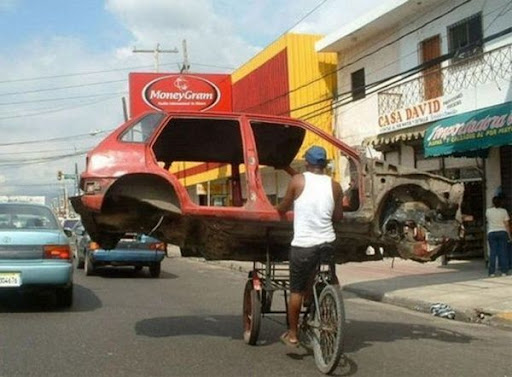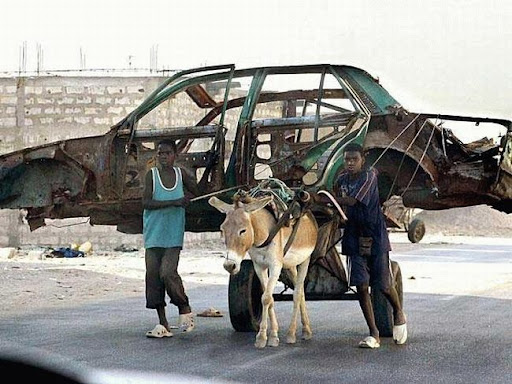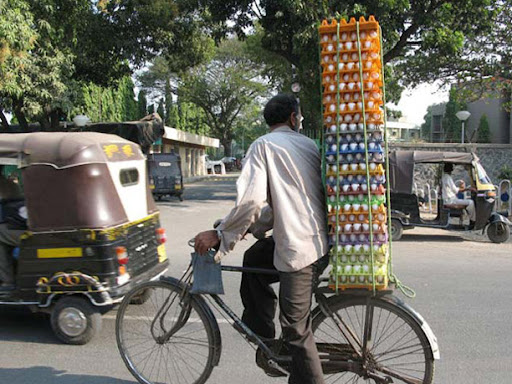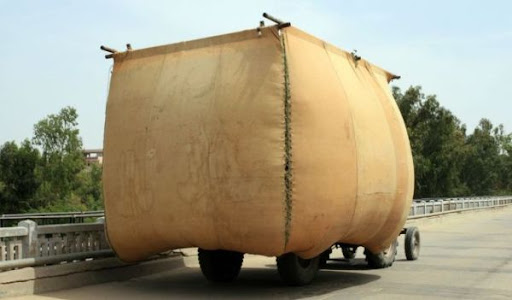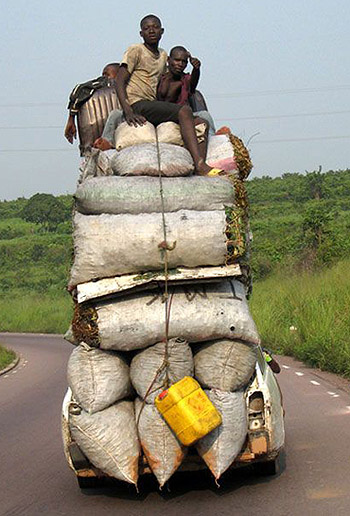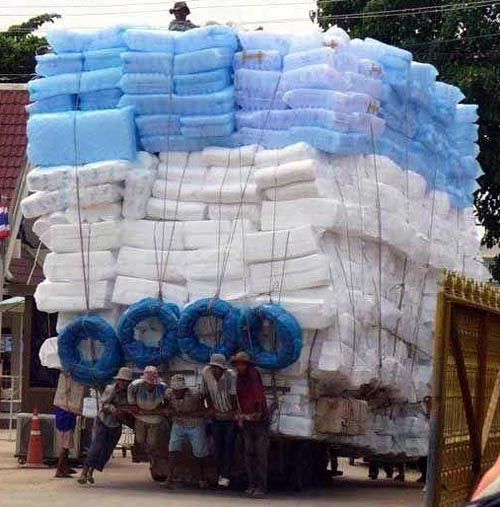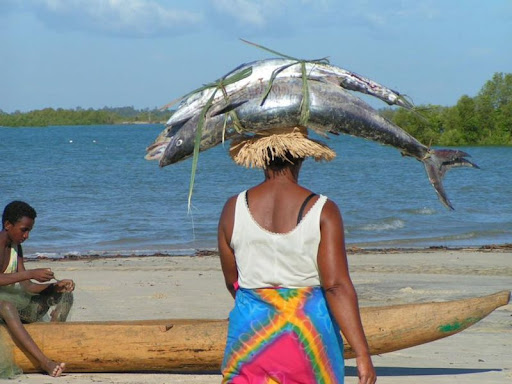 Pigs are brought to the market by various means: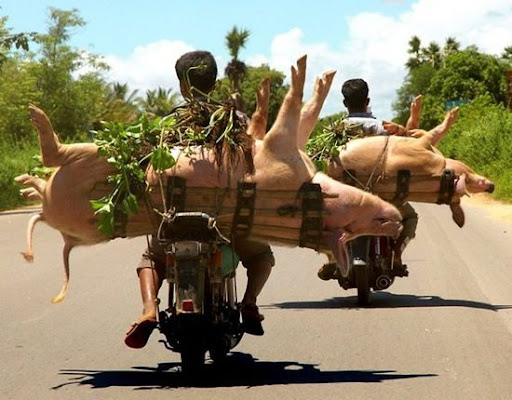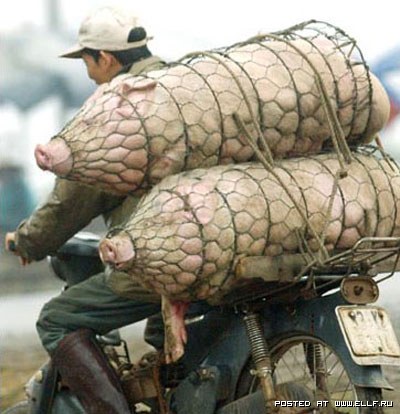 But don't get too carried away with pigs (what is going on here??):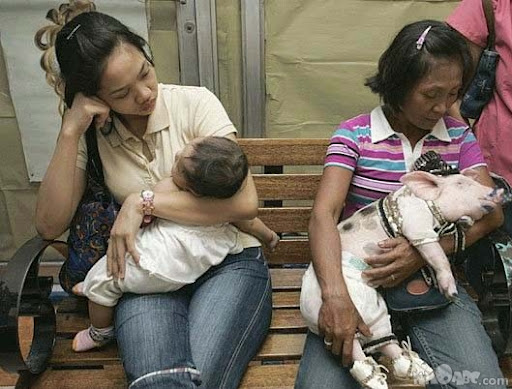 Danger is my Middle Name

These guys obviously skipped the safety meetings: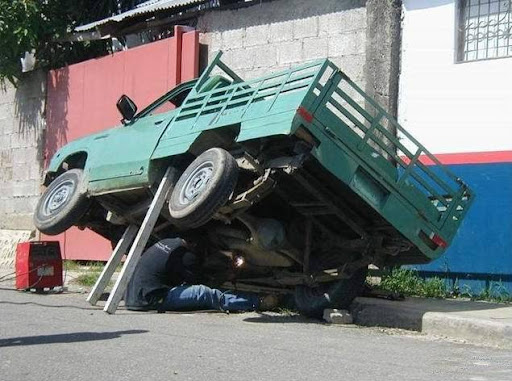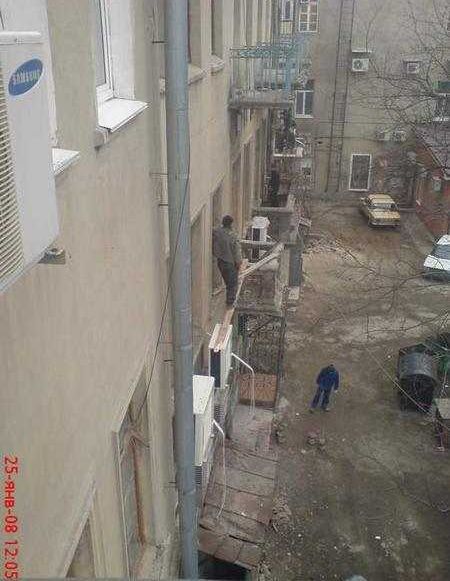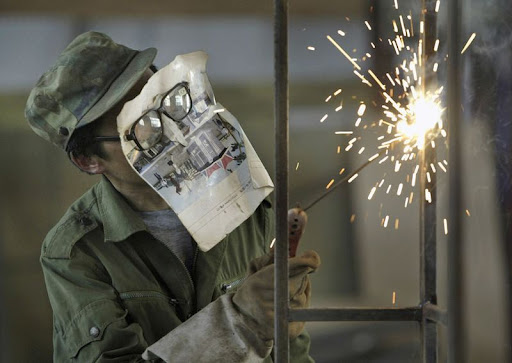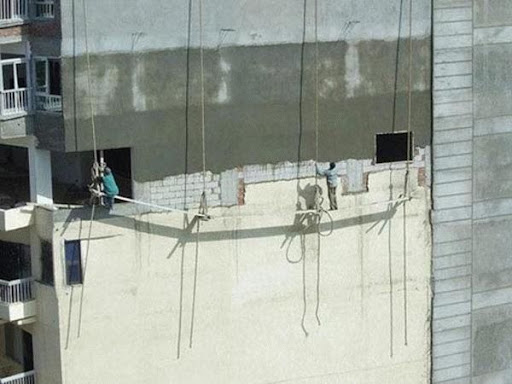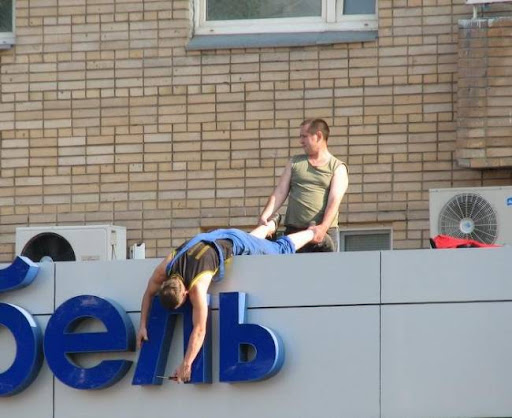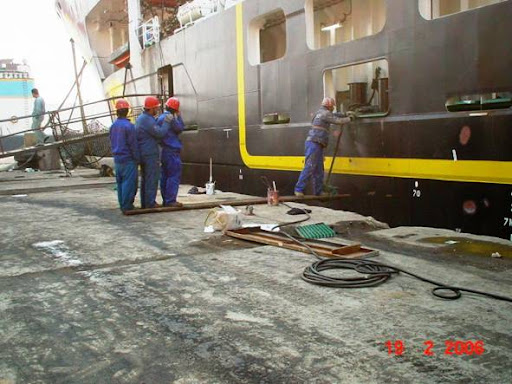 Sources: 1, 2, 3 (Originals of many images are unknown, as they came from image aggregation sites. Let us know if you have the info.)

CONTINUE TO NEXT PAGE! ->

READ THE PREVIOUS PART HERE

See the whole "Never Give Up! Lords of the Logistics" Series - Click Here

Permanent Link...
...+StumbleUpon
...+Facebook

Category: Funny Pics,Weird
Related Posts:
Cool Art from Everyday Objects
New Ways to Play with an Old Hardware
Dark Roasted Blend's Photography Gear Picks:
READ RECENT POSTS:
"Dark Roasted Blend" - All Kinds of Weird and Wonderful Things, Discovered Daily!"

DRB is a top-ranked and respected source for the best in art, travel and fascinating technology, with a highly visual presentation. Our in-depth articles in many categories make DRB a highly visual online magazine, bringing you quality entertainment every time you open your "feed" reader or visit our site.

Connect with us and become part of DRB on Facebook, Twitter, Pinterest, Google Plus; make sure to subscribe to our updates.

Our mobile site: http://mobile.darkroastedblend.com. You can also read us on iPad, as part of the Flipboard popular free app.


COMMENTS:
:
READ MORE RECENT POSTS:



Extremely Weird Bus Stops & Shelters

Wildly bizarre bus stop "creations"



Incredible Balancing Acts & Tightrope Walking

Up on the Roof: Not for the Faint of Heart



The Creepiest Mannequins

Serious Halloween Scares and Frights



Wildly Funny Frogs

Frogs in their "moments of weakness"



World's Strangest Vehicles, Part 5

The Truly Bizarre Car Zoo!



Deadliest Creatures (that are Easiest to Miss)

Real terror lurks in quiet darkness



"Music For... What?" Weird Album Covers

Music for Vacuuming, and much much more!



World's Strangest Vehicles, Part 4

Sheer Auto Adrenaline!



World's Most Curious Ephemera, Part 2

The Art of Luggage Labels, etc.



World's Most Curious Ephemera

Pieces of Paper that Intrigue & Inspire



World's Strangest Motorcycles

The Ultimate Unusual Bike Collection



World's Strangest Vehicles, Part 3

Cars that are... different



World's Strangest Vehicles, Part 2

Automotive wrongness, or the new kind of right?



"Vertical Grass" Art & Architecture

Transient Green Masterpieces



Huge Semi-Submersible Ships

Real-life "Sea Monsters & Giants of the Waves"



Steampunk Scooter & Other Machines by Arthur van Poppel

Jules Verne's Styled Music Submarines



Japanese Contemporary 2D Artists

Spectacular, complex, sophisticated



Japanese Creative Barcodes

"Barcode Revolution" is sweeping the world


Pic-of-the-Day
Great Space & Pulp Art by Norman Saunders

Damsels in distress, all over the time and space



Joystick Car Dashboards

Joyful, Joyful Joystick Driving!
CATEGORIES
:
airplanes
|
animals
|
architecture
|
art
|
auto
|
boats
|
books
|
cool ads
|
funny pics
|
famous
|
futurism
|
food
gadgets
|
health
|
history
|
humour
|
japan
|
internet
|
link latte
|
military
|
music
|
nature
|
photo
|
russia
|
steampunk
sci-fi & fantasy
|
signs
|
space
|
sports
|
technology
|
trains
|
travel
|
vintage
|
weird