Link
Scroll down for today's pictures & links.

Shanty Town Car Chase

"Police Story", starring Jackie Chan, 1985. Compare with a similar chase in "Bad Boys II" here.



url

"Cinemassacre" site has compiled their own
"Top 10 Jackie Chan Stunts":



url

Today's pictures & links:
Click to enlarge images.

Guy Robot

See more cute robots made from "found objects" on the artist site, and at this gallery.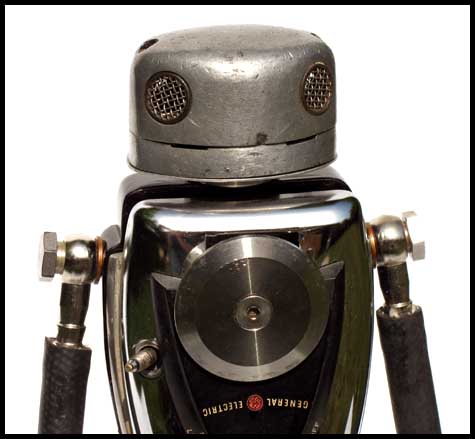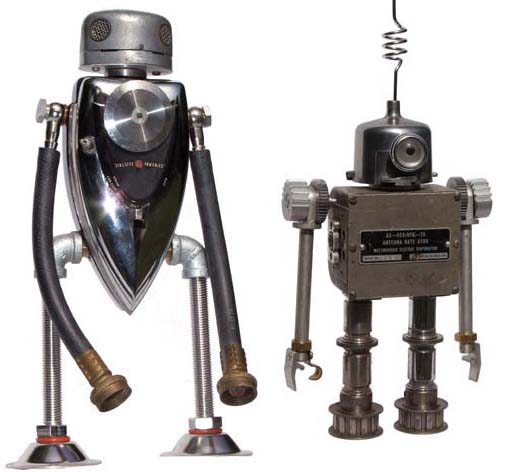 (images credit: Guy Robot)

------------

Lake that would not freeze
- via Alan Hume

At nearly 1,400 feet, Lake Tazawa in Akita Prefecture is Japan's deepest lake. It lies in the bitter cold of northern Honshu but never freezes over.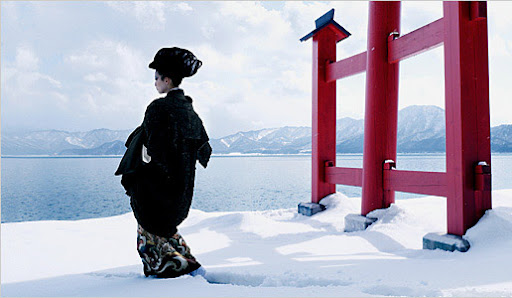 (image credit: Raymond Meier)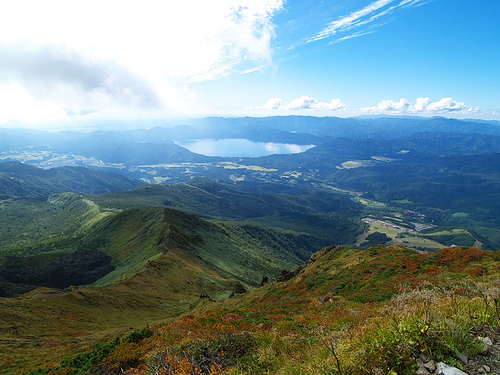 (image credit: izhiro)

According to the Japanese folk legend, "The water does not freeze due to the passionate love-making of water dragon Takko Hime and her husband, Hachirotaro, at the bottom of the lake."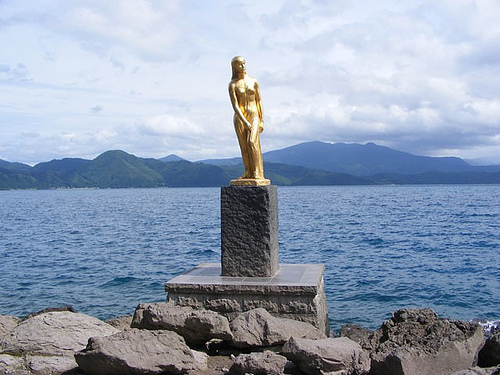 (image credit: Dhushara)

The actual reason is warm water from subterranian springs, of course.

------------

All dressed up

Synchiropus Splendidus, or Mandarin Dragonet, or "psychedelic fish": (info)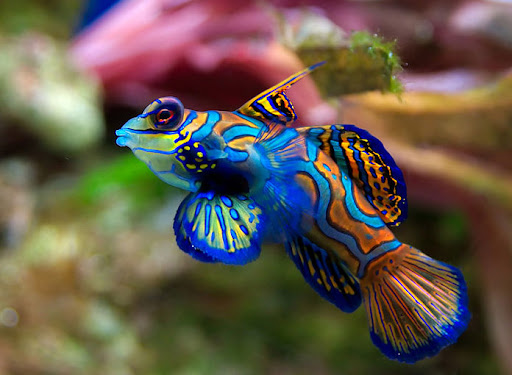 (photo by Luc Viatour)

The Indo-Pacific Nudibranch is able to swim freely and fall down like a leaf... Some of them are called Spanish Dancer.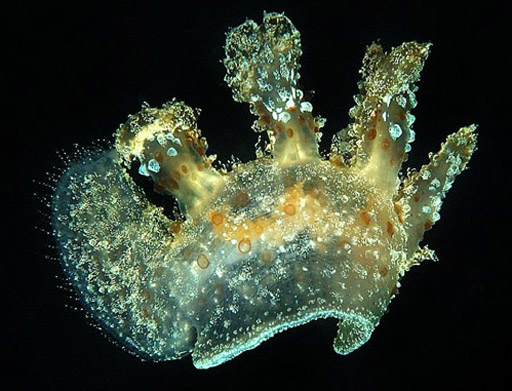 (photo by Giuseppe Piccioli Resta)

------------

Mixed fresh links for today:

Impress Your Boss! - [hilarious video]
Best prank: How to hijack fast-food frequency - [funny]
Most Unusual Ski Destinations - [weird]
Should the environment adapt to your weight? - [cool ads]
The Dumbest Terrorists in History - [weird]
Vintage Video Game Consoles - [geek]
Hand-made Gmail (in Russian), Engl. - [wow video]
Bear Demolition Team - [fun video]
The Machine is Us/ing Us - [cool video]

------------

Indonesian Oil: Native-owned Oil Wells on Java

The National Oil Company dug the wells, used them up and left them for "dead". Here is how the natives took over the abandoned wells on the island of Java (the wells still seep oil, but very slowly) -

1) Find a well, erect a wooden derrick over it: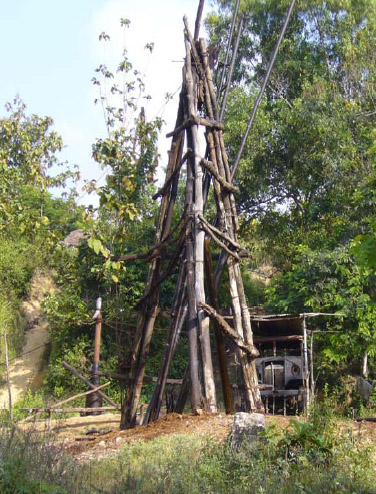 2) use the truck engine to pull the cable with a dipping bucket: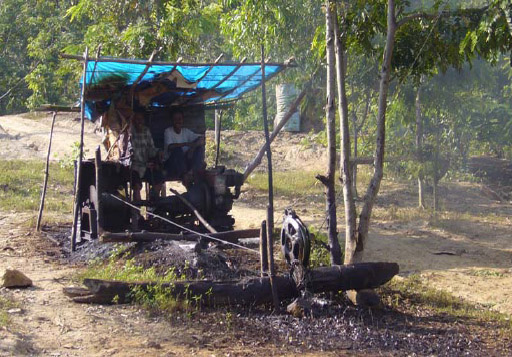 3) direct the lifted oil (mixed with water, inside the catch tube) down the ditch to the separator: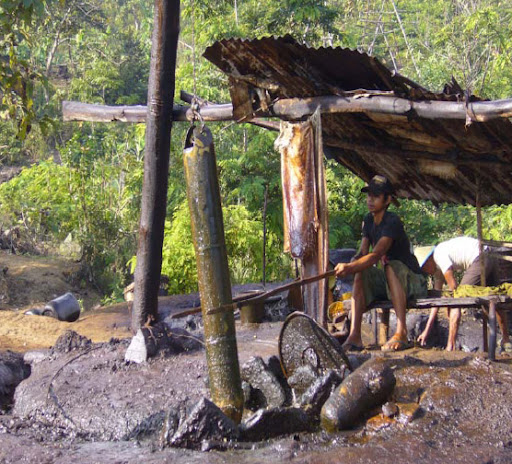 4) the separator pit: allow the water and oil to separate, collect the crude: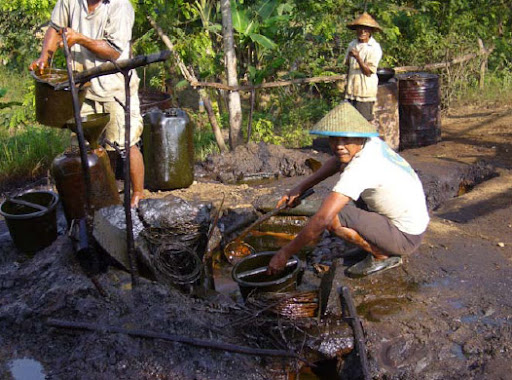 5) "the pipeline" - carry it in buckets to the refinery: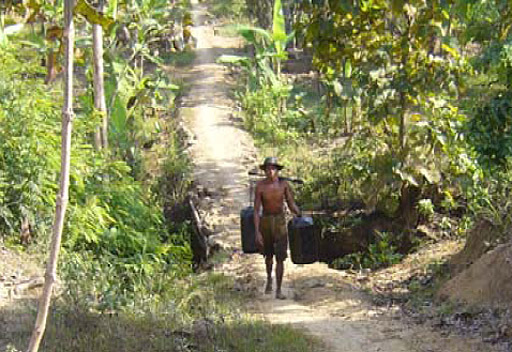 6) The Refinery: 55-gallon drum, buried in the earth above the fire. Pour the crude in, seal the aperture with mud - and wait till the woodfire heats it to the temperature of separation into vapors.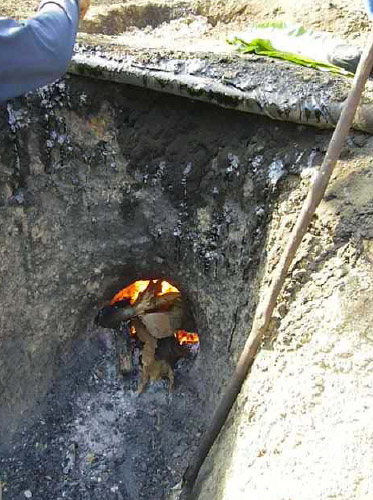 7) Cooling pipe: the vapors enter the submerged pipe (underwater) and travel 20ft to the other end, where they condense into diesel.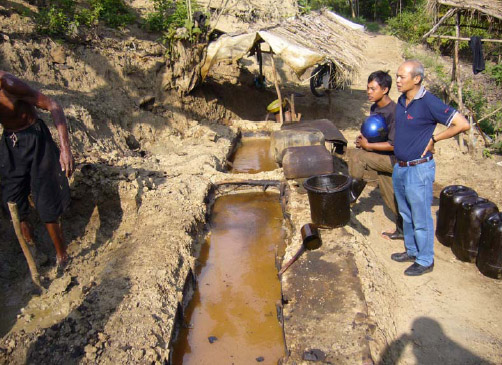 The diesel is ready (they are able to recover 80% of the crude into diesel). Time to deliver it to the market: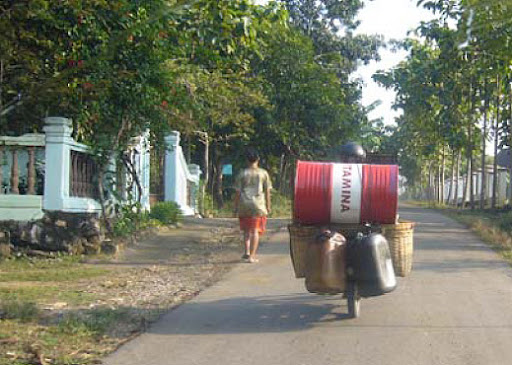 (images credit: Allen Johnston)

------------

Tough Love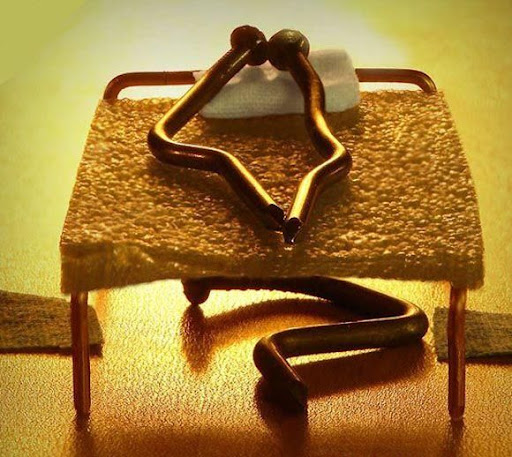 (original unknown)

------------

Baby Gorillas

Mountain gorillas in Rwanda: story and images are in this Flickr set

They are extraordinary rare: only 700 are left, and gorilla babies are the huge symbol of hope. Infants under 1 year could number as few as 40. (there are only low-land gorillas in the zoos) Contribute to the cause of saving them at this site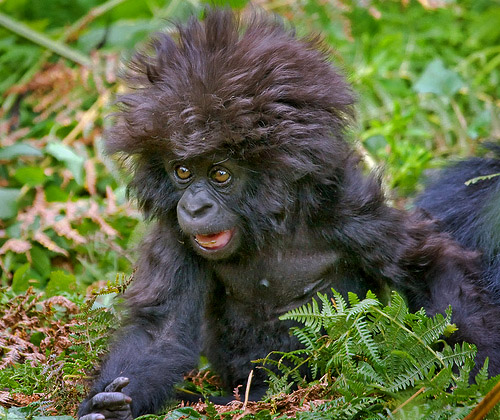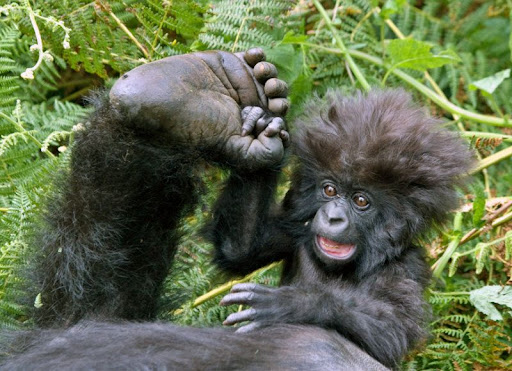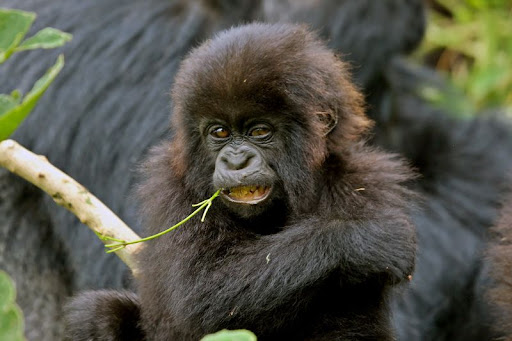 (image credit: Giles Breton)

------------

Looking down 1,000 meters

Better be sure of your footing on top of Prekestolen, or the Pulpit Rock, in Norway
(read more about it)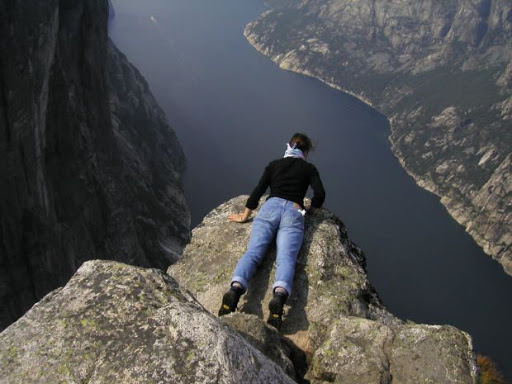 ------------

Mysterious Shadows

What are they?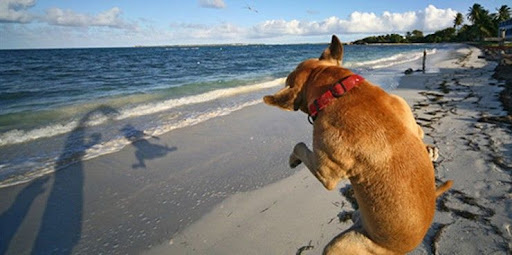 (original unknown)

------------

Best Looping Gifs

More can be found on this site - via Luca

Infinite zoom (causes headache if watched for too long) -





Bambi (hard to explain):





Our favorite is Mr.Bean, of course:




Permanent Link...
...+StumbleUpon
...+Facebook

Dark Roasted Blend's Photography Gear Picks:
RECENT ARTICLES:
"Dark Roasted Blend" - All Kinds of Weird and Wonderful Things, Discovered Daily!"
DRB is a top-ranked and respected source for the best in art, travel and fascinating technology, with a highly visual presentation. Our in-depth articles in many categories make DRB a highly visual online magazine, bringing you quality entertainment every time you open your "feed" reader or visit our site -
About DRB
Connect with us and become part of
DRB on Facebook
,
Twitter
,
Pinterest
,
Google Plus
; make sure to subscribe to our
updates
.
Our mobile site:
http://mobile.darkroastedblend.com
. You can also read us on iPad, as part of the
Flipboard
popular free app.
YOUR COMMENTS:
:
READ OTHER RECENT ARTICLES:



Extreme Parenting & Wild, Wild Kids! Part 2

The Joys and Perils of Having Interesting Kids



Creation and Destruction of Sand Mandalas

Profound Art Ritual Reflecting the Sanctity of Our Lives



Funny Sports Update

Underwater Ice Hockey, Extreme Stunts, etc.(Pics)



The New Motor, or the Steam-Powered Messiah

The strange, true tale (plus some wicked cyberpunk art)



Machines Alive! The Whimsical Art of Boris Artzybasheff

Is it a dream, or a nightmare?



Automated Musical Instruments

Music Robots: No Performer Necessary



American Supersonic Airliners:
Race for a Dream

Supersonic Marvels, Largely Forgotten Today



Pulp Pleasures: Eando Binder

"Where Eternity Ends" and other rare gems



Epic Fantasy: the Start of the Journey

Part 2 of our "Best Classic Fantasy" series



Strange Shadows: Best Classic Fantasy

Fantasy "Glitches in the Matrix", Epic Lands, and more!


DRB Feel-Good
Happy Holidays from DRB!

2014 Feel-Good Issue, Part 2


DRB Feel-Good
Christmas Feel-Good Special

Happy Holidays and Great New 2014 Year from DRB!



Epic Space Fiction by Alastair Reynolds

"Nostalgia for Infinity", indeed



Cinerama: "The Next Big Thing That Was"

Curved screens, gigantic projectors & "out-of-this-world" picture


DRB Series
Magnificent Fractals (DRB Series)

Probably the Most Spectacular Collection of Fractals on the Web



Fractals For Food

If You Eat This, Will It Make You Better At Math?



Three-Dimensional Mechanical Fractals

Don't stare at them for too long, or your brain will capsize!



Pre-Fractal Art

Stunning Examples of Fractal Art in History



A Codebreaker's Dream: The Bombe!

"The Bombe" vs. "The Enigma" code battle



Extremely Weird Bus Stops & Shelters

Wildly bizarre bus stop "creations"



Incredible Balancing Acts & Tightrope Walking

Up on the Roof: Not for the Faint of Heart



The Creepiest Mannequins

Serious Halloween Scares and Frights



Wildly Funny Frogs

Frogs in their "moments of weakness"



World's Strangest Vehicles, Part 5

The Truly Bizarre Car Zoo!



Deadliest Creatures (that are Easiest to Miss)

Real terror lurks in quiet darkness



"Music For... What?" Weird Album Covers

Music for Vacuuming, and much much more!



World's Strangest Vehicles, Part 4

Sheer Auto Adrenaline!
CATEGORIES
:
airplanes
|
animals
|
architecture
|
art
|
auto
|
boats
|
books
|
cool ads
|
funny pics
|
famous
|
futurism
|
food
gadgets
|
health
|
history
|
humour
|
japan
|
internet
|
link latte
|
military
|
music
|
nature
|
photo
|
russia
|
steampunk
sci-fi & fantasy
|
signs
|
space
|
sports
|
technology
|
trains
|
travel
|
vintage
|
weird