"QUANTUM SHOT" #382(rev)
Link - article by Avi Abrams



Glorious Retro Airships and New Extreme Dirigibles for the Modern Age

"Would you like to ride in my beautiful balloon...
We could float among the stars together, you and I...
The world's a nicer place in my beautiful balloon...
We can sing a song and sail along the silver sky... For we can fly!"
("Up, Up and Away" by the Fifth Dimension)



(Lockheed Martin's HALE-D airship in a hanger, image and more info via)


"There were giants in the air..."

Leviathan-like airships (especially the gargantuan, biggest ones) have always held human imagination in thrall, and have been inspiring myriads of engineers to come up with something feasible and lovely to behold, to gracefully soar to the skies, haul lots of cargo and cover large distances. Even the process of construction of such huge airships is beautiful to observe, a process sophisticated and intricate enough to warrant attention today and dream about building even larger "Kings of the Air":



(interiors of airships during construction, images courtesy Brian Lockett, Air-and-Space.com)

See people working on top of the giant fire ladders used in construction of LZ-127 Graf Zeppelin:



(image via)

Looking along the axial gangway from the nose of LZ-126 under construction:



(interiors of airships during construction, images courtesy Brian Lockett, Air-and-Space.com)


Now largely extinct, the ponderous "islands in the sky" (how "airships" were sometimes called in popular magazines) were all the rage during the dawn years of aviation, firing up the public imagination and getting lots of financing from the politicians of the time. To properly appreciate the grand scale of these beasts, compare their size with puny humans: here is the LZ-127 Graf Zeppelin, for example -





"The Hindenburg trundles into the U.S. Navy hangar, its nose hooked to the mobile mooring tower, at Lakehurst, New Jersey, on May 9, 1936" -



(image credit: AP Photo, via)


Compare the size of these airships with hangars needed to accommodate them, or with (puny by comparison) mooring towers:



(images via 1, 2, Newport Historical Society)


Entirely in line with the general luxury trend of the Era of the "Titanic", the Graf Zeppelin's interiors were as glamorous as inside any prestigious hotel:



(images credit: Airships)


In the early 1930s airships "Graf Zeppelin" and "Hindenburg" flew regularly on transatlantic routes between Germany and America. As was so skillfully shown in the movie "Sky Captain", these airships were designed to moor at the most prominent skyscrapers:



(screenshot from the movie "Sky Captain & The World of Tomorrow")


The observation tower at the top of the Empire State Building was originally intended to be a dock for mooring airships (read more about "how the engineers crowned world's tallest building"):



(image credit: nytstore)


Airships were mooring to the skyscraper dock even while the Empire State Building was under construction! Here is the rare archive photo to prove it:



(image viaAirships)


This idea has made its way into some futuristic illustrations:



(left image credit: Arthur Radebaugh; right image: original unknown)


Airship Skyport from the November, 1939 issue of Popular Science, required a much bigger skyscraper to be built than the puny Empire State Building, shown for size comparison in the right corner of this fabulous image:



(image via)


Or check out this gargantuan idea: the Airport Docks, envisioned by architect Harry B. Brainerd in 1931; note the Zeppelin in the middle dock:



(image credit: via)

For more info, see the "Zeppelins Through the Ages" catalog here - a wonderful site, full of info and trivia, collected by Daniel J. Grossman.


There is something about "Zeppelins over Manhattan" images...

As a symbol of the bygone era, these image hold a certain mystique: the airborne giants made a perfect picture floating over Manhattan as a counterpoint to all these skyscrapers, and many photographers recognized it:



(image credit: U.S. Naval Historical Center Photograph)


USS Macon over New York, in 1931:



(image credit: U.S. Naval Historical Center Photograph)


USS Los Angeles in 1932:



(image credit: U.S. Naval Historical Center Photograph)


To browse through "scale progression" of airships (many of them hypothetical), head over to this site. It clearly illustrated how "bigger is better" applied to airship really made sense to designers (note little airplanes underneath them):



(bottom image: war-time blimps wait in the hangar; images via)


US Navy actually built two zeppelin aircraft carriers: USS Macon (info) and USS Akron ZRS-4. You can see them on the archival photos shown below: these tiny dots at the bottom are people! -





"Akron" could carry four airplanes, "Macon" could carry five, and the further models were designed to carry up to 22 airplanes!... All of this found its culmination, perhaps, in this idea: "The Aerial Landing Field" from Modern Mechanix, October 1934:



(image via)


Also check out this screwy-looking dirigible from Modern Mechanix (August, 1930): revolving spiral vanes propel it through the air, while the ENTIRE gas shell revolves around the stationery aluminum framework! -



(image via)


The Zeppelin Dream Persists!

Futuristic air wars gain a whole new dimension if fought with giant airships and weapon-outfitted Zeppelins. Seen in many pulp stories during the Golden Age of Science Fiction in the 1930s, the idea (and the accompanying spectacular vision) persisted into the 1970s - for example, in Michael Moorcock's novel "The Warlord of the Air", where the Edwardian technology takes to the air in a sort of precursor to the steampunk genre (see left image below):




Right image above shows exciting graphics for the movie "Zeppelin vs. Pterodactyls" (more info).

Here are some other futuristic visions: Frank Tinsley drew this image for the 1957 book "Airships in the Atomic Age", including the interior for the Atomic Airship:



(image credit: Marc Brown)


Communists also liked to dream large-scale: this is the Russian Nuclear Airship, complete with a helicopter pad and a small exploration bi-plane:



(images source: "Tekhnika Molodezhi" magazine, Russia, 1971)


Grand Missionary Effort

The idea of a giant ship that can carry "bridges, buildings, fleet of trucks; that eliminates the need for roads, railroads and harbors" was kept alive all through the 1930s and beyond: this book documents a history of the project, dubbed "The Deltoid Pumpkin Seed". Financed by private individuals (most of them presbyterian missionaries), after 12 years and half a million dollars, the Aereon Corporation had a static ship model and plenty of wrecked ones (read more here)

The Aereon 26 strange-looking plane actually took to the sky in 1971: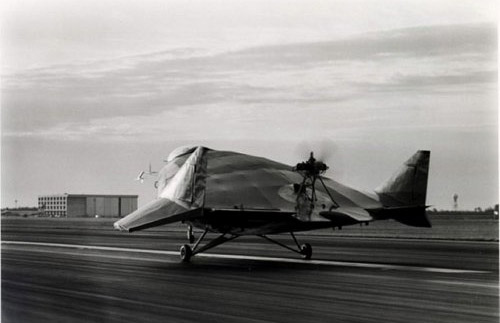 The company's research, however, opened many paths toward creating stealth airships for the military (some weirdly giving rise to more UFO mythos and spotting):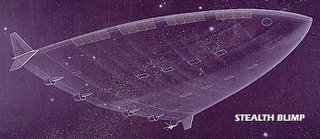 Inspired by Nature: "Festo Air-Ray"

The Air_Ray flying structure mimics the movements of a manta-ray, complete with a "beating wing drive"! It also reminds us of the war-bird machines in the "Sky Captain: World of Tomorrow" movie. This airship seems to be the ultimate expression of bionics: uniting natural fluidity of movement and effortless dynamics with practical (even if still in a concept stage) application.



(images via)


The undulating movements of this bionic marvel are quite hypnotizing (watch the flight simulation video here). By adjusting the angle of wings the craft can fly forward, backwards and change direction fluidly and naturally.



(images via)


The Millennium Ship

The Millennium Airship company has come up with the revolutionary SkyFreighter, designed to lift super heavy cargoes and transport any large equipment in one piece, without the need for re-assembly. It can haul five-hundred-plus tons and can cruise at speeds averaging 100 mph (for a distance of 6000 miles if necessary, with no refueling):



(images credit: Millennium Airship)


Although we did not hear about any progress from the original concept drawings, Popular Science magazine a few years back featured the Moby Air: the Flying Luxury Hotel. This wonderful vessel by Worldwide Aeros Corporation is appropriately huge, boasts some pretty good specs, and can carry 288 passengers in ultimate luxury to the cruising altitude of 8000 ft -



(image via)


In conclusion, we have to say that if the longevity of airship concept is any indication (just witness how persistent inventors and engineers are to get this method of transportation off the ground and into everyday use), we are going to see some embodiment of this dream in development continuously: there will be new approaches and improvements on the idea at any point in time. After all huge cargo skyships make good economical sense (all safety factors notwithstanding), and so we will live to see the day when airships flying over the Golden Bridge in San Francisco, for example, will become commonplace.

Article by Avi Abrams, Dark Roasted Blend.


CONTINUE TO "AIRSHIPS & TENTACLES" ->

Also check out our popular "AMAZNG AIRPLANES" series! ->



RECENT ARTICLES:
"Dark Roasted Blend" - All Kinds of Weird and Wonderful Things, Discovered Daily!"
DRB is a top-ranked and respected source for the best in art, travel and fascinating technology, with a highly visual presentation. Our in-depth articles in many categories make DRB a highly visual online magazine, bringing you quality entertainment every time you open your "feed" reader or visit our site -
About DRB
Connect with us and become part of
DRB on Facebook
,
Twitter
,
Pinterest
,
Google Plus
; make sure to subscribe to our
updates
.
Our mobile site:
http://mobile.darkroastedblend.com
. You can also read us on iPad, as part of the
Flipboard
popular free app.
YOUR COMMENTS:
:
READ OTHER RECENT ARTICLES:



Creation and Destruction of Sand Mandalas

Profound Art Ritual Reflecting the Sanctity of Our Lives



Funny Sports Update

Underwater Ice Hockey, Extreme Stunts, etc.(Pics)



The New Motor, or the Steam-Powered Messiah

The strange, true tale (plus some wicked cyberpunk art)



Machines Alive! The Whimsical Art of Boris Artzybasheff

Is it a dream, or a nightmare?



Automated Musical Instruments

Music Robots: No Performer Necessary



American Supersonic Airliners:
Race for a Dream

Supersonic Marvels, Largely Forgotten Today



Pulp Pleasures: Eando Binder

"Where Eternity Ends" and other rare gems



Epic Fantasy: the Start of the Journey

Part 2 of our "Best Classic Fantasy" series



Strange Shadows: Best Classic Fantasy

Fantasy "Glitches in the Matrix", Epic Lands, and more!


DRB Feel-Good
Happy Holidays from DRB!

2014 Feel-Good Issue, Part 2


DRB Feel-Good
Christmas Feel-Good Special

Happy Holidays and Great New 2014 Year from DRB!



Epic Space Fiction by Alastair Reynolds

"Nostalgia for Infinity", indeed



Cinerama: "The Next Big Thing That Was"

Curved screens, gigantic projectors & "out-of-this-world" picture


DRB Series
Magnificent Fractals (DRB Series)

Probably the Most Spectacular Collection of Fractals on the Web



Fractals For Food

If You Eat This, Will It Make You Better At Math?



Three-Dimensional Mechanical Fractals

Don't stare at them for too long, or your brain will capsize!



Pre-Fractal Art

Stunning Examples of Fractal Art in History



A Codebreaker's Dream: The Bombe!

"The Bombe" vs. "The Enigma" code battle



Extremely Weird Bus Stops & Shelters

Wildly bizarre bus stop "creations"



Incredible Balancing Acts & Tightrope Walking

Up on the Roof: Not for the Faint of Heart



The Creepiest Mannequins

Serious Halloween Scares and Frights



Wildly Funny Frogs

Frogs in their "moments of weakness"



World's Strangest Vehicles, Part 5

The Truly Bizarre Car Zoo!



Deadliest Creatures (that are Easiest to Miss)

Real terror lurks in quiet darkness



"Music For... What?" Weird Album Covers

Music for Vacuuming, and much much more!



World's Strangest Vehicles, Part 4

Sheer Auto Adrenaline!
CATEGORIES
:
airplanes
|
animals
|
architecture
|
art
|
auto
|
boats
|
books
|
cool ads
|
funny pics
|
famous
|
futurism
|
food
gadgets
|
health
|
history
|
humour
|
japan
|
internet
|
link latte
|
military
|
music
|
nature
|
photo
|
russia
|
steampunk
sci-fi & fantasy
|
signs
|
space
|
sports
|
technology
|
trains
|
travel
|
vintage
|
weird