"QUANTUM SHOT" #365
Link - by Avi Abrams
Built by mysterious ancient people for mysterious purposes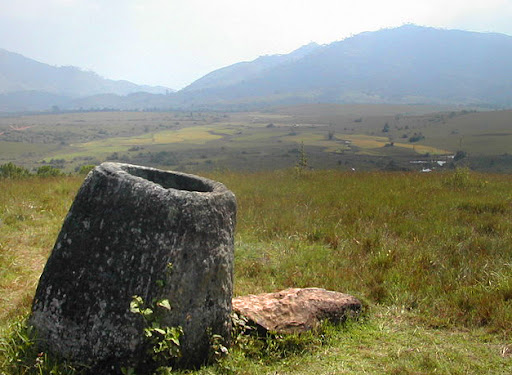 (image credit: Chris Mitchell)

Ancient Laos legends tell of the giants who drank water from these enormous mysterious "cups". Similar sites were also found in Thailand and in North India. Their locations are strung along a straight line, which suggests that they were built on some kind of a trade route.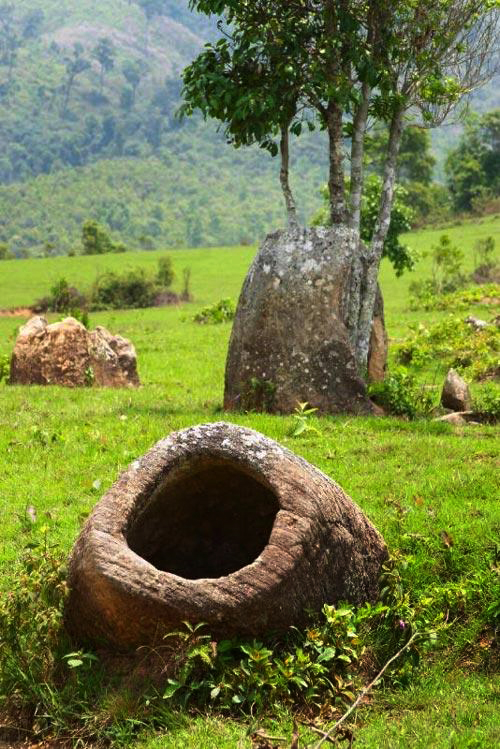 Chris Mitchell from Travel Happy sent us his travelogue about this ancient site:

The Plain Of Jars is probably South East Asia's most enigmatic tourist attraction. Situated in the remote north east of Laos, the mountainous communist country which has only been open to tourists for just over a decade, are hundreds of huge stone jars scattered across several square miles.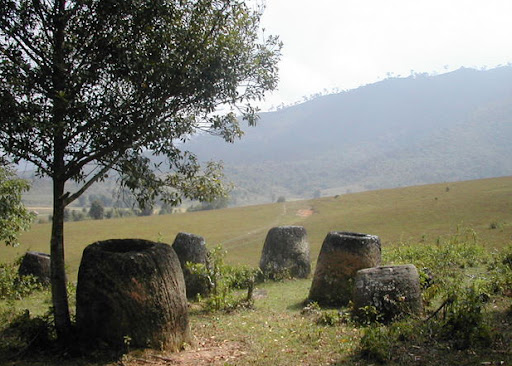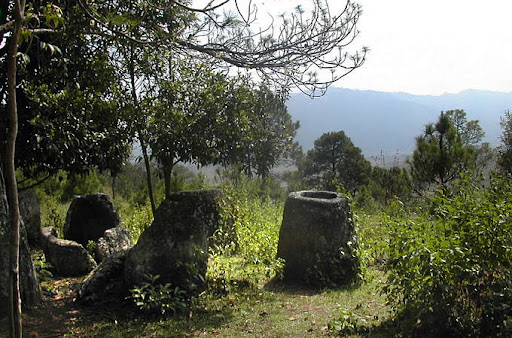 (images credit: Chris Mitchell)


Jars of a deeply spooky nature

While most ancient Asian sites, such as the Angkor temples in Cambodia, have revealed many of their secrets, historians are still completely baffled as to where the jars came from, how old they are and what they signify. They are, in short, jars of a deeply spooky nature.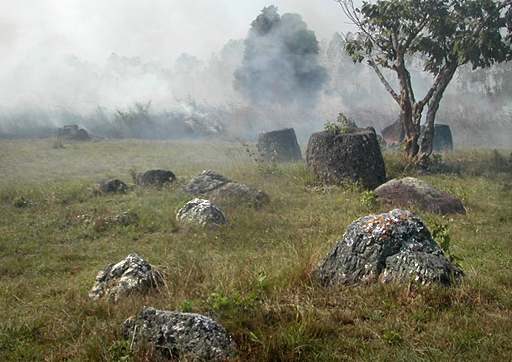 There are three key sites to see the Jars, three places where they are clustered together en masse, but there are apparently over 400 locations where they are to be found scattered across the plain.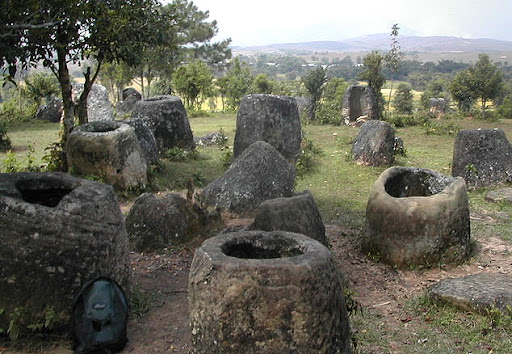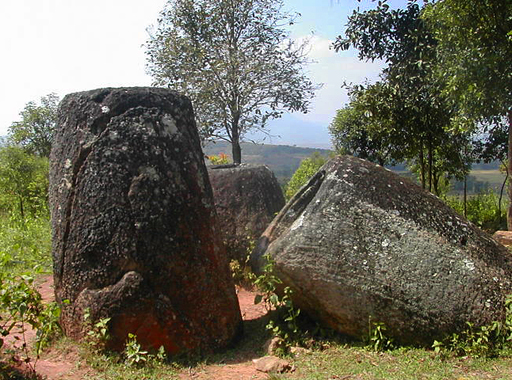 (images credit: Chris Mitchell)


Gathered together at the top of this hill, there were around 130 of them scattered about beneath the trees, mercifully undeveloped by any tourist organization. Undisturbed amongst the vast wheat yellow and sky blue horizon of the countryside, the jars did indeed seem mysterious, but there was also a sense of serenity too.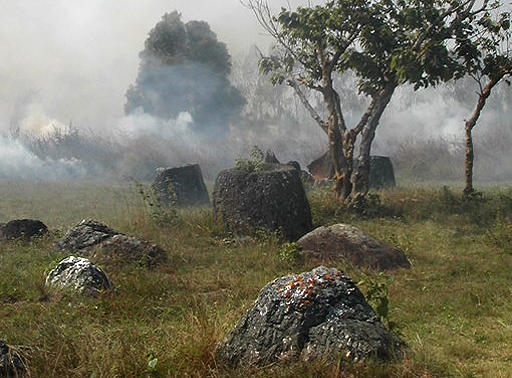 They were all at least a couple of metres long, and must have weighed several tonnes each, some upright, some leaning after being embedded in the ground, some completely toppled over: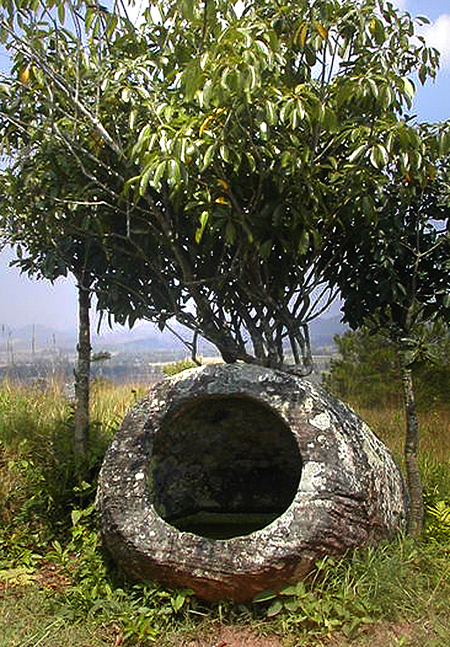 All of them are virtually black, and their tall, narrow, hefty bodies make them look like crude cannons, pointing in every direction as if fearing attack from all sides. The darkness of the jars' stone also makes them seem distinctly funereal and a little sinister: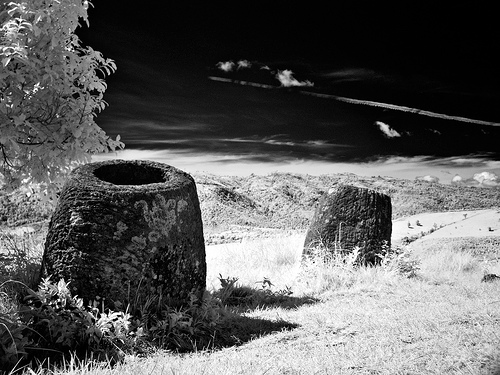 (image credit: David Hartstone)


The largest jar weighs around 6 metric tons: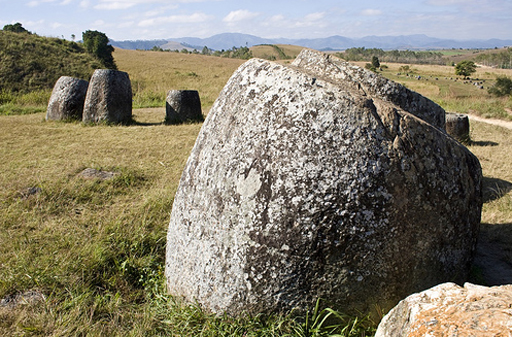 (image credit: Keith Kelly)


On top of its mystery, the place may be riddled with unexploded bombs

Whatever its ancient history, the Plain Of Jars has had a turbulent recent past. Thanks to its proximity to the North Vietnamese border, this area of Laos became of key significance during the Vietnam War and so was carpet bombed by the Americans. Laos holds the dubious record of being the most bombed country in the world, despite never officially being involved in the Vietnam war at all. The legacy of the war is still being felt, with farmers and their families regularly being killed or injured by the unexploded ordnance which still litters the Plain. The Jars have been fully cleared of all unexploded bombs, but not straying from the designated paths remains imperative.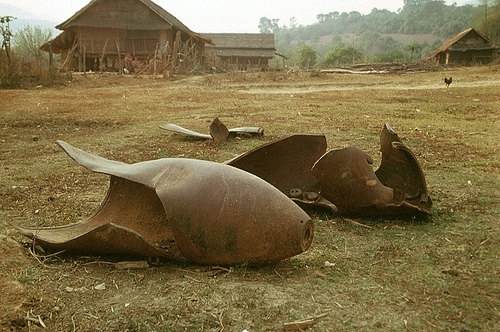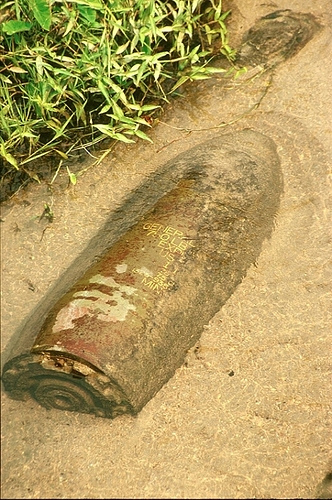 (images credit: GothPhil)


The lids for these jars are also quite mysterious looking. They have as much texture and ancient feel to them as Stonehenge.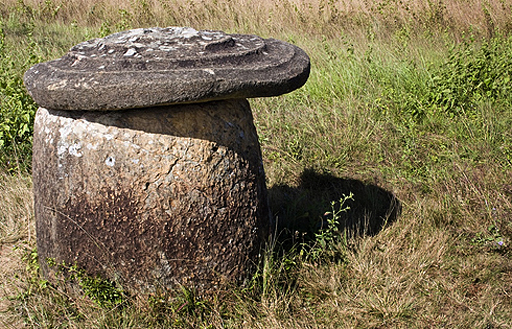 (images credit: Keith Kelly)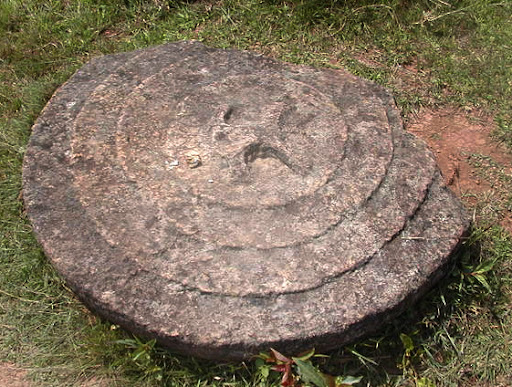 (image credit: Chris Mitchell)


Some of them are filled with miniature Buddhas: which somehow feels very appropriate: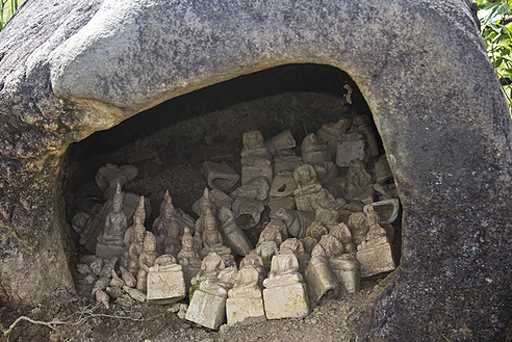 (image credit: Keith Kelly)


Speaking of the Stonehenge:

Another Stonehenge Found Deep in Amazon Forest

That's right, mysterious huge stones set in a definite pattern - an astrological observatory possibly 2,000 years old - have been discovered in the Amazon basin near French Guiana... (more info)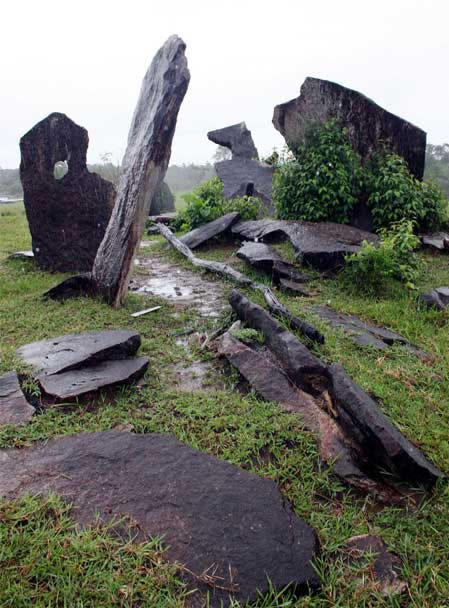 (image credit: Gilmar Nascimento / AP)


The site consists of 127 blocks, some as high as 9 feet (2.75 meters) tall. The stones placed at "regular intervals around the hill, like a crown 100 feet (30 meters) in diameter."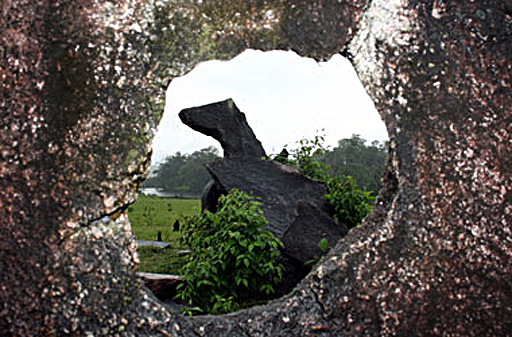 Scientists believe the site near the village of Calcoene, just north of the equator in Amapa state in far northern Brazil, could have been built by the ancestors of the Palikur Indians, and could be as old as 2,000 years.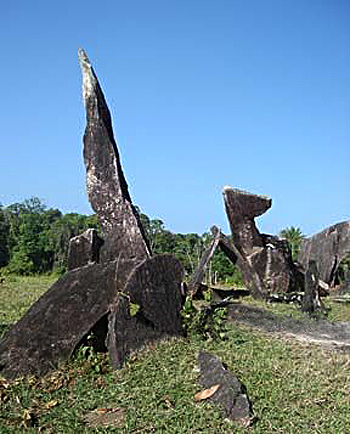 (image courtesy Academy For Future Science, Brazil)

The article is co-written by Chris Mitchell, Travel Happy and A. Abrams, Dark Roasted Blend
All images are by permission of respective owners


Also Read:
Most Remote Place on Earth
The Exploding Lake
+StumbleUpon



Permanent Link...
Category: Travel,Weird
RECENT ARTICLES:
"Dark Roasted Blend" - All Kinds of Weird and Wonderful Things, Discovered Daily!"
DRB is a top-ranked and respected source for the best in art, travel and fascinating technology, with a highly visual presentation. Our in-depth articles in many categories make DRB a highly visual online magazine, bringing you quality entertainment every time you open your "feed" reader or visit our site -
About DRB
Connect with us and become part of
DRB on Facebook
,
Twitter
,
Pinterest
,
Google Plus
; make sure to subscribe to our
updates
.
Our mobile site:
http://mobile.darkroastedblend.com
. You can also read us on iPad, as part of the
Flipboard
popular free app.
YOUR COMMENTS:
:
READ OTHER RECENT ARTICLES:



Creation and Destruction of Sand Mandalas

Profound Art Ritual Reflecting the Sanctity of Our Lives



Funny Sports Update

Underwater Ice Hockey, Extreme Stunts, etc.(Pics)



The New Motor, or the Steam-Powered Messiah

The strange, true tale (plus some wicked cyberpunk art)



Machines Alive! The Whimsical Art of Boris Artzybasheff

Is it a dream, or a nightmare?



Automated Musical Instruments

Music Robots: No Performer Necessary



American Supersonic Airliners:
Race for a Dream

Supersonic Marvels, Largely Forgotten Today



Pulp Pleasures: Eando Binder

"Where Eternity Ends" and other rare gems



Epic Fantasy: the Start of the Journey

Part 2 of our "Best Classic Fantasy" series



Strange Shadows: Best Classic Fantasy

Fantasy "Glitches in the Matrix", Epic Lands, and more!


DRB Feel-Good
Happy Holidays from DRB!

2014 Feel-Good Issue, Part 2


DRB Feel-Good
Christmas Feel-Good Special

Happy Holidays and Great New 2014 Year from DRB!



Epic Space Fiction by Alastair Reynolds

"Nostalgia for Infinity", indeed



Cinerama: "The Next Big Thing That Was"

Curved screens, gigantic projectors & "out-of-this-world" picture


DRB Series
Magnificent Fractals (DRB Series)

Probably the Most Spectacular Collection of Fractals on the Web



Fractals For Food

If You Eat This, Will It Make You Better At Math?



Three-Dimensional Mechanical Fractals

Don't stare at them for too long, or your brain will capsize!



Pre-Fractal Art

Stunning Examples of Fractal Art in History



A Codebreaker's Dream: The Bombe!

"The Bombe" vs. "The Enigma" code battle



Extremely Weird Bus Stops & Shelters

Wildly bizarre bus stop "creations"



Incredible Balancing Acts & Tightrope Walking

Up on the Roof: Not for the Faint of Heart



The Creepiest Mannequins

Serious Halloween Scares and Frights



Wildly Funny Frogs

Frogs in their "moments of weakness"



World's Strangest Vehicles, Part 5

The Truly Bizarre Car Zoo!



Deadliest Creatures (that are Easiest to Miss)

Real terror lurks in quiet darkness



"Music For... What?" Weird Album Covers

Music for Vacuuming, and much much more!



World's Strangest Vehicles, Part 4

Sheer Auto Adrenaline!
CATEGORIES
:
airplanes
|
animals
|
architecture
|
art
|
auto
|
boats
|
books
|
cool ads
|
funny pics
|
famous
|
futurism
|
food
gadgets
|
health
|
history
|
humour
|
japan
|
internet
|
link latte
|
military
|
music
|
nature
|
photo
|
russia
|
steampunk
sci-fi & fantasy
|
signs
|
space
|
sports
|
technology
|
trains
|
travel
|
vintage
|
weird