"QUANTUM SHOT" #374
link


These grounds are NOT for the "kid in all of us"

These creepy masterpieces of sculpture and landscaping can be found in playgrounds not only in Russia (even though this is where the majority of photos come from) but also in China, East European Countries, and even in the US - anywhere the grass-roots creativity goes bad and the bad taste gets promoted, often unintentionally.

Don't get me wrong, I'm all for the bizarre stuff for kids, and some of the sculptures here are downright fascinating; but others are... well, ugly as hell.

Not only kids, but some more impressionable adults are in danger to become psychologically scarred from thinking too much about these monsters and letting them into their dreams. In some cases, visits to such playgrounds can even be considered an insurable hazard - leading to some successful lawsuits (just kidding).

At least this playground has a limited access: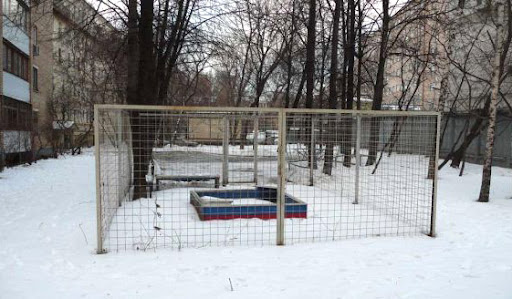 But the following ones are all open to the public, including possibly the worst sculpture in history: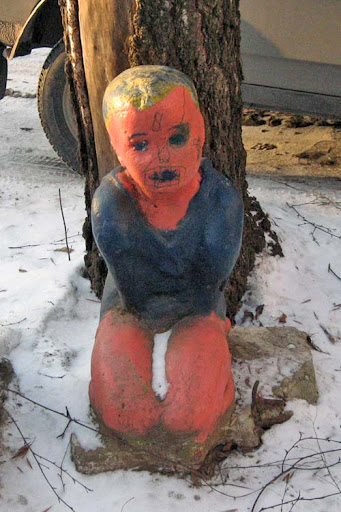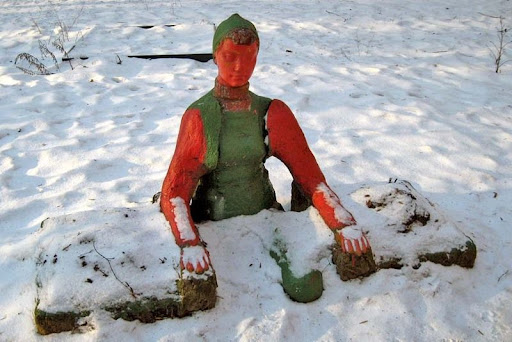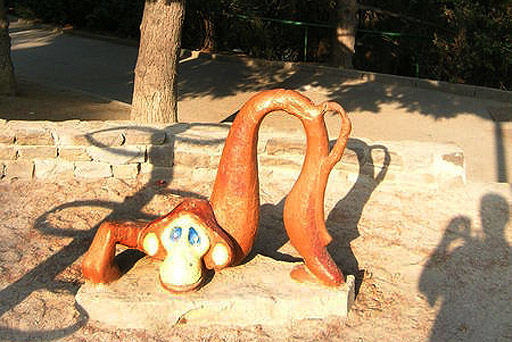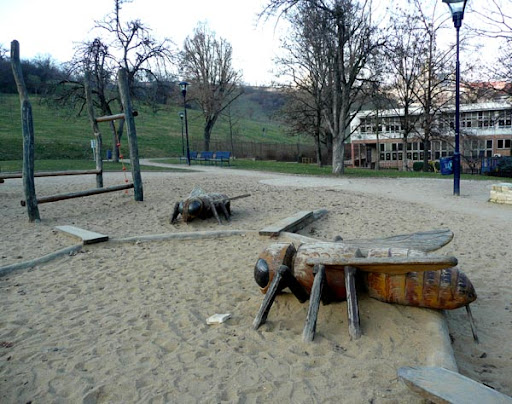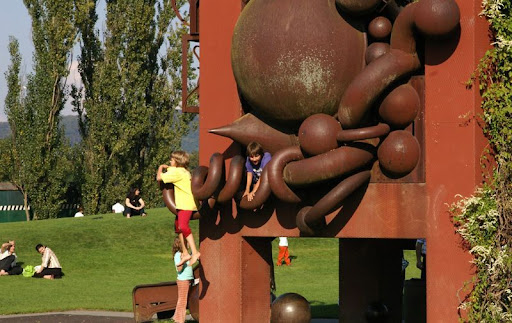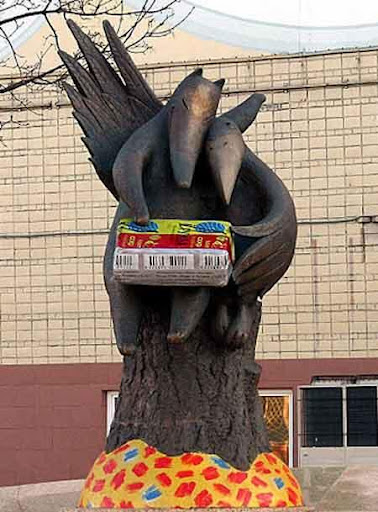 Did you ever dream of killing a crocodile with cutlery?
Here is your chance: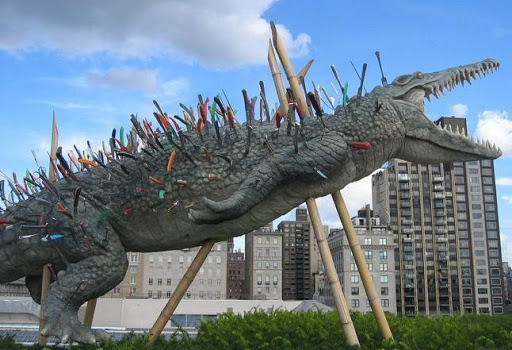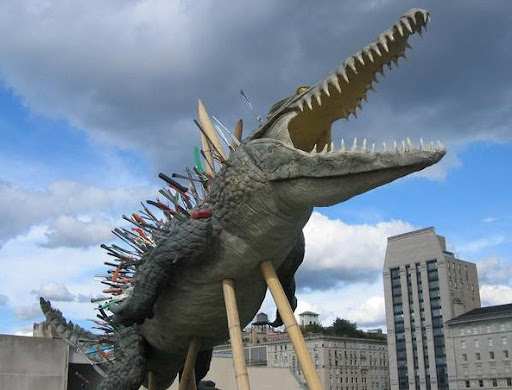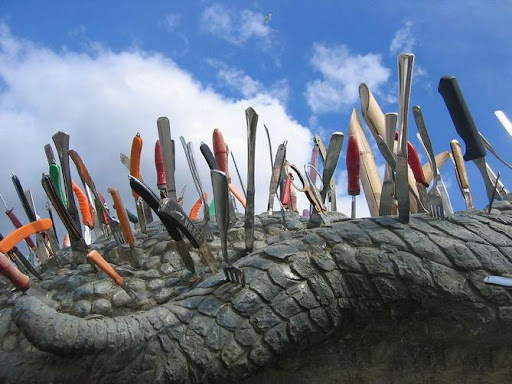 This sculpture was actually pretty cool (displayed at the Metropolitan Museum of Art). But back to the miserable playground examples: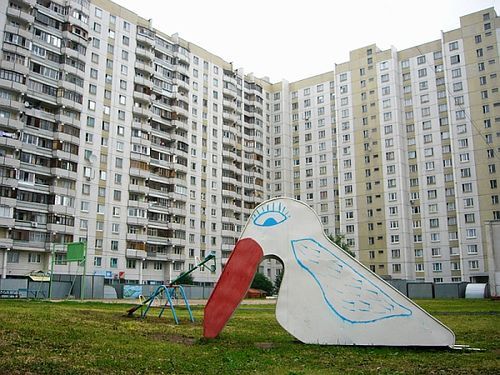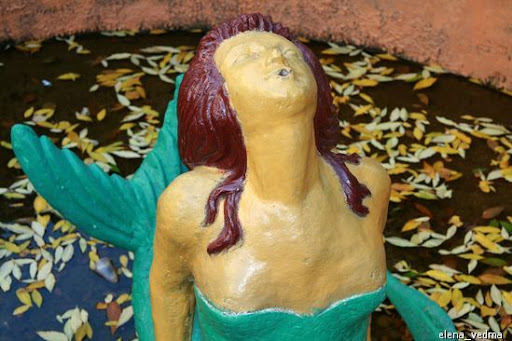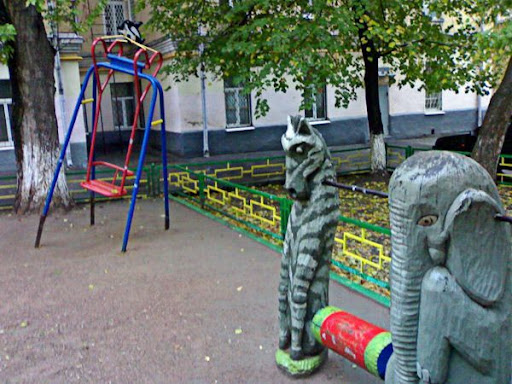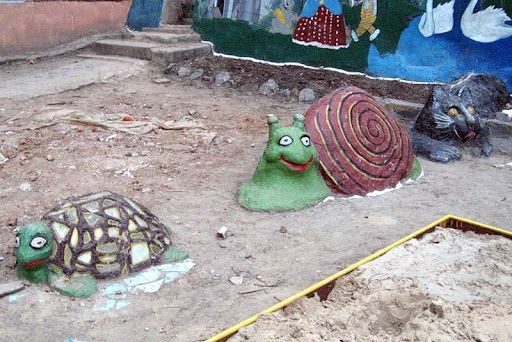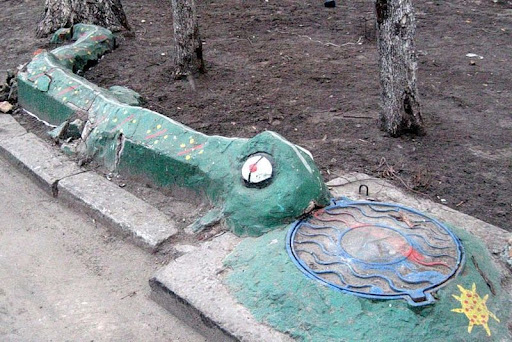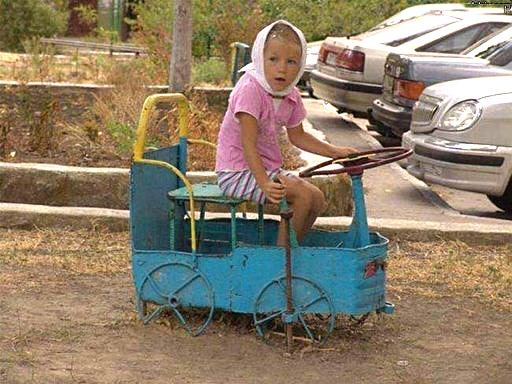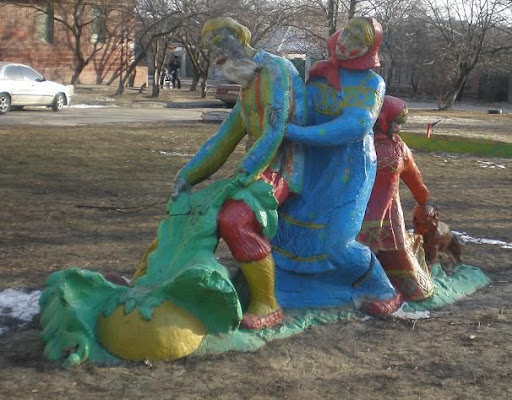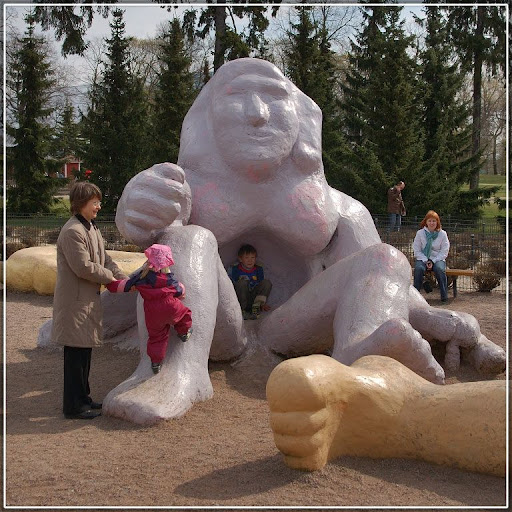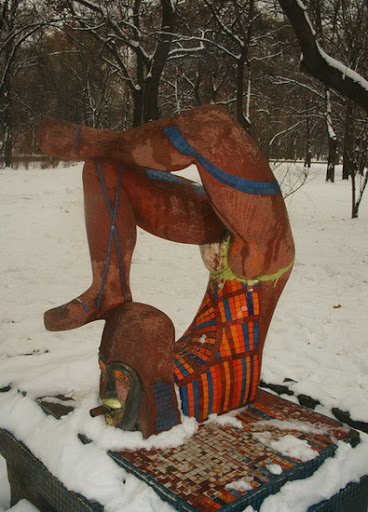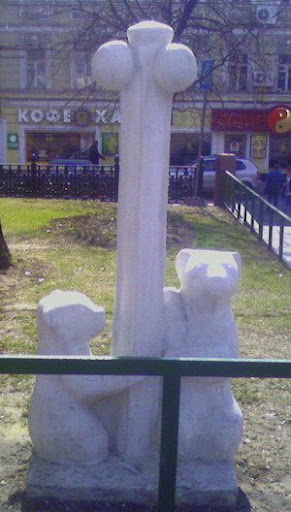 Let's have an intermission, so that you could take a breather from all this ugliness.

These are some of the locations for the playgrounds above:
- Moscow & St.Petersburg, of course
- Kharkov, Ukraine
- Minsk, Belarus
- Ivanteevka, Russia
- Odessa, Ukraine
- Prague, Czech Republic
- Stockholm, Sweden
- Akko, Israel
- even Basel, Switzerland

We would like to put a label "abandoned" on this photo series, but in most cases, these playgrounds are still in use, and children are playing freely among the manic sculptor's nightmares.

OK, here is more! More of the surreal art NOT for kids: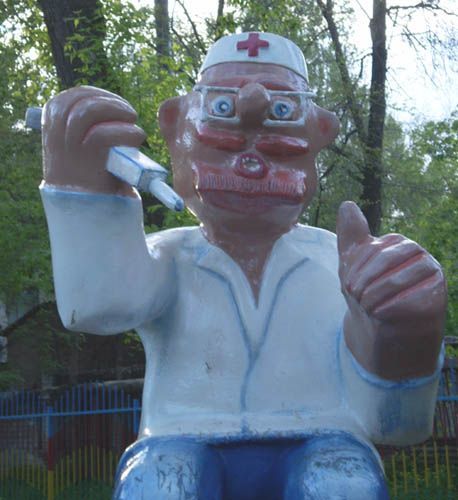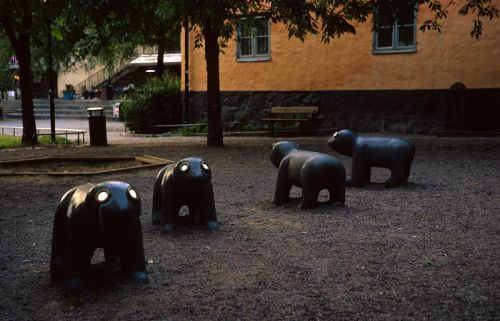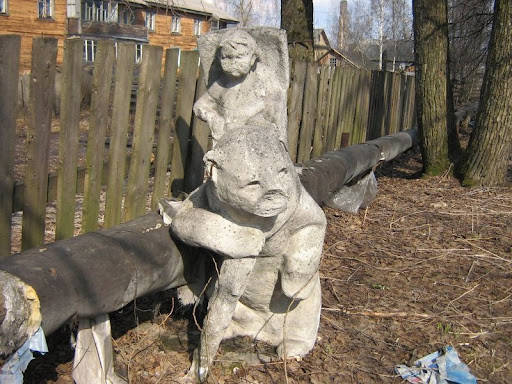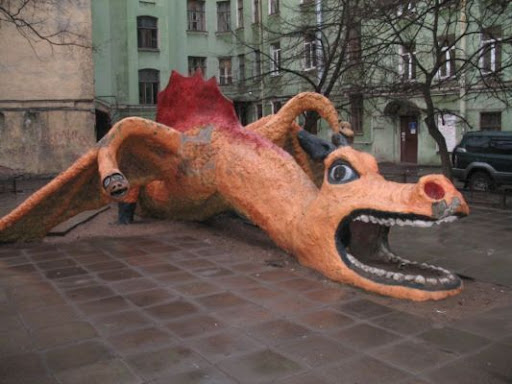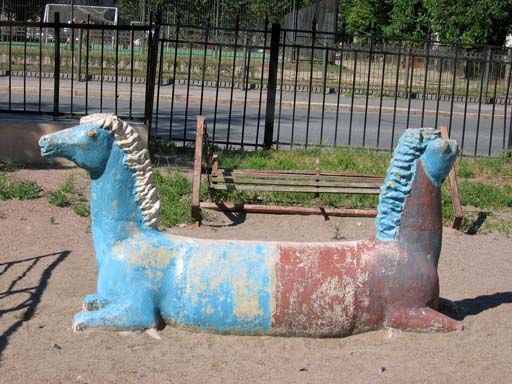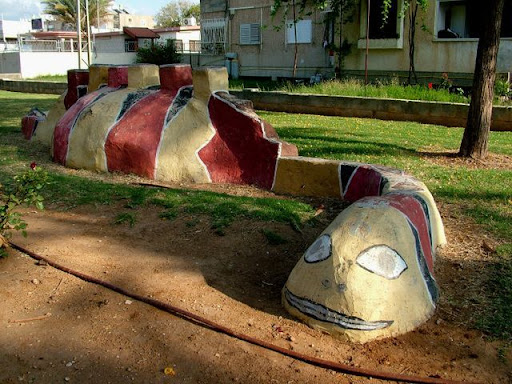 And this is our favorite (the creepiest... do not bring your kids anywhere near)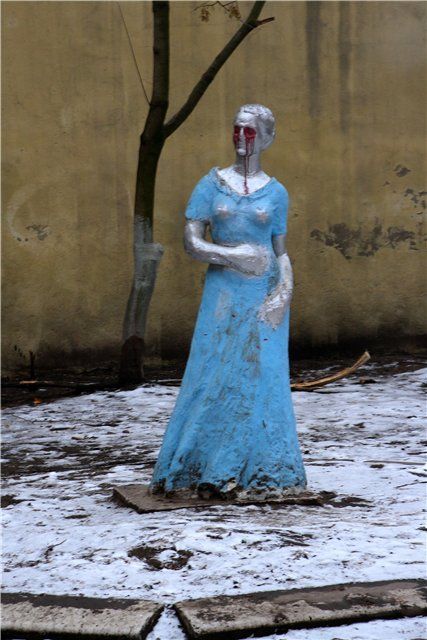 Cool, Deeply Weird, Freaky - in everything in between

Some sculpted kids are climbing the TV tower in Prague - this is at least a deliberate art installation by David Cherny: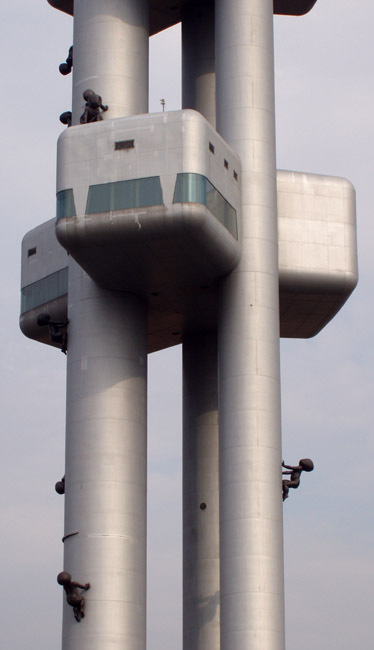 Cows also want to climb higher: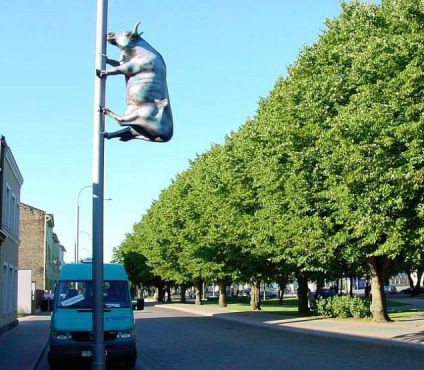 More weirdness in Prague: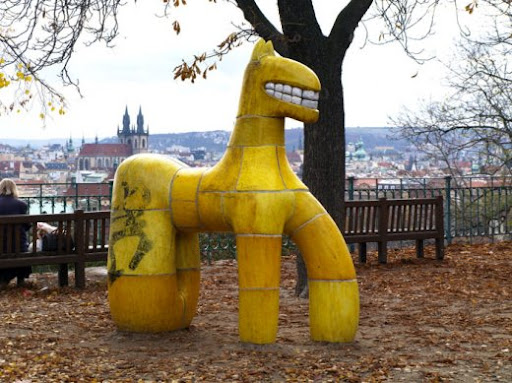 The zombie sculptures are rising from the graves: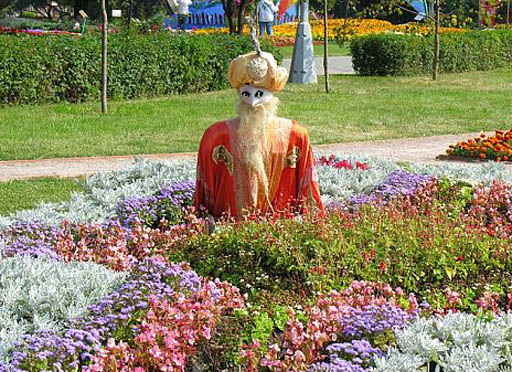 Cthulhu invites you for the ride! -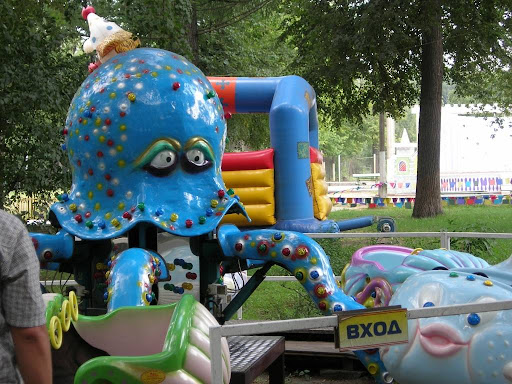 At least this Cthulhu has some class:
(a leather creation from Russia)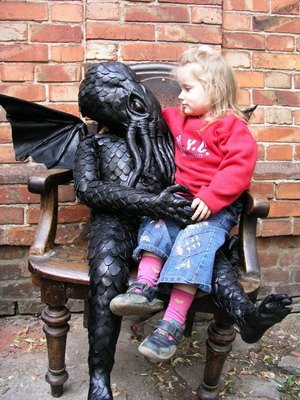 (image credit: bob-basset)

These rides are pretty much unmentionable: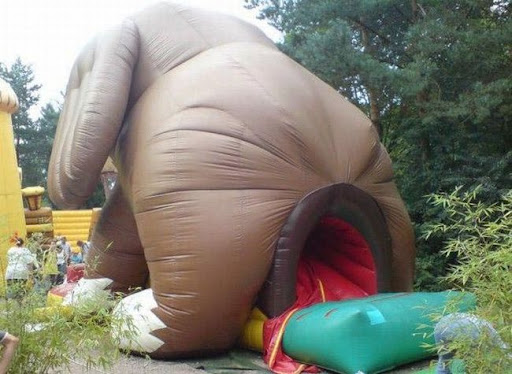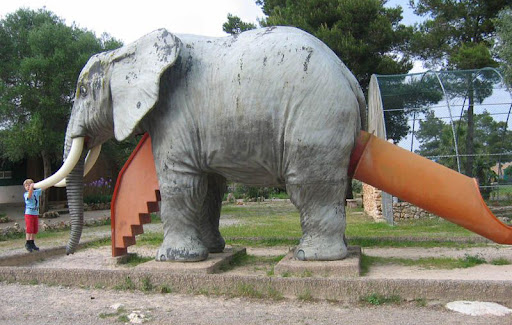 If you're tired of attractions, you can go play some cards (don't play with the short one, it gets ugly):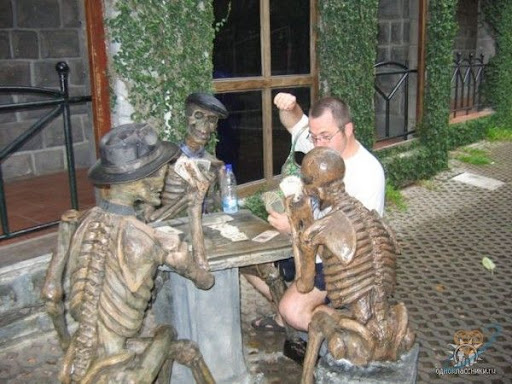 or go see neighborly aliens: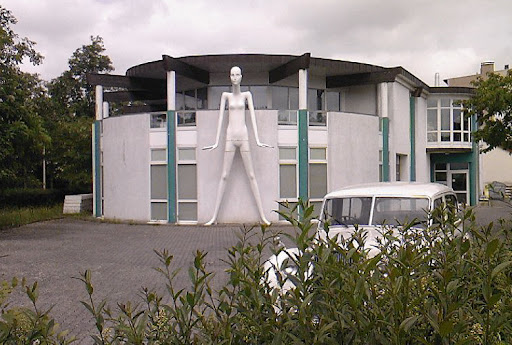 Leaving playground for the streets actually does not help much:
(example from Uzbekistan)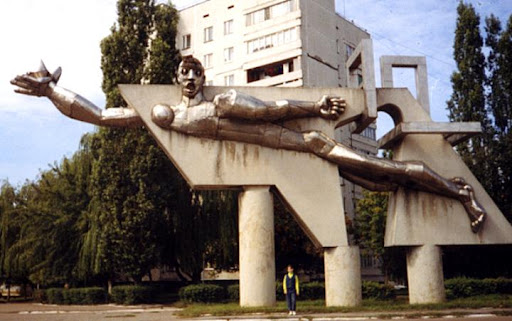 We have to stop here (even though they are dozens of similar examples). Too much of that sculptural madness can make you very, very sad: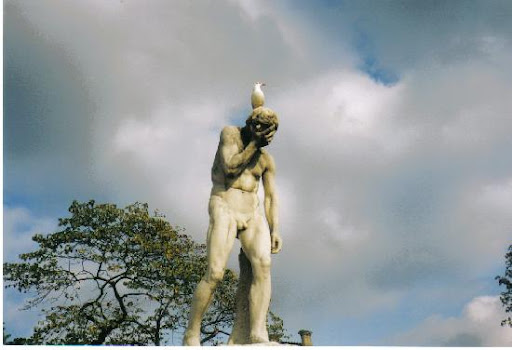 Sources: Detsky Dvor, English Russia, Exler

CONTINUE TO PAGE TWO!

Read the rest of "Architectural Horrors" series! ->

Permanent Link - Related Posts: Cthulhu Live & Prosper!

RECENT ARTICLES:
"Dark Roasted Blend" - All Kinds of Weird and Wonderful Things, Discovered Daily!"
DRB is a top-ranked and respected source for the best in art, travel and fascinating technology, with a highly visual presentation. Our in-depth articles in many categories make DRB a highly visual online magazine, bringing you quality entertainment every time you open your "feed" reader or visit our site -
About DRB
Connect with us and become part of
DRB on Facebook
,
Twitter
,
Pinterest
,
Google Plus
; make sure to subscribe to our
updates
.
Our mobile site:
http://mobile.darkroastedblend.com
. You can also read us on iPad, as part of the
Flipboard
popular free app.
YOUR COMMENTS:
:
READ OTHER RECENT ARTICLES:



Mind-Blowing Optical Illusions, Part 6

"The soul has illusions as the bird has wings: it is supported by them"



Exceptional British 1950s Scifi Artwork

Quintessential Space Pulp Art by Ron Turner and others



Extreme Parenting & Wild, Wild Kids! Part 2

The Joys and Perils of Having Interesting Kids



Creation and Destruction of Sand Mandalas

Profound Art Ritual Reflecting the Sanctity of Our Lives



Funny Sports Update

Underwater Ice Hockey, Extreme Stunts, etc.(Pics)



The New Motor, or the Steam-Powered Messiah

The strange, true tale (plus some wicked cyberpunk art)



Machines Alive! The Whimsical Art of Boris Artzybasheff

Is it a dream, or a nightmare?



Automated Musical Instruments

Music Robots: No Performer Necessary



American Supersonic Airliners:
Race for a Dream

Supersonic Marvels, Largely Forgotten Today



Pulp Pleasures: Eando Binder

"Where Eternity Ends" and other rare gems



Epic Fantasy: the Start of the Journey

Part 2 of our "Best Classic Fantasy" series



Strange Shadows: Best Classic Fantasy

Fantasy "Glitches in the Matrix", Epic Lands, and more!
CATEGORIES
:
airplanes
|
animals
|
architecture
|
art
|
auto
|
boats
|
books
|
cool ads
|
funny pics
|
famous
|
futurism
|
food
gadgets
|
health
|
history
|
humour
|
japan
|
internet
|
link latte
|
military
|
music
|
nature
|
photo
|
russia
|
steampunk
sci-fi & fantasy
|
signs
|
space
|
sports
|
technology
|
trains
|
travel
|
vintage
|
weird