Link
Scroll down for today's pictures & links.

Earthrise & Earthset (seen from the Moon)

The world's first high-definition images of Earth from the Moon, made by the onboard camera of the moon explorer "KAGUYA"


url

Today's pictures & links:
Click to enlarge images.

Very Strange Block-House in Holland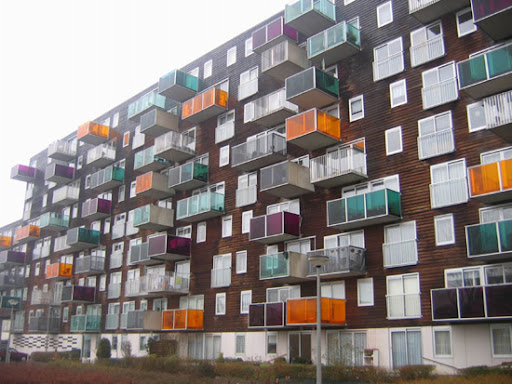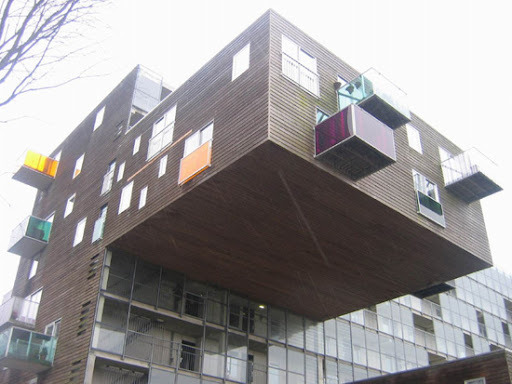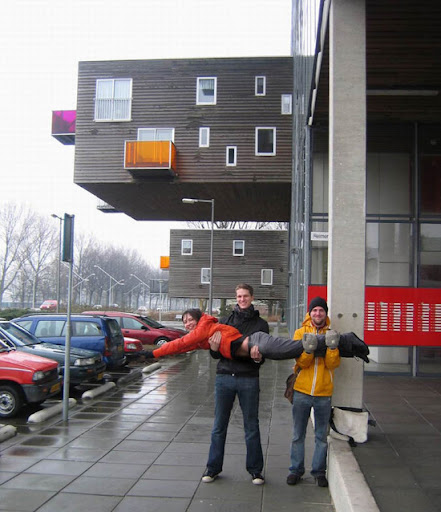 (original unknown)

Probably built by this company:
(click to enlarge; this ad says "We love to build")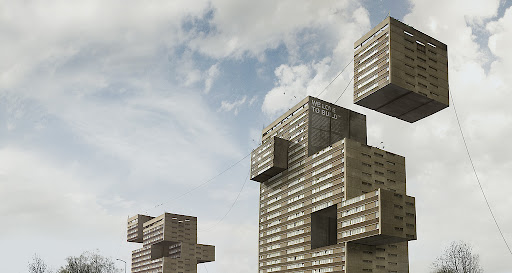 (image credit: Paul Hollingworth/)

------------

Spiritual Shadow

Arie Bloed send us this fascinating photo: "Not a pyramid, but the shadow of a holy mountain in Sri Lanka: Adam's Peak. At the top of the mountain are three altars - for Christian, Buddhists and Hindu religions.



(image credit: Arie Bloed)

------------

One of the largest beetles on Earth:
Rhinoceros Beetle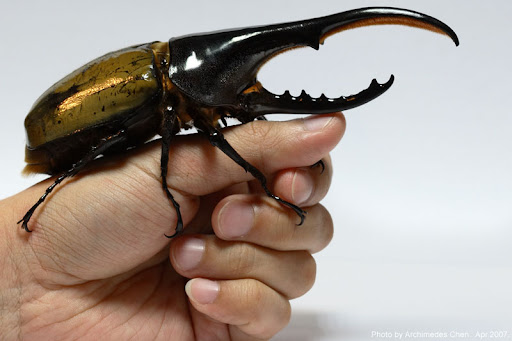 (image credit: Archimedes Chen)

------------

Mixed fresh links for today:

Fantastic Vintage TVs - [cool gallery]
Inside the Tokyo Traffic Control Center - [pics]
DIY: Miniature hovercraft - [gadget]
9 Coolest Aquariums - [design]
More Interesting Natural Phenomena - [nature]
Making Your Own X-Ray Photographs - [useful?]
Mp3 Player Steampunk Style - [design]
Yatta! Japan's Ultimate Boy Band - [fun video, could be nsfw]
Fishing for Chipmunks - [fun video]

------------

Too Many Bicycles

Belgium, region Flanders, city of Brakel. This landmark was erected when a famous cycle-race passed along for the 25th time.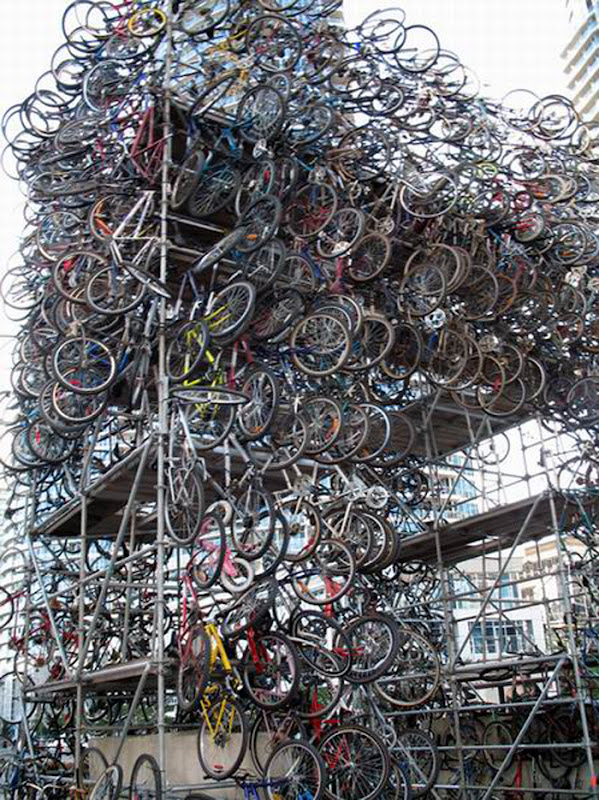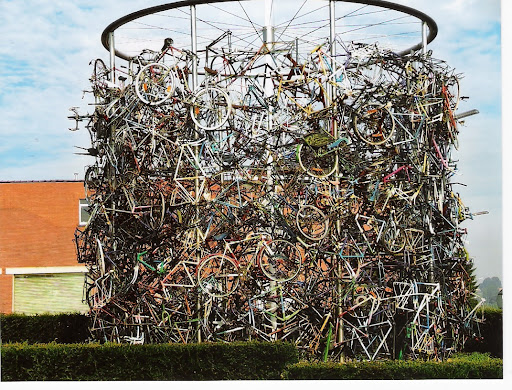 (image credit: Arie Bloed)

Too many bikes: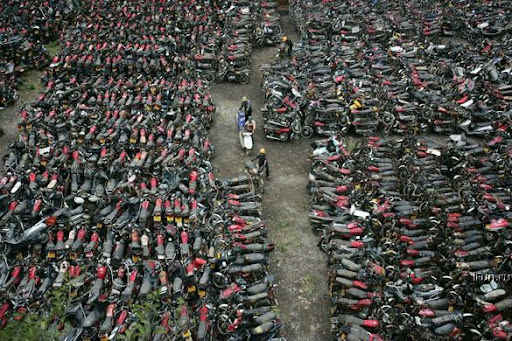 and cars: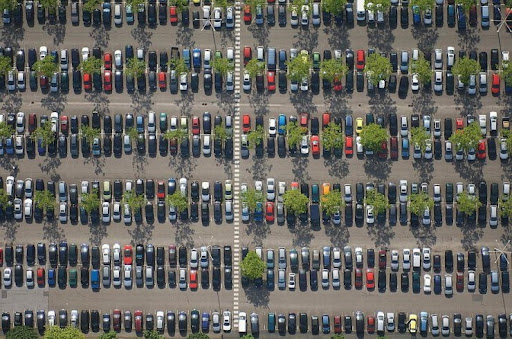 Too many planes: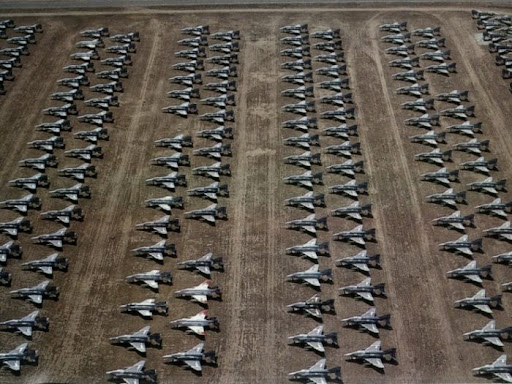 and tanks: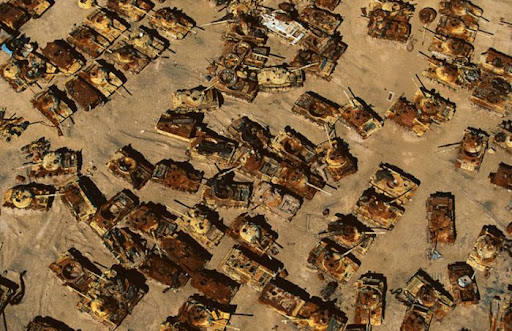 ------------

Load it with 20 kg of wood to drive 100 km

With minimal alterations to the engine, Mr. Anton Peterka (from Belgrade, Serbia) made his 1985 Yugo 45 to run on wood and coal for fuel:
"Instead of 1 litre of gasoline, 2.5 kg of wood is spent. 20 kg of wood are consumed after 100 km which means that driving "on wood" is up to 10 times cheaper than the conventional driving using gasoline."
(More info here)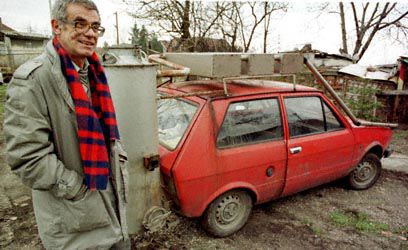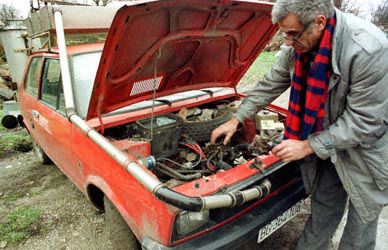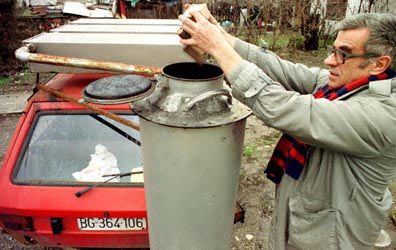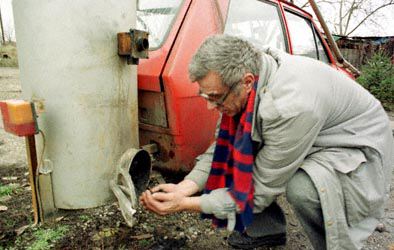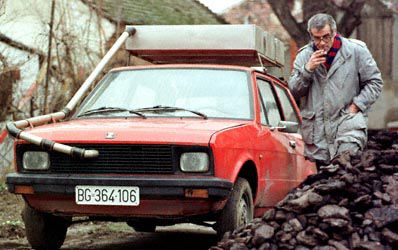 (images credit: freeweb.deltha.hu)

------------

Heel Enhancements

for the pedestrian: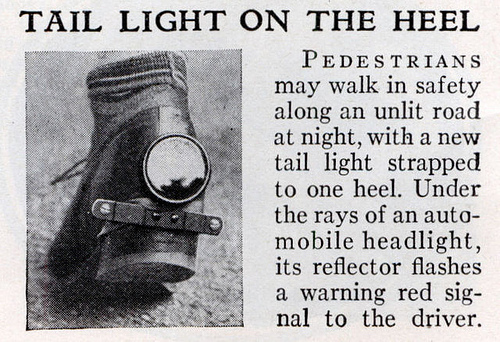 for the lady driver: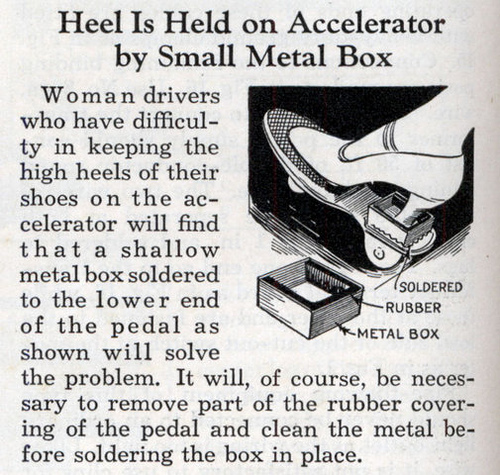 (image credit: ModernMechanix)

------------

Surprise! and... don't shoot!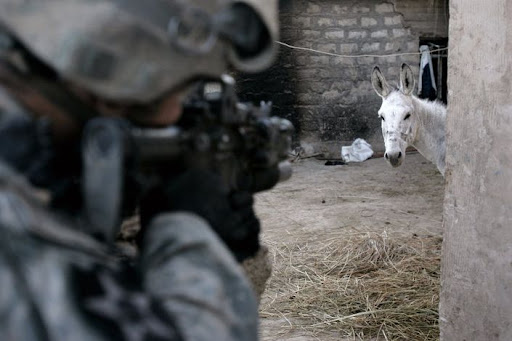 (original unknown)

------------

Mystery Image

What kind of a vehicle this could be?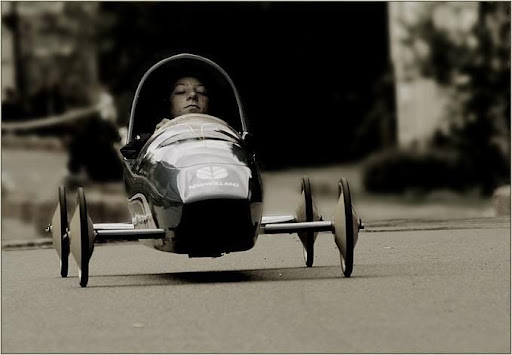 +StumbleUpon



Permanent Link...
Dark Roasted Blend's Photography Gear Picks:
RECENT ARTICLES:
"Dark Roasted Blend" - All Kinds of Weird and Wonderful Things, Discovered Daily!"
DRB is a top-ranked and respected source for the best in art, travel and fascinating technology, with a highly visual presentation. Our in-depth articles in many categories make DRB a highly visual online magazine, bringing you quality entertainment every time you open your "feed" reader or visit our site -
About DRB
Connect with us and become part of
DRB on Facebook
,
Twitter
,
Pinterest
,
Google Plus
; make sure to subscribe to our
updates
.
Our mobile site:
http://mobile.darkroastedblend.com
. You can also read us on iPad, as part of the
Flipboard
popular free app.
YOUR COMMENTS:
:
READ OTHER RECENT ARTICLES:



Creation and Destruction of Sand Mandalas

Profound Art Ritual Reflecting the Sanctity of Our Lives



Funny Sports Update

Underwater Ice Hockey, Extreme Stunts, etc.(Pics)



The New Motor, or the Steam-Powered Messiah

The strange, true tale (plus some wicked cyberpunk art)



Machines Alive! The Whimsical Art of Boris Artzybasheff

Is it a dream, or a nightmare?



Automated Musical Instruments

Music Robots: No Performer Necessary



American Supersonic Airliners:
Race for a Dream

Supersonic Marvels, Largely Forgotten Today



Pulp Pleasures: Eando Binder

"Where Eternity Ends" and other rare gems



Epic Fantasy: the Start of the Journey

Part 2 of our "Best Classic Fantasy" series



Strange Shadows: Best Classic Fantasy

Fantasy "Glitches in the Matrix", Epic Lands, and more!


DRB Feel-Good
Happy Holidays from DRB!

2014 Feel-Good Issue, Part 2


DRB Feel-Good
Christmas Feel-Good Special

Happy Holidays and Great New 2014 Year from DRB!



Epic Space Fiction by Alastair Reynolds

"Nostalgia for Infinity", indeed



Cinerama: "The Next Big Thing That Was"

Curved screens, gigantic projectors & "out-of-this-world" picture


DRB Series
Magnificent Fractals (DRB Series)

Probably the Most Spectacular Collection of Fractals on the Web



Fractals For Food

If You Eat This, Will It Make You Better At Math?



Three-Dimensional Mechanical Fractals

Don't stare at them for too long, or your brain will capsize!



Pre-Fractal Art

Stunning Examples of Fractal Art in History



A Codebreaker's Dream: The Bombe!

"The Bombe" vs. "The Enigma" code battle



Extremely Weird Bus Stops & Shelters

Wildly bizarre bus stop "creations"



Incredible Balancing Acts & Tightrope Walking

Up on the Roof: Not for the Faint of Heart



The Creepiest Mannequins

Serious Halloween Scares and Frights



Wildly Funny Frogs

Frogs in their "moments of weakness"



World's Strangest Vehicles, Part 5

The Truly Bizarre Car Zoo!



Deadliest Creatures (that are Easiest to Miss)

Real terror lurks in quiet darkness



"Music For... What?" Weird Album Covers

Music for Vacuuming, and much much more!



World's Strangest Vehicles, Part 4

Sheer Auto Adrenaline!
CATEGORIES
:
airplanes
|
animals
|
architecture
|
art
|
auto
|
boats
|
books
|
cool ads
|
funny pics
|
famous
|
futurism
|
food
gadgets
|
health
|
history
|
humour
|
japan
|
internet
|
link latte
|
military
|
music
|
nature
|
photo
|
russia
|
steampunk
sci-fi & fantasy
|
signs
|
space
|
sports
|
technology
|
trains
|
travel
|
vintage
|
weird