"QUANTUM SHOT" #335
Link - by Avi Abrams


Still Going Strong (after all these years)

The dedication and exuberance of "Star Wars" die-hard fans are nothing short of astonishing. Somebody should pitch them against the "Star Trek" loyalists and see who comes up with the wildest ideas and endures the longest without any new movie releases. But you have to admit, The Epic Good vs. Evil Battle is never quite as fun without Luke and Vader, and we have to thank George Lucas for that.

Any material will do

The statues/sculptures/models of famous characters can be made out of scrapmetal:
(like at Yumimodal)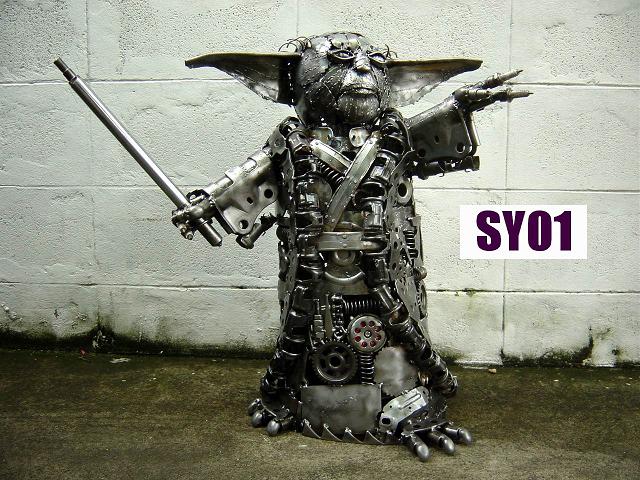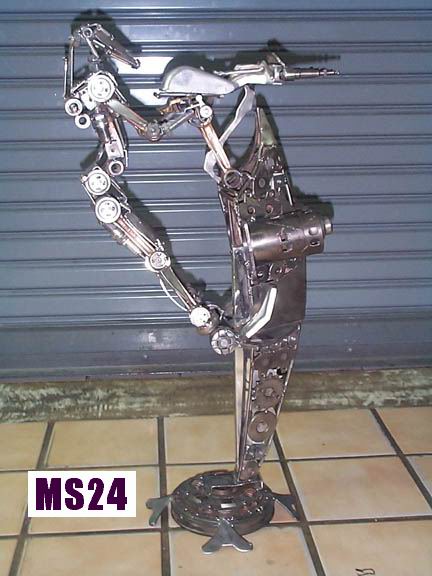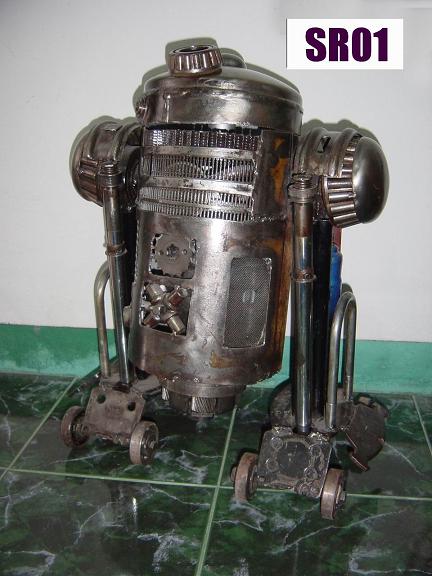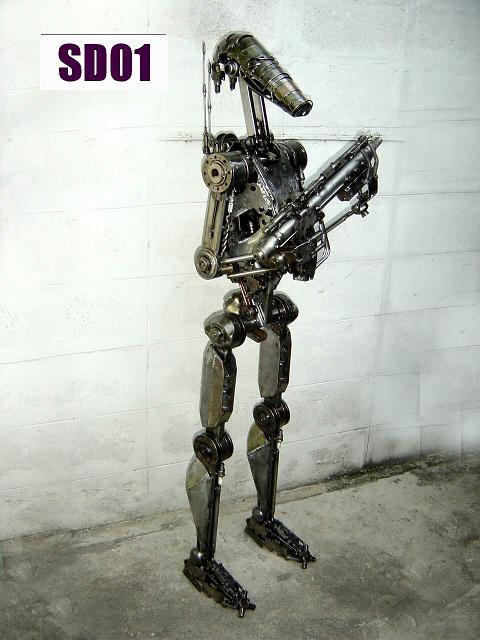 (image credit: yumimodal.com)


Darth Vader's Brief Personality Disorder

The poor guy had one rebellion too many, and slightly shifted in his style. His act got weirder and weirder:

Darth trying "Hello Kitty" image: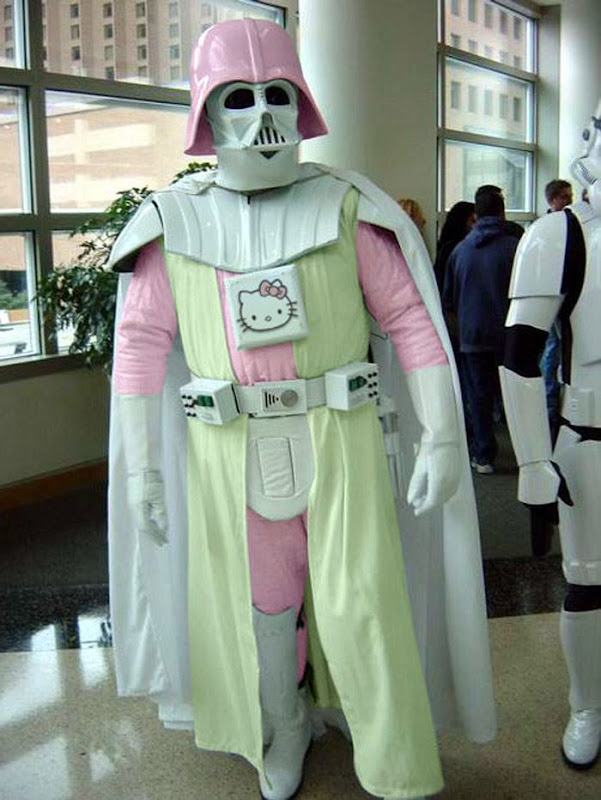 He suddenly got a taste for Harry Potter: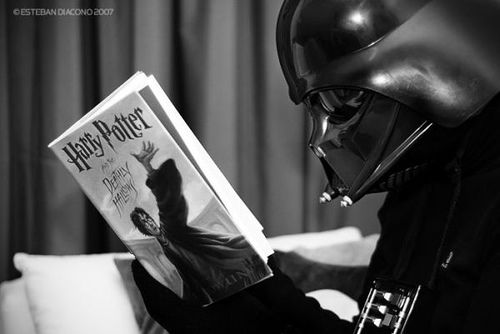 (image credit: Esteban Diacono)

Flirted a bit with modernism in camouflage: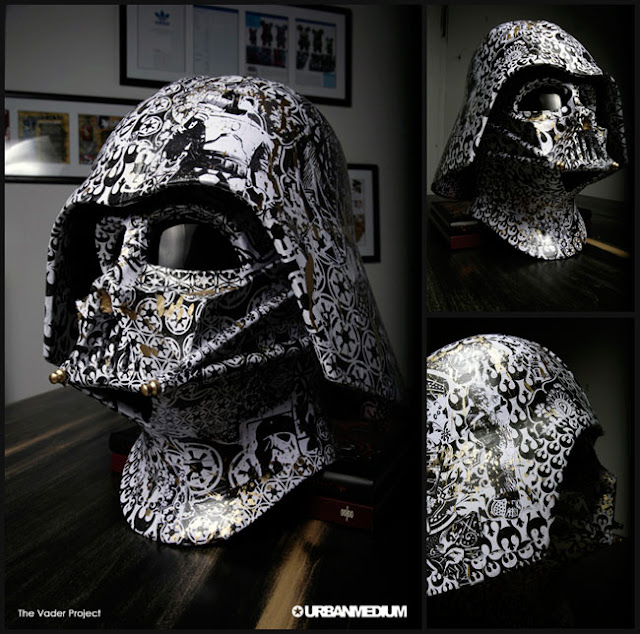 (image credit: Urban Medium)

Launched his own line of environmentally-friendly products: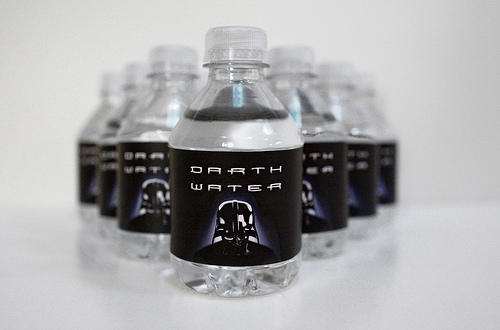 Became very famous on Digg and Reddit (with this picture):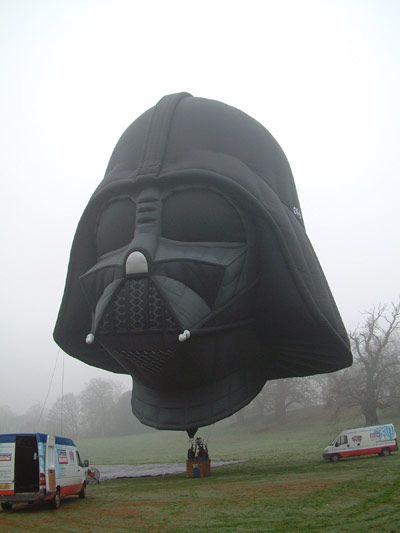 inspired some bizarre bus stop sculptures: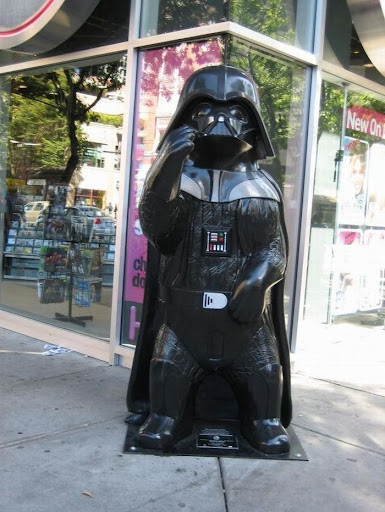 Said "good-bye" to all his other gas-guzzler transports: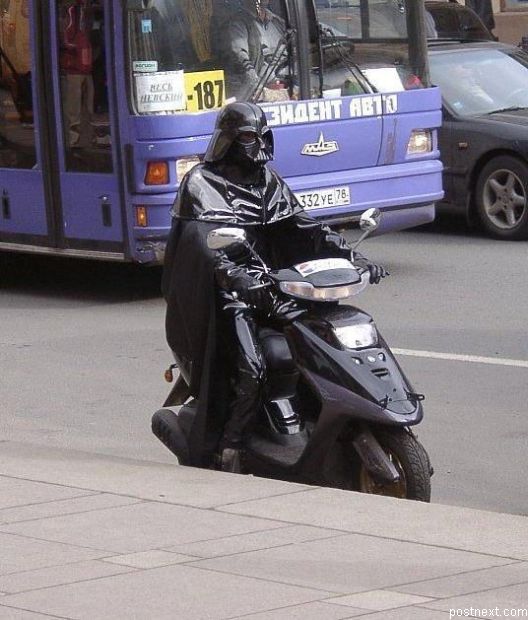 Good thing he found some solace among the cute schoolgirls in Japan:
(See more Vader Japanese adventures here)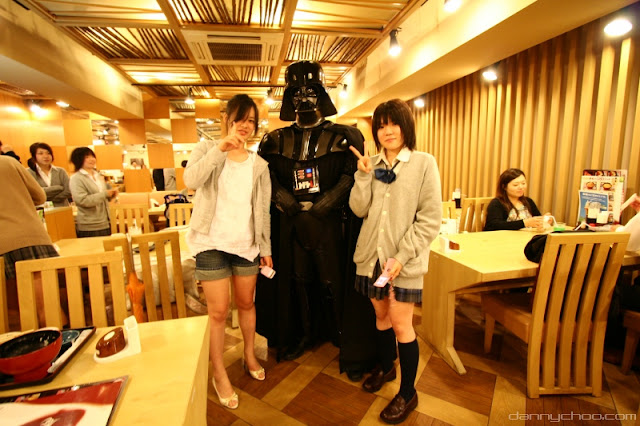 Vader deals with his angst, using Colonel Sanders: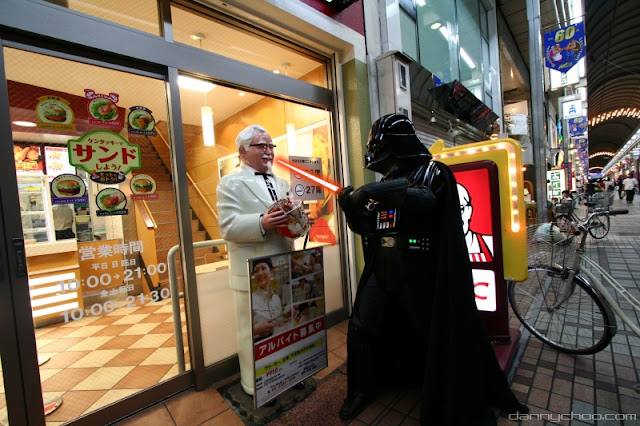 (images credit: Danny Choo)

...releases stress by reading manga: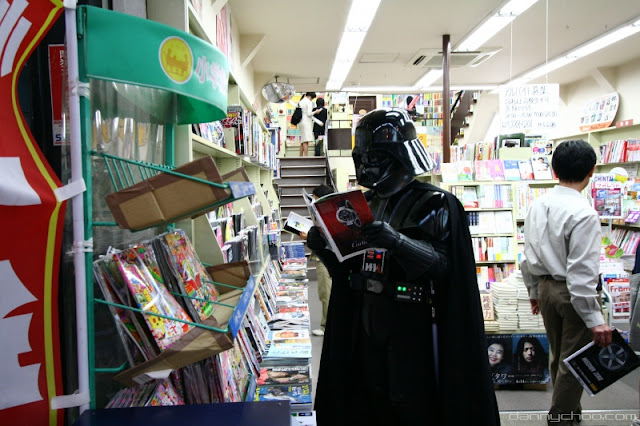 and finally settles in his usual groove: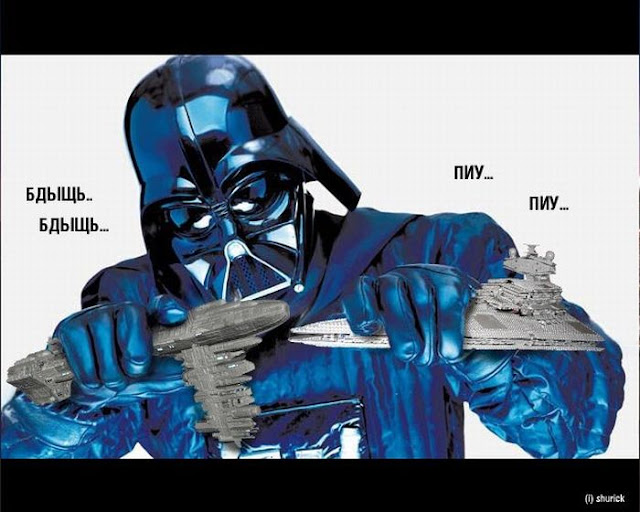 (image credit: shurick)

his kids don't seem to be the cheerful kind, though: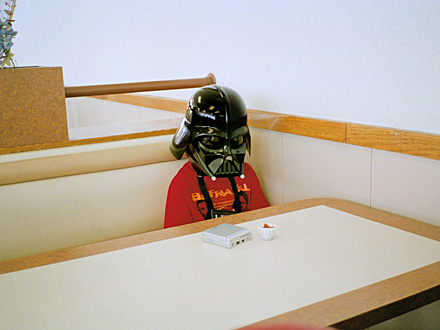 (image credit: Alex Brown Photography)

One Day in the Life of Ivan the Stormtrooper

Being recruited by the Evil Empire has its drawbacks... Spending a night in the motel: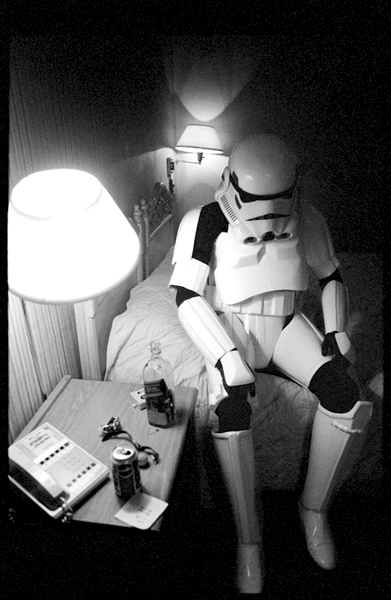 Paying with pretty neat money: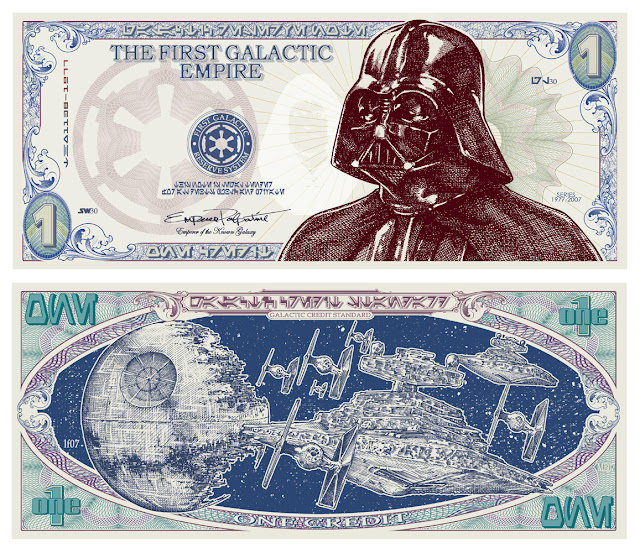 (artwork copyright: Diablo 2003)

Grooving under some good old disco: - via




Danny Choo documented more of the stormtrooper's time in Tokyo: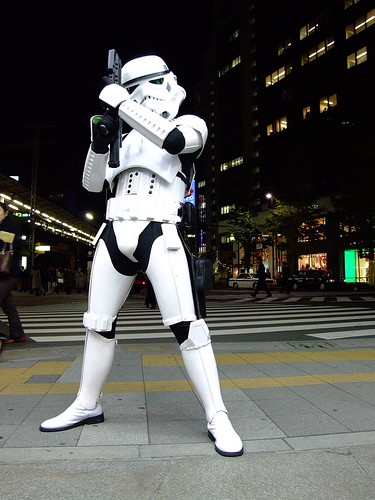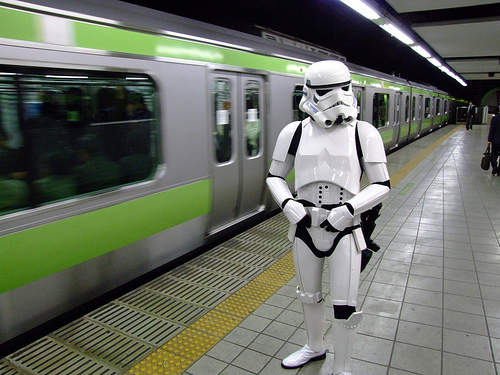 Catching on the news: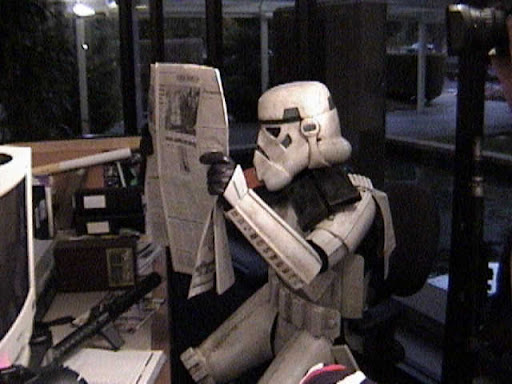 (original unknown)

Well, young stormtroopers fall in love too:
(their whole love story is documented in this set)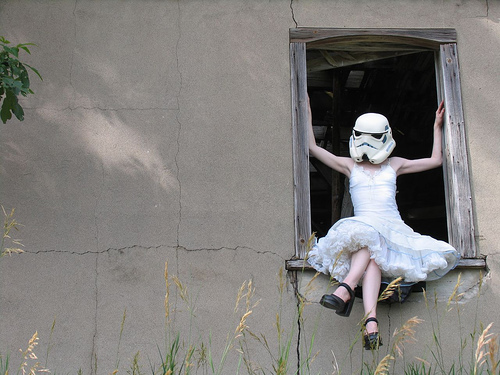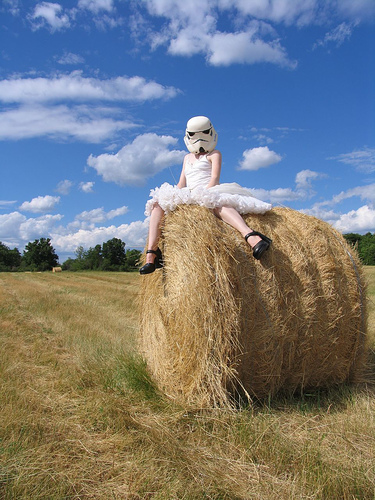 (images credit: redandjonny)

"Femtroopers" prove to be irresistible -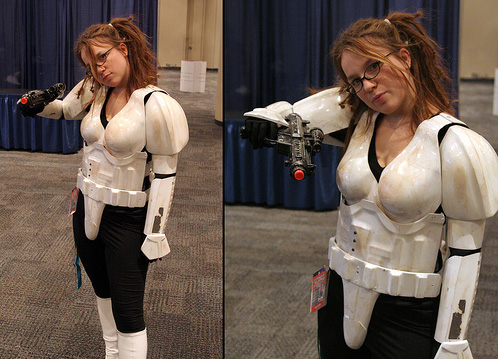 (image credit: Dideo)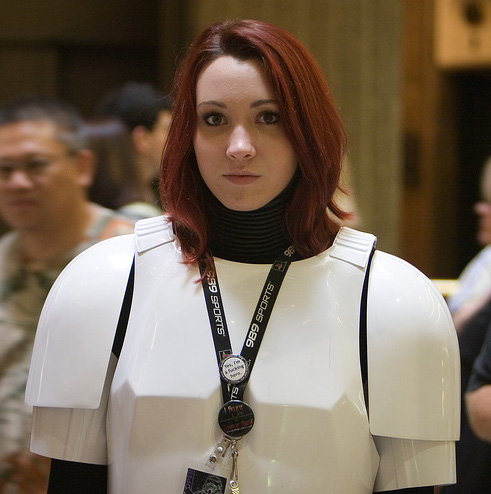 (image credit: Russell Limprecht)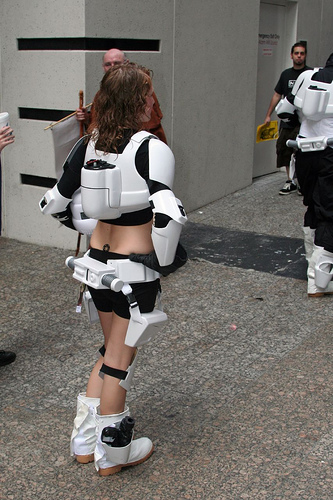 (image credit: Huey Bible)

Taking a stormtrooper kid for a stroll: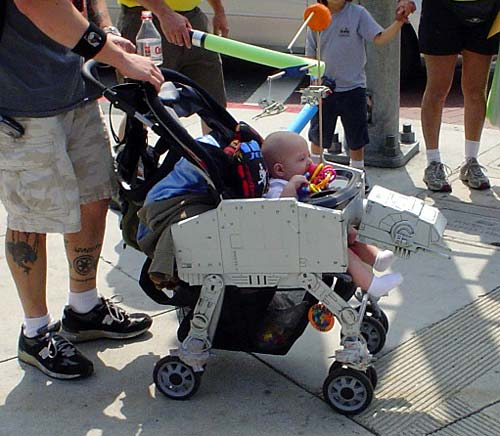 ...along the street of a sworn enemy: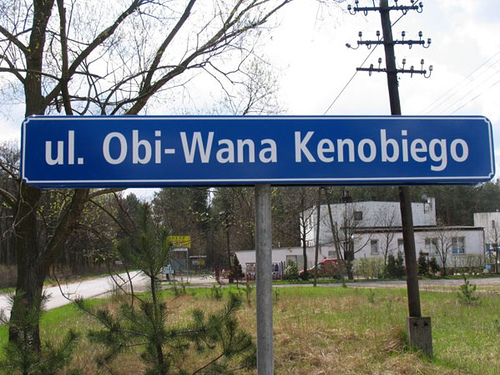 There are some very convenient mailboxes on that street: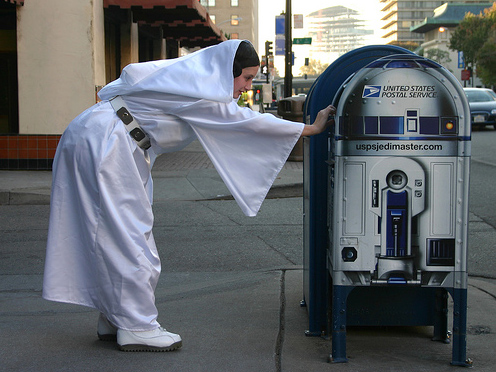 (image credit: Nicholas Lopez)

Getting slightly confused about his destiny: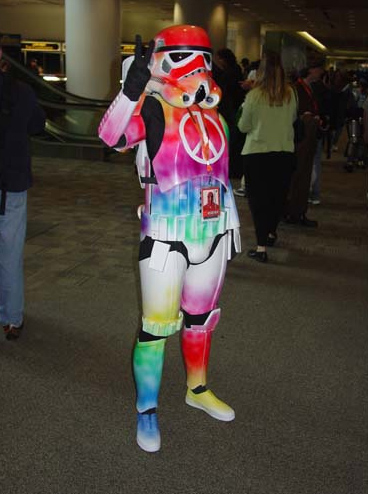 (image credit: Kelldar)

Getting arrested...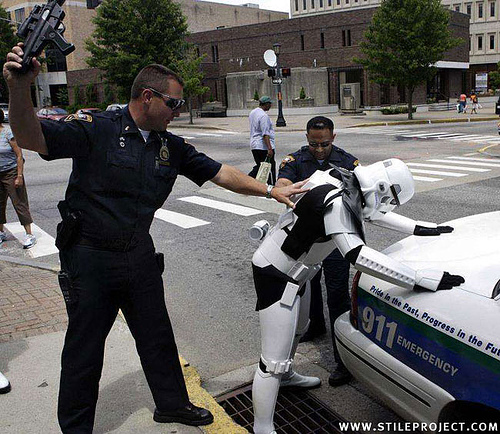 (image credit: Ryan Welsch)

and finally visiting church:
(in Barcelona, Spain - more pics here - via)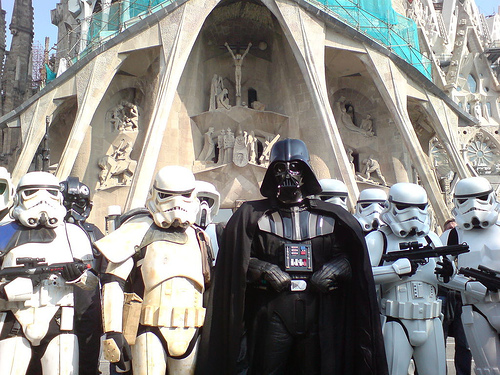 (image credit: David Arcos)

In the meantime, rebel fighters are totally lost in time: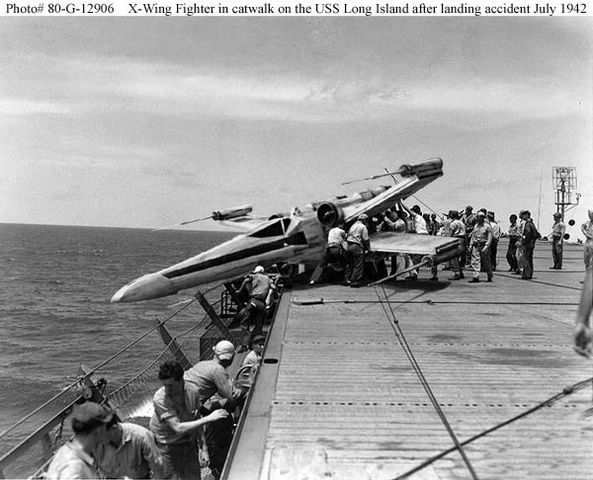 (original unknown)

And Han, as always, saves the day: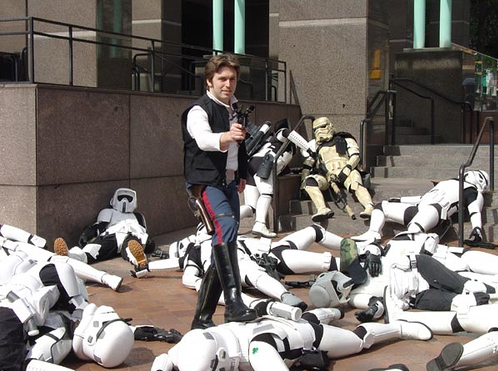 (image credit: Kelldar)


Bonus: Rare Concept

In this rare concept art by Ralph McQuarrie we can see smaller Death Stars, serving as sentinels...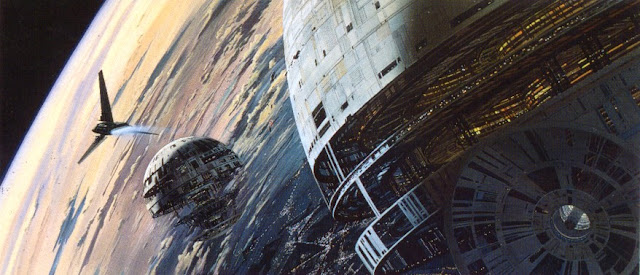 (image credit: Ralph McQuarrie, click to enlarge)

CONTINUE TO PART THREE! ->

DON'T MISS THE FIRST PART! ->


+StumbleUpon
- Permanent Link...
Category: Funny Pics
RECENT ARTICLES:
"Dark Roasted Blend" - All Kinds of Weird and Wonderful Things, Discovered Daily!"
DRB is a top-ranked and respected source for the best in art, travel and fascinating technology, with a highly visual presentation. Our in-depth articles in many categories make DRB a highly visual online magazine, bringing you quality entertainment every time you open your "feed" reader or visit our site -
About DRB
Connect with us and become part of
DRB on Facebook
,
Twitter
,
Pinterest
,
Google Plus
; make sure to subscribe to our
updates
.
Our mobile site:
http://mobile.darkroastedblend.com
. You can also read us on iPad, as part of the
Flipboard
popular free app.
YOUR COMMENTS:
:
READ OTHER RECENT ARTICLES:



Creation and Destruction of Sand Mandalas

Profound Art Ritual Reflecting the Sanctity of Our Lives



Funny Sports Update

Underwater Ice Hockey, Extreme Stunts, etc.(Pics)



The New Motor, or the Steam-Powered Messiah

The strange, true tale (plus some wicked cyberpunk art)



Machines Alive! The Whimsical Art of Boris Artzybasheff

Is it a dream, or a nightmare?



Automated Musical Instruments

Music Robots: No Performer Necessary



American Supersonic Airliners:
Race for a Dream

Supersonic Marvels, Largely Forgotten Today



Pulp Pleasures: Eando Binder

"Where Eternity Ends" and other rare gems



Epic Fantasy: the Start of the Journey

Part 2 of our "Best Classic Fantasy" series



Strange Shadows: Best Classic Fantasy

Fantasy "Glitches in the Matrix", Epic Lands, and more!


DRB Feel-Good
Happy Holidays from DRB!

2014 Feel-Good Issue, Part 2


DRB Feel-Good
Christmas Feel-Good Special

Happy Holidays and Great New 2014 Year from DRB!



Epic Space Fiction by Alastair Reynolds

"Nostalgia for Infinity", indeed



Cinerama: "The Next Big Thing That Was"

Curved screens, gigantic projectors & "out-of-this-world" picture


DRB Series
Magnificent Fractals (DRB Series)

Probably the Most Spectacular Collection of Fractals on the Web



Fractals For Food

If You Eat This, Will It Make You Better At Math?



Three-Dimensional Mechanical Fractals

Don't stare at them for too long, or your brain will capsize!



Pre-Fractal Art

Stunning Examples of Fractal Art in History



A Codebreaker's Dream: The Bombe!

"The Bombe" vs. "The Enigma" code battle



Extremely Weird Bus Stops & Shelters

Wildly bizarre bus stop "creations"



Incredible Balancing Acts & Tightrope Walking

Up on the Roof: Not for the Faint of Heart



The Creepiest Mannequins

Serious Halloween Scares and Frights



Wildly Funny Frogs

Frogs in their "moments of weakness"



World's Strangest Vehicles, Part 5

The Truly Bizarre Car Zoo!



Deadliest Creatures (that are Easiest to Miss)

Real terror lurks in quiet darkness



"Music For... What?" Weird Album Covers

Music for Vacuuming, and much much more!



World's Strangest Vehicles, Part 4

Sheer Auto Adrenaline!
CATEGORIES
:
airplanes
|
animals
|
architecture
|
art
|
auto
|
boats
|
books
|
cool ads
|
funny pics
|
famous
|
futurism
|
food
gadgets
|
health
|
history
|
humour
|
japan
|
internet
|
link latte
|
military
|
music
|
nature
|
photo
|
russia
|
steampunk
sci-fi & fantasy
|
signs
|
space
|
sports
|
technology
|
trains
|
travel
|
vintage
|
weird