"QUANTUM SHOT" #58
Link - by Avi Abrams


Build your own retro-future, one rusty robot at a time!

Start with a collectible "Cute Little Army of Robots":

Bennett Robot Works are the "Original Art Robot Sculptures" (looking every bit like props from the "Robots" animated feature). They're made from "found objects": wood, metal, and various strange stuff found in the basement and at garage sales. There is an endless catalog of them on this site. Each robot is a miniature delight; and together they are as addictive, as an assortment of mini donuts:




Each robot takes about a month to build. They are not meant to be a toy.

Some robots mean business

In case you want to be prepared, here is the book "How to Survive a Robot Uprising"; and another site, where the most aggressive robots can battle each other to their heart's content:




...while veterans stand around and watch: (source site)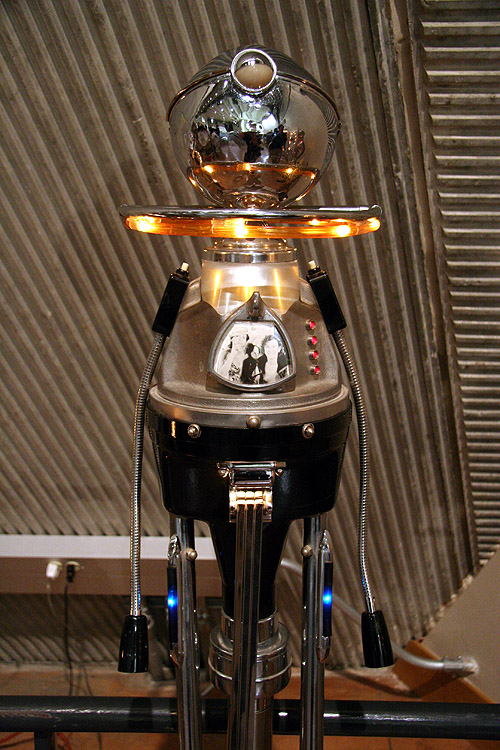 ...and robotic mice scatter nearby:




- witness "Herbie the MouseBot", fully functional miniature robot rodent (source)

If you read old newspapers, you'll see that robots were more well-behaved in the past: this one "STEAM-POWERED DREADNOUGHT CERBER" was even employed as a police enforcer in Victorian London: (more here)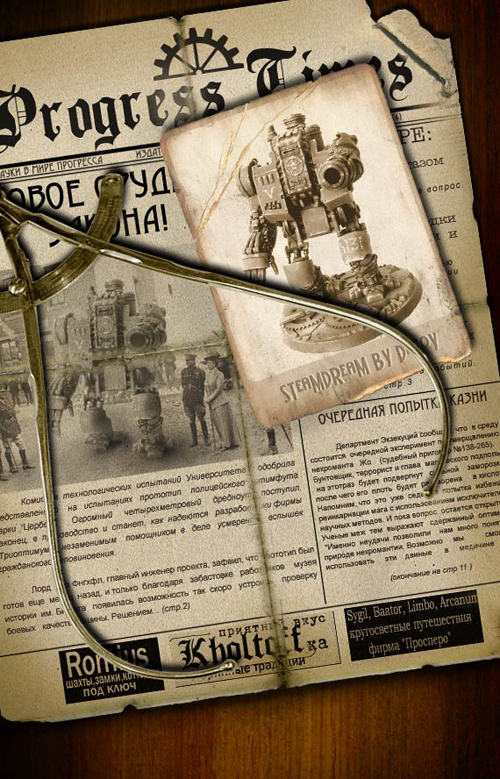 (image via)

But as history progressed, they (robots) often made wrong choices:



(images via)

...to the point that today humans need to put up warning signs like this:




Consumer technology

Know your enemy - read the site devoted to wayward robots, aptly named "Suicide Bots". Don't miss a link to "sexed robots" site, or picture of "Google Bot".

Probably the Ugliest Robot Ever:




As a parting shot, these are quite harmless robots from the communist times in Russia:
(they are also very ugly)




Also Read:
Chrome-Delicious Robot Art & Ray Guns
Robotic Art Bliss
Robots in Arts
Toy Robots to Have and to Hold

Read All "Robots" Series! ->


Permanent Link...
...+StumbleUpon
...+Facebook

RECENT ARTICLES:
"Dark Roasted Blend" - All Kinds of Weird and Wonderful Things, Discovered Daily!"
DRB is a top-ranked and respected source for the best in art, travel and fascinating technology, with a highly visual presentation. Our in-depth articles in many categories make DRB a highly visual online magazine, bringing you quality entertainment every time you open your "feed" reader or visit our site -
About DRB
Connect with us and become part of
DRB on Facebook
,
Twitter
,
Pinterest
,
Google Plus
; make sure to subscribe to our
updates
.
Our mobile site:
http://mobile.darkroastedblend.com
. You can also read us on iPad, as part of the
Flipboard
popular free app.
YOUR COMMENTS:
:
READ OTHER RECENT ARTICLES:



Mind-Blowing Optical Illusions, Part 6

"The soul has illusions as the bird has wings: it is supported by them"



Exceptional British 1950s Scifi Artwork

Quintessential Space Pulp Art by Ron Turner and others



Extreme Parenting & Wild, Wild Kids! Part 2

The Joys and Perils of Having Interesting Kids



Creation and Destruction of Sand Mandalas

Profound Art Ritual Reflecting the Sanctity of Our Lives



Funny Sports Update

Underwater Ice Hockey, Extreme Stunts, etc.(Pics)



The New Motor, or the Steam-Powered Messiah

The strange, true tale (plus some wicked cyberpunk art)



Machines Alive! The Whimsical Art of Boris Artzybasheff

Is it a dream, or a nightmare?



Automated Musical Instruments

Music Robots: No Performer Necessary



American Supersonic Airliners:
Race for a Dream

Supersonic Marvels, Largely Forgotten Today



Pulp Pleasures: Eando Binder

"Where Eternity Ends" and other rare gems



Epic Fantasy: the Start of the Journey

Part 2 of our "Best Classic Fantasy" series



Strange Shadows: Best Classic Fantasy

Fantasy "Glitches in the Matrix", Epic Lands, and more!
CATEGORIES
:
airplanes
|
animals
|
architecture
|
art
|
auto
|
boats
|
books
|
cool ads
|
funny pics
|
famous
|
futurism
|
food
gadgets
|
health
|
history
|
humour
|
japan
|
internet
|
link latte
|
military
|
music
|
nature
|
photo
|
russia
|
steampunk
sci-fi & fantasy
|
signs
|
space
|
sports
|
technology
|
trains
|
travel
|
vintage
|
weird