"QUANTUM SHOT" #32
Link - by Avi Abrams


Titanic mechanism "devours" its prey - a bulldozer!

If you discount CERN's Large Hadron Collider (which is officially the Largest Machine in the World; see the Google Earth picture below, and read our article about it)




then the biggest MOVING machine build by humans would be the giant bucket wheel excavator "Bagger 288" built by Krupp in Germany in 1978.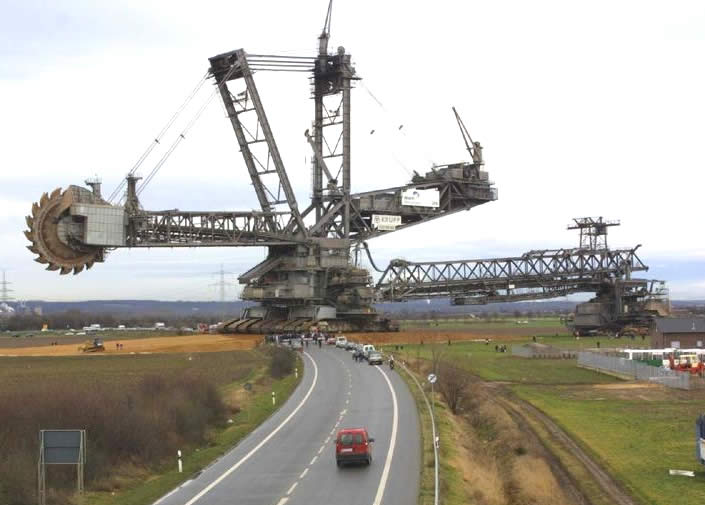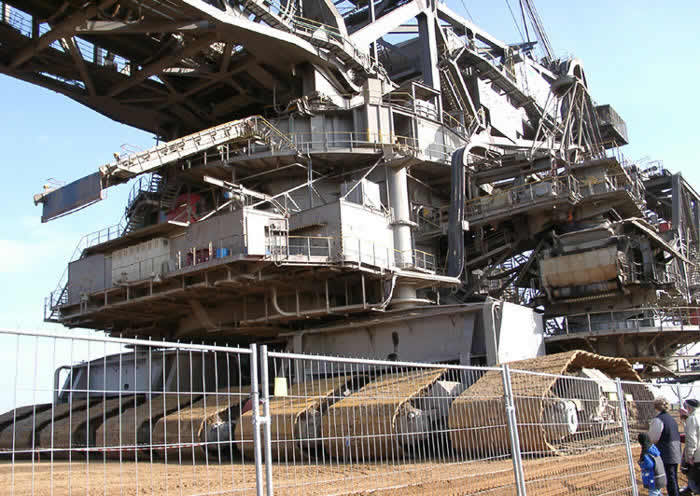 This enormous mining machine (300 meters long, weight: 45,500 tons) is capable of moving on its treads to the various open-air mine locations.

The last such epic transition happened in 2001, when it crawled from one mine to the other - across 22 kilometers of fields, roads, railway crossings, villages and countryside... As it could not go around the obstacles, it headed in a straight line, so the workers prepared the way by piling up sand cushions on top of highways and train tracks, removing power-lines and seeding the fields with special grass to make its progress smoother.



(the ultimate driver seat)



(images source)

Imagine seeing such a sight at breakfast, looking out of your kitchen window in a quiet suburbia... Look out, It's Comin Atch Ya! Anyway, it took them 3 weeks to move it. Once in place it started to bite into the coal, rock and earth with the vengeance...

But as the following chilling series of photographs testifies, it was chewing up not only the scenery, but an occasional stray bulldozer:



(images source)

By the way, Krupps home page shows some other relatives of this "monster family": -spreader, -crushing plants, -transport crawlers:




Update: (Courtesy Miss)
Check out this Bagger 288, Photoshop Version :)


CONTINUE TO PAGE TWO! ->
READ RECENT POSTS:
"Dark Roasted Blend" - All Kinds of Weird and Wonderful Things, Discovered Daily!"

DRB is a top-ranked and respected source for the best in art, travel and fascinating technology, with a highly visual presentation. Our in-depth articles in many categories make DRB a highly visual online magazine, bringing you quality entertainment every time you open your "feed" reader or visit our site.

Connect with us and become part of DRB on Facebook, Twitter, Pinterest, Google Plus; make sure to subscribe to our updates.

Our mobile site: http://mobile.darkroastedblend.com. You can also read us on iPad, as part of the Flipboard popular free app.


COMMENTS:
:
READ MORE RECENT POSTS:



Extremely Weird Bus Stops & Shelters

Wildly bizarre bus stop "creations"



Incredible Balancing Acts & Tightrope Walking

Up on the Roof: Not for the Faint of Heart



The Creepiest Mannequins

Serious Halloween Scares and Frights



Wildly Funny Frogs

Frogs in their "moments of weakness"



World's Strangest Vehicles, Part 5

The Truly Bizarre Car Zoo!



Deadliest Creatures (that are Easiest to Miss)

Real terror lurks in quiet darkness



"Music For... What?" Weird Album Covers

Music for Vacuuming, and much much more!



World's Strangest Vehicles, Part 4

Sheer Auto Adrenaline!



World's Most Curious Ephemera, Part 2

The Art of Luggage Labels, etc.



World's Most Curious Ephemera

Pieces of Paper that Intrigue & Inspire



World's Strangest Motorcycles

The Ultimate Unusual Bike Collection



World's Strangest Vehicles, Part 3

Cars that are... different



World's Strangest Vehicles, Part 2

Automotive wrongness, or the new kind of right?



"Vertical Grass" Art & Architecture

Transient Green Masterpieces



Huge Semi-Submersible Ships

Real-life "Sea Monsters & Giants of the Waves"



Steampunk Scooter & Other Machines by Arthur van Poppel

Jules Verne's Styled Music Submarines



Japanese Contemporary 2D Artists

Spectacular, complex, sophisticated



Japanese Creative Barcodes

"Barcode Revolution" is sweeping the world


Pic-of-the-Day
Great Space & Pulp Art by Norman Saunders

Damsels in distress, all over the time and space



Joystick Car Dashboards

Joyful, Joyful Joystick Driving!
CATEGORIES
:
airplanes
|
animals
|
architecture
|
art
|
auto
|
boats
|
books
|
cool ads
|
funny pics
|
famous
|
futurism
|
food
gadgets
|
health
|
history
|
humour
|
japan
|
internet
|
link latte
|
military
|
music
|
nature
|
photo
|
russia
|
steampunk
sci-fi & fantasy
|
signs
|
space
|
sports
|
technology
|
trains
|
travel
|
vintage
|
weird